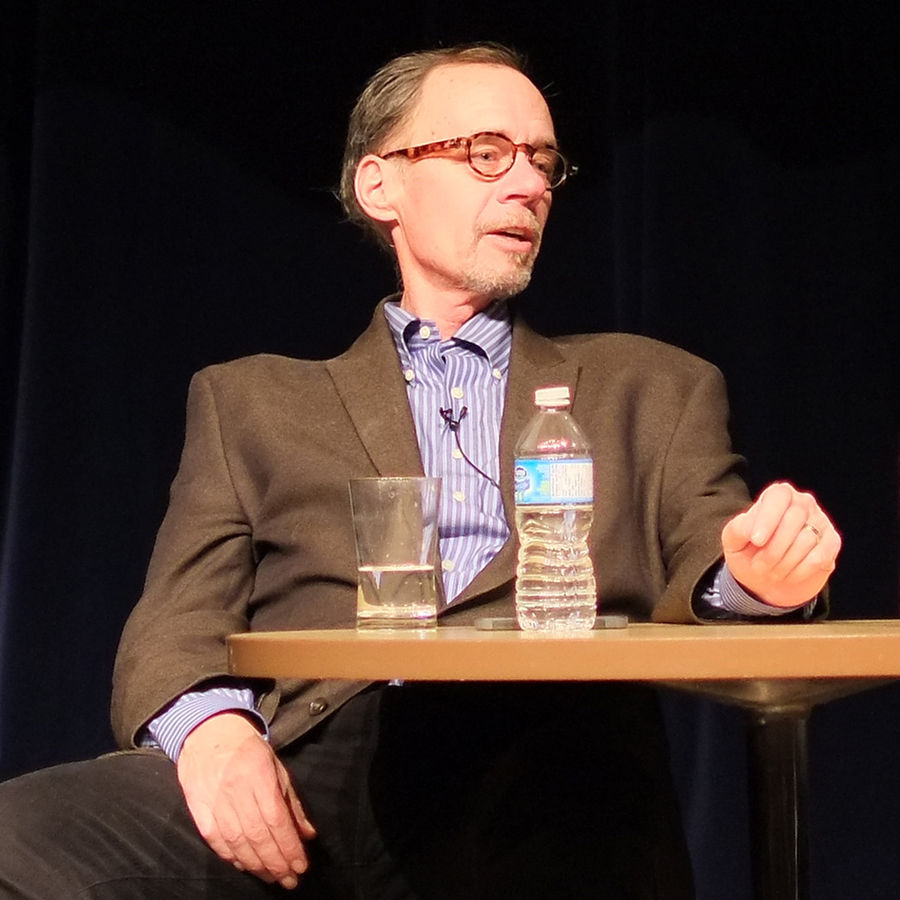 Last week David Carr, a New York Times columnist and the Andrew R. Lack professor of journalism, collapsed in the Times's newsroom, and was later pronounced dead. During his brief time as a BU professor, his charisma and passion for journalism left a profound mark on the students who interacted with him.
In remembrance of Professor Carr, the Quad has compiled thoughts and memories from a handful of the students lucky enough to take his class.
There will be a memorial service for David Carr on Wednesday, February 18 at 1 p.m. in COM 101. In case of inclement weather, the service will be moved to Friday, Feb. 20th from 3 to 5 p.m. in COM 101.
---
David Carr influenced me in plenty of odd and profound ways, but one way I came to understand him was through his understated devotion to the class. David's loyalty to his one and only class a semester was tremendous, and it required work that was commensurate to the time he promised you. He was tough on you because he wanted you to grow, take risks and be better than what you are, but he also made himself readily available.

That's something I can't readily say for about any other professor I've had at Boston University.
– Clinton Nguyen, journalism senior and Carr's TA this semester
I was in his first class at BU. We'd met before the class (he wanted me to be his TA, I turned the man down, for which I now feel terrible for doing).

He was an inspiration. He wanted the best for his students, me included, and he pushed us not to just accept how things were, but to advocate for ourselves in our work (and he regularly reminded us that to get where we want to be, we've gotta be ready to eat lots of shit and work really hard).

He believed in the digital revolution, whatever it means these days, and the importance of us learning how to do it all.

Sure, he swore like a sailor and said whatever was on his mind, but that's just one part of what this brilliant man brought to the table. He could turn a phrase in his writing and in person, and his editing on our writing never stung because he truly cared. We've lost a giant and a friend…and good human.
– Jamie Bologna, recent graduate, took Carr's class fall semester
In a small room at Boston University, David Carr told me his whole life. He shared it with me freely, without my even asking. He did not try and protect his image. In fact, he highlighted his weaknesses, he paused on his mistakes and lingered on his regrets. David shared willfully, compulsively, the black dot on his lower lip, a smoker's give, trembling as he told his story.

He was David Carr, the byline and the tale. Before meeting him I had known all about him, the single parent, the addiction, all of it. "Do you think your addiction opened up some sort of channel in your brain? Made you so clever?" a question to David at The Narrative Non-Fiction Conference in 2014. "I dunno. Maybe…" David answered with a wave of his knotted hand.

Everyone knew about him because he was so unafraid to share. He shared his knowledge with zeal and enthusiasm in class. He shared his connections, his advice and most importantly, his time. Like an oracle he mused on the future of media and journalism and shared his predictions, not for him but for the next generation of young reporters.

But when he shared his own story with us, with me, he was giving us something else. It had nothing to do with careers or jobs, it was about life. He himself served as an example on how to overcome darkness. Not only the darkness of the world but the one within every one of us.

Teaching is a vocation and a vocation implies giving. With me, with his students, David only gave. I am a better reporter for it and hopefully a better person for it too.
– Claire Giangravè, recent graduate, took Carr's class fall semester 
On the first day of class David Carr brought in cookies. I walked in to this class completely intimidated, having read "Night of the Gun" and being a fan of his column. However, he made me feel instantly capable. He seemed as committed to his own writing as he did to his students. I only had one class with him – on the one hand I feel deprived of his mentorship, but on the other hand I'm glad I got to know him if only for a few short hours.
– Rebecca Sananes, journalism graduate student in Carr's class this semester
David Carr, this media giant and incomparable writer know by anyone in the industry, sat in whatever armchair was open in the basement of BU's College of Communication. Every Monday, he made room for 16 searching souls, hungry for fuel in an industry that was and is statistically against our odds. So while most of us only saw the sunsets, Carr saw the sunrise, and showed us all the opportunities ahead. Most of them we would have to mold ourselves, but he believed in us to be the ones to do so. He showed us that we have a voice, and in the solitary and lonely nights in our room – with a blank page and typewriter staring back at us – we would "crank" out our magic. He pushed us, he demanded much from us, he challenged us…but most of all, I think he believed in us.

And that will stay with me forever.

In his memior, he always talked about how lucky he was to have made it this far.

But it is we who are the lucky ones.
–Timmy Shivers, recent graduate, took Carr's class fall semester 
Despite the fact that David Carr is David Carr and writes for the NYT and is pretty famous, he never treated us like he was better than us. He treated us with respect and treated our work with respect – always putting his full effort into editing our stories. He was so open to suggestions about the class and I have never seen anyone put in more effort to making a class worthwhile. He was a person like no person I have ever met. The other morning I was watching him on the news getting interviewed about Brian Williams and John Stewart while I was at the gym and I was thinking to myself, "Wow, what an amazing opportunity I was given to learn to do what I love from someone as amazing as David Carr." He may no longer be with us, but his journalism will continue impacting and inspiring young journalists to come.
– Megan Turchi, recent graduate, took Carr's class fall semester
David Carr has been my hero since I read his book my senior year of high school. After going through some personal struggles, a mentor gave me "The Night of the Gun" as an inspiration. If he could do it, so could I. When I heard he was going to be a professor at BU, I jumped at the opportunity to work with him. I don't know if I had ever worked harder on an application than I did on the one for his class, Press Play.

I imagine Carr would want me to have a better role model, but too late.

There are many, many moments from his class I will remember forever–little tricks, like not ending a story with a quote (something for which most BU professors advocate), to bigger tips like taking a big swing and missing is a much better idea than taking a little swing and knocking it out of the park.

One day in class Carr asked us to say the most interesting thing about ourselves, like his was sadly that he used to get high (his words, not mine). I revealed something deeply personal that was clearly hard for me to say to a room full of peers. No one else was so forward or frank. I felt pretty stupid afterwards. The next morning I woke up to an email with the subject line "Yesterday" it said "I thought what you did was brave and smart yesterday, but then, I would, wouldn't I? Good for you."

That's the kind of guy Carr was, he recognized bravery but he also recognized insecurity and he worked to overcome it.

It's heartbreaking to know that he wont be there to affect other students like he did me, but I am so grateful for the time I was able to work with him. Boston University, and the journalism community as a whole has suffered a terrible loss. I'm just glad I was able to sit in a room with him and try to glean an ounce of his talent.
– Emily Overholt, recent graduate, took Carr's class fall semester