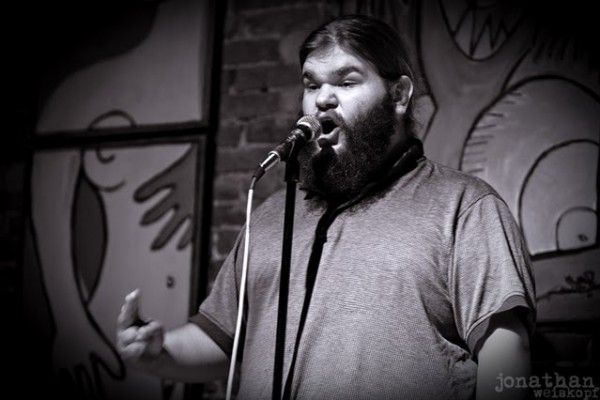 The lights are dim. People are talking. Beers are clinking at the bar. I push my way through the crowd and sit down against the wall. I watch all the people flow into the basement under the Cantab Lounge. From my seat, I see a college kid, wearing khakis and a beanie, an old woman wearing a long floral dress, a man with curly orange hair bouncing on his head. They are all laughing and joking like they've known each other for years. There are rows of chairs and tables lined up in the center of the floor and along the walls. In the front of the room is a microphone. A woman steps on stage. The crowd falls to a quiet hush.
This is the Boston Poetry Slam, a tradition of spoken word poetry that has existed here in the basement of the Cantab Lounge in Cambridge for over 25 years. Every Wednesday night a very diverse and colorful collection of people step up on that stage to share their stories. The night starts with an open mic where anyone who signs up early gets three minutes on stage. This segment is followed by a featured poet. Then finally, the slam.
What's a slam? A poetry slam is a competition consisting of three rounds. Each round, the poets go up on stage and perform a poem, which is then judged by three ordinary members of the audience on a scale from 1 to 10. The lowest scoring competitors are eliminated later in the night and then the final two give it their all for the grand prize: ten bucks and the glory of victory.
If you have yet to experience the Boston Poetry Slam I encourage you to take the trip across the river to check it out, but be prepared. This isn't a casual open mic that provides the background noise, while you enjoy a drink and talk with your friends. This experience will engage you fully. The people that step under the spotlight will share with you their honest stories. Stories that make you laugh, make you angry, make you want to cry. These stories will leave you emotionally drained, but also exhilarated with the feeling that you have just witnessed something incredible.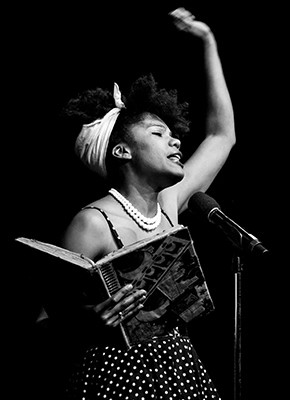 Describing his first time coming to Cantab, Chris O'Carroll recalls, "It was the first time I had ever been in front of an audience this engaged, intense and involved." That was almost 15 years ago. Watching O'Carroll read his poem that night, I realized what he meant. As he told the story of his mother, suffering from Alzheimer's, forgetting who he was, the audience sat there transfixed. It was silent but for his voice and the muffled music coming from upstairs. Then all at once after a particularly powerful line, a communal sigh burst from the crowd. Here the audience doesn't just sit quietly and listen. If they like something you say they let the you know. They laugh hard and sigh loudly.
"We're encouraged to start a dialogue if something rubs us the wrong way," explains Jess Rizkallah, 22 years old. "I talk to people all the time about this place because I feel poetry is a lot closer than we were taught it is when we're growing up." Here, at the Cantab Lounge, poetry is closer. Here, through poetry, people connect.
I think that might be what's so powerful about the Boston Poetry Slam. You don't just watch the writers speak, but you connect with them, with their experiences, with their emotions. It makes the whole room seem smaller.
"I write a lot of stuff about my identity," Rizkallah said. "I'm Lebanese. My parents are immigrants. I feel caught in the middle of being American and being Lebanese. It's a weird middle ground and poetry has really helped me figure out how to talk about it."
Rizkallah went up on stage that night and performed three poems. In return, she won ten bucks and some bragging rights. But to all who heard her poems, this was not what the night was all about. Rizkallah took everyone in that basement into her emotions, her experiences, and into her hardest struggles. She opened up completely.  Another successful night at the Boston Poetry Slam.
 
The Boston Poetry Slam is located at the Cantab Lounge in Cambridge every Wednesday night. Doors open at 7:15 p.m. and the open-mic starts at 8:00. It is $3 for entry and you must be 18 years or older.