In the past few days, many events have transpired and student emotions have flared in protests and social media posts. More than one BU publication has reported on the issue, but there has yet to be a comprehensive article detailing what happened and what led to the current situation. In this timeline, the Editors of the Quad attempt to lay out for the student body an easy-to-follow and chronological order of important events surrounding the controversy in the Student Government.
In December 2014, Stephen Chang was elected Senate Chair. The other candidates were Rachel Feigelson, Avi Levy, and Kym Irizarry.
In April 2015, Boston University elected the slate True BU as their new E-Board members. The slate comprised of President Andrew Cho, Vice President Melesilika "Mel" Finau, Vice President of Internal Affairs Marwa Sayed and Vice President of Finance Kimberly Barzola.
A few weeks later, Finau resigned as Vice President. The position was offered to runner-up Matthew Sgrignari of TeamBU, who declined. The position was offered to and accepted by Barron Roth, third runner-up from BUtiful Dreamers.
Before the end of the semester, Stephen Chang was re-elected as Senate Chair.
The first senate meeting of the 2015-2016 school year was scheduled for Sept. 14, Rosh Hashanah. In the statement released to the BU Quad, Sayed said she "expressed her discomfort" with this meeting date at the time.
On Oct. 22, the Terriers Against Discrimination Facebook was created. It has since been taken down. In a Change.org petition under the same name, the creators claimed that the E-board "created a hostile environment for the only Jewish cabinet member, holding the majority of their meetings on Jewish Holidays." The group also mentioned the removal of Hillel seats from the senate.
On Oct. 26, the Daily Free Press published an article about the petition and the Facebook page, speaking primarily about the discrimination by Barzola.
An official claim was filed on Oct. 26 at 7:48 p.m.
The first claim was brought against Barzola in regards to Article I, Section II, subsection 3, point 4 of the Student Government Constitution: "The Vice President of Finance shall maintain all Student Government financial records, and publish a Student Government budget report for each senate meeting." The Judicial Committee of Louis Vitti, Justin Flynn and Tim Geraghty found conclusive evidence to accept this claim.
The second claim was brought against Sayed in regards to Article I, Section II, subsection 4, point 1 of the Constitution: "The Vice President of Internal Affairs shall maintain meeting logs and other related records of Student Government. These records shall be readily available to the Boston University Community." The Judicial Committee found conclusive evidence to accept this claim.
The third claim was brought against Barzola in regards to Article 1, Section 4 of the senate by-laws: "No student shall be discriminated against based on race, gender identity, or expression, color, sex, national origin, age, disability, genetics, culture, religion, ethnicity, or sexual orientation." The Judicial Committee dismissed this claim after finding inconclusive evidence.
On Oct. 30, the Judicial Commission, sans Judicial Commissioner Timothy Geraghty, who recused himself because of a possible conflict of interest, found the claims as grounds for an impeachment trial. This means Barzola and Sayed have been officially accused of unconstitutional activity, but are not removed from office.
At the removal from office trial, Barzola and Sayed revealed the Daily Free Press informed them that the Judicial Commission was moving ahead with the investigation. At the trial for removal, VPIA Sayed and VPF Barzola said this article was the first they heard of the allegations. VP Roth confirmed that this was the first any of them heard of it.
According to the senate notes from Nov. 2, the senate unanimously voted for impeachment. Sayed and Barzola will be given a chance to defend and explain themselves at the removal trial before the senate votes on removal.
Nov. 5, the E-Board released a statement via the Quad, explaining that the accusation that meetings were scheduled on Jewish Holidays and the allegation the E-Board threatened to take away Hillel's three senate seats are both false. They conclude their statement, "We value and seek to foster a community of open and respectful dialogue. Freedom of expression and debate are at the forefront of a holistic and meaningful college experience."
The weekend before Nov. 9, Senate Communications Director Yasmin Gentry resigned.
Monday, Nov. 9, the Quad published a Letter to the Editor that asked for Student Government to be overhauled, submitted by Kevin Rhine, a former Cabinet member, and Becca Reynolds, a former senator.
Jewish Voice for Peace in Boston posted an article opposing censorship of BU leaders, claiming Barzola was being silenced for "criticiz[ing] Israeli policies on her personal Facebook page."
At 8 p.m. Nov. 9, senate held the removal trial. The BU Quad live-tweeted the trial, which resulted in a 26-13 vote for Sayed to be removed and a 37-2 for Barzola to be removed. That night, the Daily Free Press hosted a Twitter poll for students to say if they agreed with the removal.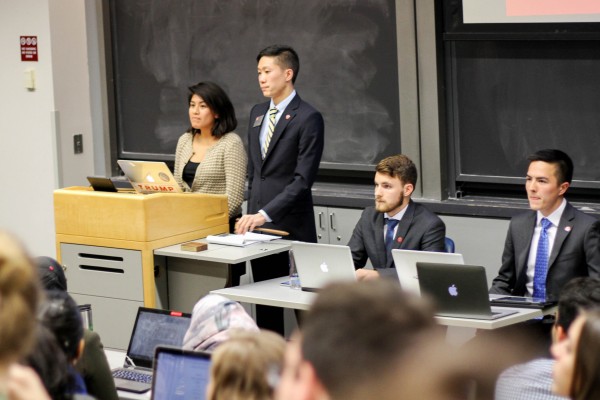 Late on Nov. 9 and continuing into Nov. 10, the hashtag #BUStudentsAgainstSilence gained traction on multiple social media platforms in response to the trial results. Co-Director of Social Affairs Noor Turaif announced via Facebook her resignation in response to the "embarrassing political farce" that occurred at the meeting.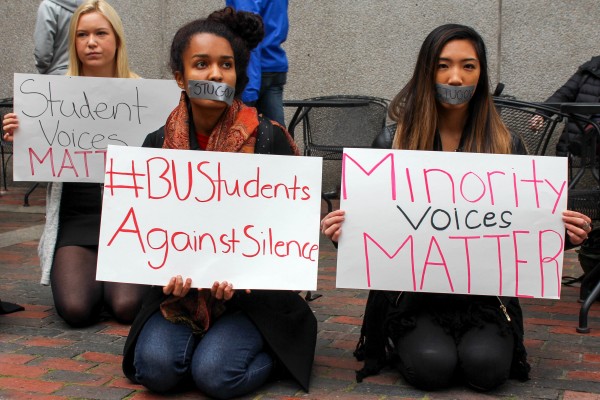 On Nov. 10 BU Students Against Silence staged a sit-in at the George Sherman Union. During the hour-long event, members of the protest chanted phrases such as "What do you want? Justice. When do you want it? Yesterday." and "Student Government does not represent me."
An op-ed was posted on Facebook by Senator Anushka Pinto, defending the senate's decision to impeach and remove.
That night, BU Students Against Silence created a public Facebook page and launched a Change.org petition, asking students to demonstrate that "the BU Student Government, as it currently stands, does not represent me."
Later that evening, BU Student Government published a list of senators, along with their constituencies and contact info. This came after several questions during and after Monday's trial about reaching out to representatives.
The following day, Nov. 11, several opinion pieces circulated on social media, penned by former members of Student Government and members of the BU community.
On Nov. 12, Judicial Commissioner Louis Vitti resigned from his post, citing personal reasons. South Senator Daniel Schwartz, who presented the cases against Sayed and Barzola, published a blog post giving his account of the trial.
That evening an anonymous Twitter account began linking to cached pages of a blog the Twitter account claimed belonged to Senate Chair Stephen Chang. Early on Nov. 13, Chang confirmed it was his old blog in an official resignation letter. He resigned due to the "offensive" nature of the content. He wrote, "I apologize for what I wrote and the terms I used. I understand how offensive those terms could be."
This leaves vacancies in six leadership roles in Student Government: Vice President of Finance, Vice President of Internal Affairs, Senate Chair, Judicial Commissioner, Co-Director of Social Affairs, and Senate Communications Director.
President Andrew Cho is set to release a statement on Nov. 13, discussing the past week's events.
The next senate meeting is scheduled for Monday, Nov. 16;  Cho is set to propose replacements for Sayed and Barzola at this time. According to the senate by-laws, the meeting will be conducted by Senate Vice Chair Daniel Collins. Currently, the BU Students Against Silence group is focused on raising awareness of this week's occurrences and dissolving the student government. No word on how they will proceed.
Updates as of Nov. 18.
On Nov. 13, President Andrew Cho released a statement on BU's Student government website.
At Monday night's senate meeting on Nov. 16, a proposal was brought by Towers Senator Mim Eibsen and other students to dissolve the senate and rewrite the Constitution. The Constitution would be rewritten by a task force of the entire student body. The senate voted to table the proposal for two weeks after adding CAS senator Daniel Collins' amendment that the task force to create the new constitution would still go into effect, but senate would remain in session until a new Constitution was ratified. His amendment passed 24-1, with 14 senators abstaining from the vote.
The evening of Nov. 17, BU Student Government announced via Facebook that President Cho's appointments for Vice President of Finance and Vice President of Internal Affairs, pending a 2/3 senate vote of approval, would be, respectively, current Chief of Staff Akiko Endo and former Co-Director of Communications, Yasmin Gentry.
Nov. 18, a few students held a sit-in outside the GSU to protest the delay of restructuring the senate and Constitution, as reported by the Daily Free Press. The sit-in "attracted minimum attention from the student body" as only five BU Student Against Silence members attended.