Ten million people in the United States are abused verbally or physically by their partners, according to statistics offered by National Coalition Against Domestic Violence. While culture and society often address domestic violence, this issue is rarely discussed in terms of educational purposes.
"BU Domestic Violence Awareness Panel," held in Questrom School of Business, offered an opportunity for students to talk about this somewhat stigmatized problem. The NCADV also reports that one of three women and one of four men in exclusive relationships are suffering from this problem.
Speaker Ashley Bendiksen, an activist, entrepreneur and public speaker, opened up about her experience with domestic violence in the past. Bendiksen's boyfriend has abused her verbally and physically, and it all started with those "little things" that we often ignore in our lives.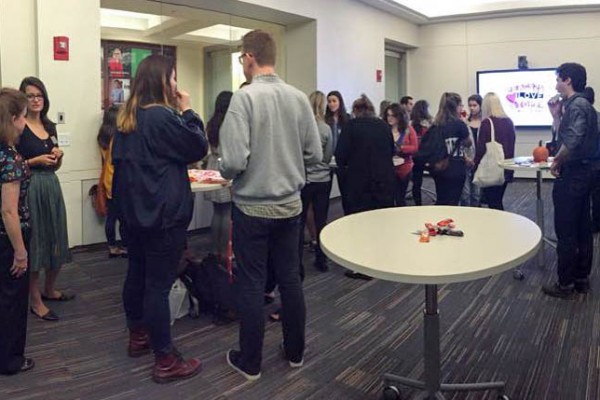 "I met this guy, then I had the best two months in my life. After that, came the worst two years of my life." Bendiksen had a wonderful relationship for a short time, and things went wrong when it's the least expected. In her story, there's a big gap between her life and that of her partner. On one side, Bendiksen graduated from high school and got into a college that she liked. On the other side, her boyfriend was broke. He didn't have a car. He was living on his friend's couch, and sometimes Bendiksen had to pay for things when they went on dates. She says that this imbalance between them, and this kind of negative emotion accumulated overtime.  "We were having fun, going to movies and wasting our time on the beach. It all seemed perfect to me. I was very happy."
She suggested that people should be cautious when their partners start to have sudden mood swings. A typical case of domestic violence usually accompanies  bursts of anger, mood swings and depression of some sorts. Then suddenly everything goes back to normal after a fight. This gives people a misleading signal that their partner might have just had a bad day and things will work out for them eventually. However, that was not the case for Bendiksen.
One night, her boyfriend screamed at her for having a happy life and a bright future while he practically doesn't even have a place to stay. After that, her  boyfriend began screaming at her in front of other people. When things like this happens, people usually think their partners are just having a bad day. They hope that this doesn't happen again, but it does, and it usually continues until the abused partner can't take it anymore.
It's important to know that domestic violence can happen to any exclusive relationship when one person is trying to take control of the other, mentally or physically. It's crucial to reach out when similar things happen. There are plenty of resources, communities, support groups to take abused partners out of their toxic relationships. BU Student Health Services and BUPD have programs and resources for those who are suffering from this issue.
Additionally, show support; don't judge your friends when they are trapped in an unhealthy relationship. Instead of telling them that they need to leave their partner, say: "I'm here for you and tell me everything."
Feature Photo courtesy India Mazzarelli via Facebook