Can art be political?  The Chinese government thinks so.
Ai Weiwei, an artist, human rights activist and outspoken critic of Beijing, is one of the most controversial figures in China.  His work is currently on display at the Boston Museum of Fine Arts in the 'Megacities Asia' exhibit, as it makes its way on a tour throughout the U.S., Europe and Southeast Asia.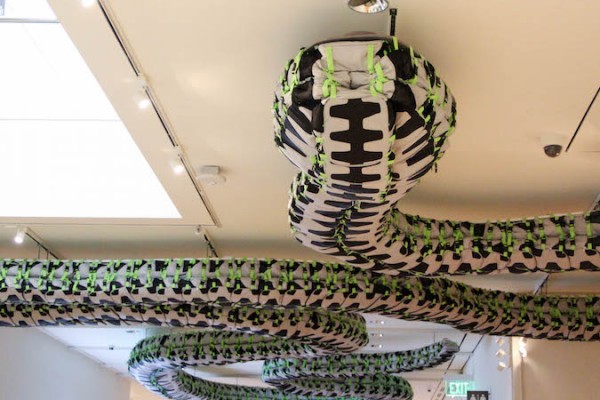 One of Ai's pieces at the MFA, titled "Snake Ceiling," is as its namesake suggests, a giant snake sculpture suspended from the ceiling.  However, the fake serpent is rooted in a much deeper context.  The snake is made of children's backpacks sewn together, to commemorate the lives of over 5,000 children killed in the devastating 2008 earthquake in China's Sichuan province.  Ai Weiwei thought that state-sanctioned "tofu construction," or lax regulation, was to blame for the deaths caused by a collapsed school building.
Ai did not stop at making artwork, reports Vice News.  The artist also attempted to launch a "citizens' investigation" to demand proper accountability for the Chinese officials allegedly culpable for the school building collapse.
That was too much for Beijing to bear.  In 2010, Ai's art studio was ransacked and destroyed by police. In 2011, Ai was arrested on unrelated, financial fraud charges, and was held in an undisclosed location for 81 days.
After a "Free Ai Weiwei" movement gained international media attention, the authorities placed Ai under house arrest.  In 2015, he was given back his passport and permitted to travel with express permission from Chinese authorities.
Free to travel, Ai is back at his craft again but now, for a global audience.
On April 16, Boston University and Tufts students held a conference at BU on Ai's work as part of the China Connection initiative that fosters U.S.-China cultural relations.
Oliver Sherman, a Boston University student who co-hosted the event, described Ai's art as not afraid to push the boundaries of expression in his native country.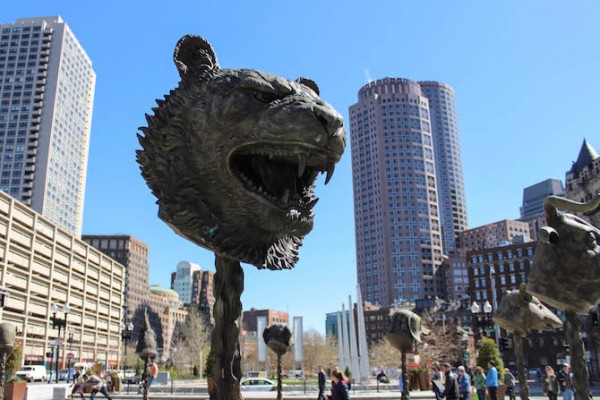 "He has the courage to stand up for what he believes in.  He's willing to risk his life, his livelihood, he was in jail for 81 days.  He's an activist, and I think all activists throughout the world should be respected," said Sherman.
It's no secret that censorship in China is a popular topic for Western media to cover.  Sherman said he thinks that a lot of Ai's appeal in the West comes from his criticism of China's government.
Speaking as a U.S. citizen, Sherman said "I think a lot of Americans feel threatened that China will overtake them as the most powerful nation in the world… a lot of Americans will take any opportunity to belittle [America's] competitors."
Ai has also branched out from criticizing the Chinese Communist Party.  Sherman said that as Ai Weiwei's work has become more visible around the world, the activist artist is striving to reach audiences that cross national borders.
Ai's latest pieces criticize Europe's inability to unify in response to the ongoing refugee crisis. In recent months, a flood of primarily Syrian and Afghani migrants have taken extraordinarily perilous journeys to Europe in an attempt to flee endemic violence.
One of his pieces features 14,000 lifejackets previously worn by refugees fleeing violence by sea, which Ai adorned to pillars at the entrance to Berlin Konzerthaus in Germany.  Germany is at the epicenter of Europe's refugee crisis, as it struggles to manage upwards of 1.1 million asylum-seekers who immigrated to the country in 2015.
While Ai can freely draw attention to the refugee crisis in Germany, he is forbidden from touching on such controversial or political issues in his native China.  Ai's most recent Beijing exhibit, which was cleared by authorities to open in 2015, is more of a nod to China's history and traditional culture than political commentary; it features an "ancestral hall" with lanterns and tea pots inspired by the Ming Dynasty, reports the New York Times.  Ai's freedom of expression is a bit of a paradox; he's free to do as he wishes outside his own country, but heavily monitored and self-censored at home.
Still, Ai makes do with his allotted freedom and manages to touch audiences from China and the West. For Ai, it's clear that the need for human rights activism is not limited to the People's Republic.
Feature photo: Ai Weiwei, Forever, 2003. 64 Forever brand steel bicycles. On view at the Museum of Fine Arts. | Photo by Sofia Farentinos