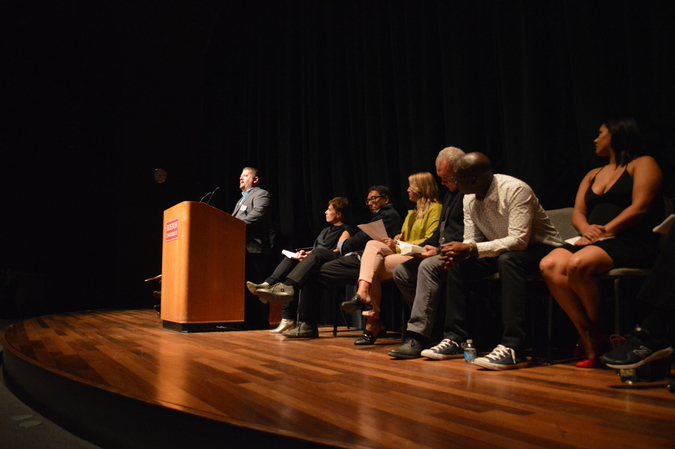 I don't envision Monday nights as being intellectually stimulating, unless you find rewriting college papers interesting. Yet, the "Favorite Poems" event, on Oct. 2nd in the Tsai Performance Center hosted by Duy Doan, proved me wrong with its unique approach to poetry. The whole attraction of the night was the diversion of attention from pretentiousness and intangible experiences, which regrettably, poetry has a tendency toward.
Instead of your typical slam poetry event where established, acclaimed poets read their renowned work, it was mostly a bunch of non-poets and non-academics reading poetry that really resonated with them, as Robert Pinsky, 39th Poet Laureate of the United States, elaborated upon in his opening speech. It was a diverse set, from Larry Summers, an esteemed economist who served under both Clinton and Obama, to the precocious sixth grader Krystal Gentle and celebrity chef Barbara Lynch.
Everyone read vastly different poems, but there was a common universality to the way it had touched them and made them, at least just for a moment, a better person. My own personal favorite poem that was performed by Barbara Lynch. Before she read, she shared with the audience that she had been raised by a single mother, is dyslexic, and hadn't managed to graduate either high school or college. Ordinarily, a performance might be lauded for its flow and the flourish of stylistic deliverance, but there was something incredibly moving and beautifully real about how candid this woman's reading was. She stumbled over a few words, and duly apologized to the audience, which only enhanced how authentic the performance was.
Or, perhaps it was Katiria Rodriguez, studying to be a forensic psychologist, who read Maya Angelou's "Phenomenal Woman." Angelou is hardly an easy poet to tackle, but once again, it was done, phenomenally and with imperfectly perfect passion. She made the verses come alive with her blasé interpretation of "the curl of my lip." Rodriguez mentioned that she was a recent graduate of the Care Center, an educational resource center in Holyoke, Massachusetts, for women who are pregnant or parenting.  The significance of the choice to read Maya Angelou is debatable, but it's arguably a potent celebration of Angelou's triumph over the stereotypes of single motherhood, let alone teenage pregnancy as she had her son at just 17. Thus, there is something to be said about the specificity of the authenticity that Angelou's poetry demands, which "Favorite Poems" throughly embodied. Had a male, white-collar professor of English with a crisp Harvard accent read it, it would have inevitably rung false. Rodriguez however, made it come alive, precisely because of a greater familiarity with some of the experiences Angelou herself lived through, which resulted in a much more diverse night than is usually expected of poetry.
Lawrence Summers, Charles W. Eliot University Professor and President Emeritus of Harvard University, read "September 1st, 1939" by W.H. Auden, a rather canonical choice, with lofty language such as "Imperialism's face" and "international wrong." To personify "imperialism" is a difficult task in and of itself, but to ascribe it a face seems impudent, given the extensively varied history of colonization, and the vagaries of an "international wrong" merely serve to confuse the audience. Who is being wronged? Who is committing the wrongdoing? Interestingly, Auden himself did not like this poem because he feared it  was "deceptive" or "flattering". He subsequently refused to include it in his 1965 anthology of poems, "Collected Shorter Poems 1927–1957," because he feared that it could be used for propaganda. It was fitting that Summers chose it for the first verse of the second stanza read, "Accurate scholarship," an area I'm sure is close to Summer's heart as an economist who served under President Obama and advised the post-Soviet countries' transition from command to market economies.
Several BU faculty members read poems as well, namely Dean Cudd of College of Arts and Sciences, Professor Ruukel who is the director of the Digital Education Incubator, and Professor Morrison, the University Provost and Chief Academic Officer of Boston University. The event also featured Krystal Gentle, a middle schooler from Roxbury Charter Prep School, Kevin Cullen, a columnist from Boston Globe, Michael Brown, Co-Founder and CEO of City Year, Michael Holley, Television and radio sportscaster on WEEI Sports Radio Network, Shaykh Yasir F. Fahmy, the Senior Imam of The Islamic Society of Boston Cultural Center, and the one and only, Stuart Weitzman, a world-renowned designer, entrepreneur, and founder of a company whose shoes are worn by Taylor Swift, Beyonce, and Gigi Hadid and who made several shoe-related jokes before launching into his rendition of "If" by Rudyard Kipling.
In addition to that, Claudia Pascual, a sophomore studying journalism in the College of Communications, read a fiery rendition of Puerto Rican poet Julia de Burgos' "To Julia de Burgos" in both Spanish and English. This absolutely blew me away when read in Spanish, particularly her poignant line, "tú, flor de aristocracia; y yo, la flor del pueblo," meaning "you, flower of aristocracy; and me, flower of the people." There was a newfound sense of urgency in her evocation of the untamed spirit of de Burgos that communicated itself much more fluently and effortlessly in Spanish. "Tú" simply has so much more force behind it than "you," and implies a greater amount of feeling, so that you genuinely could feel the anguish behind the original words. De Burgos was in fact known for the intersectionality of her work, both celebratory of her feminist beliefs and background as a Latina woman, which was revolutionary for the times she was writing in.
After the readings ended, everyone proceeded to the desert reception for some delightful food, where an elusive Professor Pinsky was spotted besides the crackers and cheese. If only the poetry world could always deconstruct itself so beautifully and open itself to the possibility of embracing outsiders, and take away the stereotype of poets being disconnected from their world. Because poetry deserves to be relevant and current, but most of all, true. Favorite Poems achieved all that. Perfectly.