Consider this a fair sampling of the odds and ends one sees at South by Southwest. One movie stars a bubbly Kristen Wiig weighed down by the economic depression in a very inconvenient time of her life. The other is a standard coming of age story featuring a young boy who befriends a long-haired rocker played by Joseph Gordon Levitt. With both pictures set to open in the Boston area Friday, May 13th, it's a movie weekend for dates to duke it out over which flick to see. Good luck boys and girls!
Bridesmaids
Judd Apatow's gross comedy is all over this, and I couldn't be happier. What a way to send up the wedding industry than through the comedic presence of two hilarious leading ladies, Kristen Wiig and Maya Rudolph. We get recession woes, boyfriend problems, and money troubles in a surprisingly mature way. Wiig plays Annie, who's lost her bakery business and hit the mid-life crisis stage a tad early. Her issues only multiply when her friend, Lillian (Rudolph), announces her engagement and asks Annie to be her Maid of Honor. Cash-strapped, but determined to do her best, Annie meets fierce competition from Lillian's recent trust-fund friend, Helen (played by Rose Byrne), who begins to take Annie's ideas and turn them into a lavish reality.
The movie passes the Bechdel Test , in that conversations topics range from memories and work life to puppies. Annie is a very full character and defies most stereotypical depictions of a leading lady. She's far from perfect. She has real world problems and her share of insecurities. We see her struggle with a truly strange set of roommates; we watch as she loses her cool in her temp job. It's a hard-knock life for this Annie, and that is endearing. But the film's low brow humor has most feminists in a tizzy. I think I have an answer. Some of the girls act like guys, and even make guy jokes. There's a prolonged food poisoning sequence in a dress shop. Men aren't the only ones on the prowl and getting rejected. Isn't pleasant to see women take free reign and trample the gender lines in comedy? Female comedians do not just exist in the realms of witty comedy. They should be welcomed in the bottom of the primeval humor spectrum filled with slapstick and gross humor. Every once in a while, a good dose of low brow humor is good for the soul.
I will warn that some of the characters come across as two dimensional. One of the bridesmaids sounds like a clone of Sex and the City's Kim Cattrall. And just what are we supposed to think of the odd-ball bridesmaid Megan? She's cast in the role of the requisite Apatow man-boy. She's loud, crude, and sexually forward like Will Farrell in Anchorman, yet steals Helen's party favors because they're adorable. As I said in the first paragraph, there are puppies in this movie. Sweet tiny morsels like that could soften the heart of anyone prejudiced against chick flicks.
Make a date or a girl's night out for Bridesmaids: B+
http://youtu.be/nrRd2QSsGc4
Hesher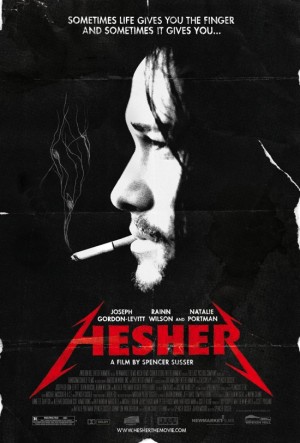 What's unkempt, foul-mouthed, and loathesome? If you guessed Joseph Gordon Levitt's character in Hesher, you guessed right. At least, it would seem so at first. But he's really only the (uncouth) Gandolph or Dumbledore to Devin Brochu's T.J. The story starts off in T.J.'s grandmother's house where the grandmother busies herself shuffling around trying to cheer her family up in the wake of an accident. The tragedy took T.J.'s mother and has left him with an overly depressed Rainn Wilson for a father. Enter Hesher, JGL as a hellion, to wake this grieving family from its hellhole.
As you can guess, the cast is superb. Natalie Portman waltzes in unexpectedly as the charming check-out girl who T.J. develops a crush on. The movie is widely bittersweet, switching from pain to pleasure almost as fast as Hesher changes heavy metal tracks. Of all the movies opening this weekend, Hesher is possibly the strangest. An open mind is definitely necessary. Hesher is a tighty-whitey wearing anarchist gracing the silver screen. He vandalizes property, freeloads in T.J.'s home, and even hits T.J. with his car all in the name of teaching him to stand up for himself. It's a kind of coming of age tale suffering from too much from its own ironies. Oh, and no explanation is given. Ever. The audience is in the dark in more than one way as they sit in the theatre for the duration of this trippy drive.  It's a very strange indie movie indeed.
Possibly the only time the movie makes any sense is the end. And that's a little long to leave an audience alone with Hesher.
For the young at heart, and demented in mind: C+