You may know it as the hyperbolic measurement usually followed by the words "end of the universe," but Danielsen Hall is much more than a boundary between campus and city. Not without a sense of humor, the residence hall located at 512 Beacon Street touts itself with the motto, "Danielsen Hall, It's Closer Than You Think," and while the building is infamous for its distance, it seems that not much else about it is known.
The building's history is difficult to track down, making it ripe for student superstition. "I heard it used to be a mental institution," said resident Sean Burciago (CAS '17), "but I'm not sure how accurate that is".
In reality, this myth is not without its merits. Philanthropist Albert V. Danielsen and his wife Jessie Boyd Danielsen funded the residence's construction. They also gave their names to BU's Albert and Jessie Institute  which offers "psychotherapy, psychiatry, psychological testing, and consultation services that attend to all dimensions of a client's personhood: biological, psychological, social, and spiritual." Although the Danielsen Institute does concern itself with mental health issues, the residence hall has never served this purpose.
Nonetheless, the rumors persist, and one trip into the building may explain why. The 10-floor building housing 282 students was first acquired by BU in 1976 complete with clawfooted bathtubs, twisting hallways and murmuring radiators which all add to its mystique. "There's something really interesting in the basement," Burciago mentioned. "There are a few doors that lock from the outside."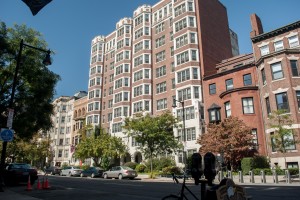 Student opinions of Danielsen vary greatly. Some enjoy the seclusion of Beacon Street and amenities like its proximity to Newbury and Boylston streets and the 1 bus, which allows for quick travel to Cambridge. Others, like Stephanie Schalago (COM '17), argue that while it's nice being so close to downtown, "It's super far from Allston and the rest of campus, which kind of sucks." Burciago added, "It's so far away, I'm surprised it still counts as BU campus."
As far as student makeup of the building goes, a large number are international students like Thalita Marques (MET '16). She finds the community diverse and comforting, but noted that "it's not a good place for international students" because of how far it is from dining halls and the rest of campus. She also took issue with the "disorganized layout" of the floors.
"My first week it took me like five minutes to find the bathroom," she said.
While Danielsen may not be the asylum of folklore, its distance from campus keeps it a mystery in students' minds.