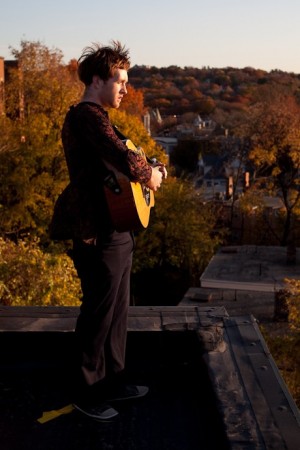 From his rusty-red haircut and 70's-style paisley pants to his feisty and fearless onstage antics, Boston University student and musician Dan Macdonald (Spitzer Space Telescope) keeps people on the edge of their seats.
Spitzer's musical path began at BU his freshman year when he played shows at BU Central open mic nights. His uncommon and energetic Irish folk music stood out amongst the venue's shy, first-time performers. Eventually other venues and artists picked up on the unique talent and Spitzer was invited to play various  on- and off-campus events. His first solo show was at T.T. the Bear's in Cambridge during the spring of his freshman year. Gigs at places like the Nameless Coffeehouse in Cambridge followed, where Spitzer met the venue's previous owners, Maureen and George LeBlanc, who became mentors for the musician–they had been in the Boston coffeehouse circuit for decades and exposed him to various clubs, musicians, and folk music enthusiasts.
Spitzer continued to play locally until the summer before his junior year in 2008, when he embarked on a national East Coast tour that started in Chicago and traversed the Southeast to Florida. He sold hand-made, self-recorded EPs on the road and used BU contacts and friends to help him book shows and bring crowds. The tour was successful enough that the musician was able to hit the road again a few months later.
His collection of Irish folk songs turned into an official self-titled album during his junior year of college. The album was released by Good People, a record collective based in Spitzer's hometown of Lansing, Michigan. The album-release show was sponsored by WTBU at Morse Auditorium where Spitzer played the concert with a group of friends he met in the Allston folk scene. One of his friends, Vince Bancheri, was the brains behind the Allston hootenannies where Spitzer gradually became a monthly staple for the scene's loyal fans. Spitzer and Bancheri later teamed up with other artists to create Mama Bird Recording Company and host a series of folk shows in Boston, two of which were The Grand Ole Hoot at Cambridge's YMCA Theater and A Night of Sea Songs at Cambridge's Democracy Center.
All of Spitzer's projects follow the same principle of staying true to one's self. He explains:
What I'm trying to promote with Spitzer Space Telescope is DIY, self-reliance, and being true to yourself as an artist. I also think the message I'm trying to convey is to have fun with the art you're making and not try to forcefully change what you think is cool just to fit in or to further your career.
The media have latched onto the musician's independent ventures and helped further launch Spitzer's name. The Daily Free Press, BU Today, SCAT TV, The Boston Phoenix, Bostonist.com, and Paste Magazine have all delivered Spitzer's music to the public realm.
Now a senior, the musician plans to undertake a full US tour upon graduation. When not touring, he'll be painting, working, and showing his artwork in New York City and Boston. His next shows are listed on his Myspace page at http://www.myspace.com/spitzerspacetelescope.