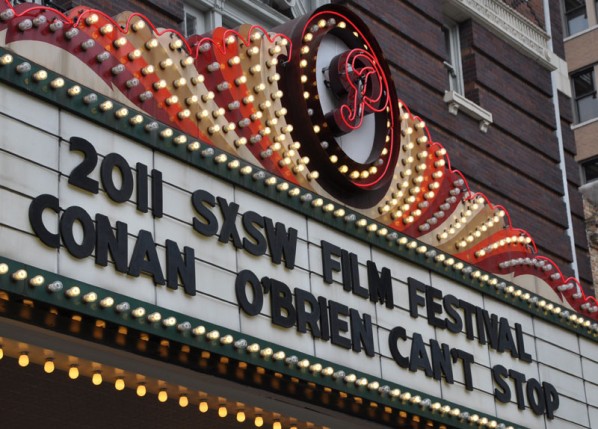 Watching a movie is so much easier on the couch. Why bother with going to a movie theater– with the traffic, the people, the prices, the lines? And a film festival? Those lines will almost certainly be worse, because everyone shares the same movie pick. What's more, Video on Demand and premium cable services have started to capitalize on the appeal of film festivals, offering the movies that can't be seen in major theaters.
However, after eight full days of  long lines and pure movie watching at South by Southwest, the tried and true hoopla of a film festival has proven itself to be worth the hassle many times over.
A film festival offers an abundance of unique opportunities. Big name, big budget movies and independent films alike bring out the creators to talk about their experience with the film. It's all a part of spreading the word, but it provides fans far away from New York and Los Angeles the chance to ask their favorite actor a burning question or the artsy director about the source of his ideas. Sometimes, less-appreciated craftsmen like writers and producers tag along and speak on behalf of their pet project. Plus, when these film festivals open in town, they usually show movies ahead of their weekend national release. So on Friday, when everyone else is rushing to the movie the film festival fanatic has already seen, the festival goer gets to see a different one. They can also warn their friends away from movies that they know from experience are not worth the time. I never said film festivals had perfect programming.
Perhaps the greatest benefit of film festivals is the opportunity to see movies that skirt the mainstream. For those of us who dig a counter-culture vibe and don't have access to independent theaters, the opportunity to see movies presented by directors with a similar mindset is priceless.
That's not to say the organizers of the festival don't put a price on it.The biggest downside for film festivals are the mounting costs of attendance. Festival passes or badges are expensive. They are also the best ways to go to a festival, and depending on the terms of the pass or badge, they provide perks like priority seating and access to multiple movies.
If a film festival sounds interesting, be smart. Calculate your commitment level before hand. It makes little sense to buy a full day's pass if only one movie looks interesting. For those people who need to see that one movie now, most festivals offer single admission tickets. These prices are usually along the lines of a standard movie ticket, so this option is affordable to most. Keep in mind, though, that depending on the size of the festival and its ticket options, pass holders and badge-wielders could fill the theater before single admission tickets are sold.
Is Austin, Texas, or New York City too far to travel? Have no fear. Boston offers its own film screenings.
Boston Underground Film Festival: The wicked don't usually see the light of day, and most of these movies will never see the inside of big theater chain. Two staples from the Midnight selection at SXSW will be screening here including the Argentinian Phase 7 and the New England premiere of Hobo with a Shotgun. You bloody will enjoy it. (March 24-31)
Boston Turkish Film Festival: The Museum of Fine Arts offers a more international point of view with their Turkish Film Festival. Tickets are sold as single admission, so fear not the lines. (March 24-April 10)
Boston Independent Film Festival : Possibly the largest film festival in the area, the BIFF takes place in multiple independent venues and brings in a lot of big names. Locally, this is a great chance to go celeb-spotting and premiere hopping. The festival line-up has yet to be finalized, but a few favorites from SXSW have confirmed their appearance in our neck of the woods. (April 27-May4)
Film festivals offer a chance to satisfy a thirst for the unique, the interesting, the unknown. Film festivals offer a place for people who love movies to congregate and converse with the people who make the movies they love. You can't get that on your couch.