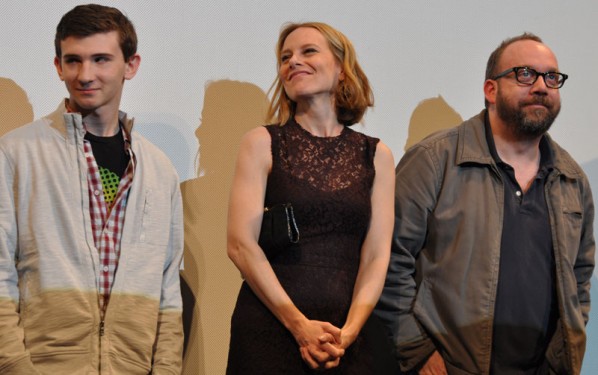 Almost three years into the Great Recession, Americans are getting hit with a new financial trend that will likely burst in a few year's time: the "recession comedy." It's a retro trend, originally rooted in some of the screwball comedies of the 1930s, like It Happened One Night. Money and its absence play a large force in new movies like Win Win and the upcoming Kristen Wiig movie Bridesmaids.
The problem of missing money falls heavily on the shoulders of Paul Giamatti's lawyer and family breadwinner, Mike Flaherty. As the struggling everyman, we feel his pain when his business is suffering, his marriage is strained, and his health is failing. These are relatable problems and fears, but at times, he seems almost overtly sympathetic. We are pushed into believing he in such bad luck that its ethically okay for him to "adopt" one of his senior clients and use his Social Security checks to keep his business afloat and his family in a home with food on the table. Right?
Well, the supposedly single grandpa comes along with a surprise grandkid, a runaway from his unhappy home. Reluctantly, Mike has to keep him too. But the deal is sweetened when Mike, moonlighting as a hapless high school wrestling coach, discovers his visitor is a champion back home. Here, the movie turns light-heartened as the unlikely punk turns out to be a pinning-prodigy. It's during this uptick, we get to see not only Giamatti and newcomer Alex Shaffer spark into a lively comedic performances, but the lovely Amy Ryan gets in on the excitement as well. Prior to this, we only see her as the angry wolf-mother protecting her den. But it is a treat to see them cut loose with the supporting cast. It gets fun without getting over the top, and it is a win.
But when we slide back into drama, some things work and some not as well. For instance, when the young wrestler, played by Alex Shaffer, finds out his mother has tracked him down and is trying to get him to come home, he clams up, awkwardly to say the least. But then again, this is his first role as an actor alongside professionals, so he keeps up well enough.  When the "evil" mother shows up to one of his wrestling meets, it spells disaster. A little predictable, but it is for dramatic affect. The mom is clearly the antagonist in the movie, continuing last year's trend of evil moms on the march to ruin their kids' lives. Not so much of a win
Overall, Win Win is a decent dramedy with an indie heart of gold. We do get a fair share of authenticity for a movie that could have easily entered into Hallmark territory. Kudos to the director for interweaving his nostalgia for his high school wrestling days into a complex movie. By casting a real high school wrestler, the audience gets the real experience from a kid's perspective. Giamatti is wonderful, running the gamut of moral dilemma without saying a word. Amy Ryans provides her character with much more depth as the story goes on.
The movie ultimately dishes out a little moral about how family, those related and non-related, are everything in this world. Maybe its a reminder for the audience to be thankful for what they have and to appreciate it. We learn to love these guys, cheer when they win and groan when they fall. It is a very well-run character-driven movie for the win: A-
Win Win is now playing locally at the Coolidge Corner Theater and Kendall Square Cinema.