After the release of Freaking Out EP, beloved synth-master Toro Y Moi set out on tour with New Zealand rockers Unknown Mortal Orchestra and New York darlings Ava Luna. The Quad caught up with Toro, aka Chazwick Bundick, for a conversation as he traveled to Boston from New York on Friday. As soon as we called, Chaz exclaimed, "Oh shit! Sorry, our mirror just got knocked off."
Auspicious start, right?  Chaz went on to talk about his favorite thing about performing live: the challenge. "You get sort of like an adrenaline rush from it. You don't know what's gonna happen so… It's like trying to play some sort of game or something, you're just trying to do the best you can."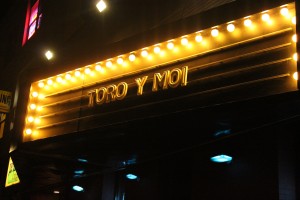 If there was any uncertainty on stage at the Paradise that night, it didn't show. Bundick zipped through his set with mostly joyous tunes—"Still Sound", "All Alone", and "Freaking Out" stood out as embodying the "upbeat" music he talked about incorporating in Freaking Out.
"I was listening to a lot of more upbeat stuff at the time. I wanted to make some more upbeat music so we could play it live… There was a lot of head-bobbing and stuff when the songs were a bit slower. The live shows are really awesome now." When asked what his favorite place to play was, Bundick responded, "Favorite city? I like playing New York and San Francisco. They're always really good—Oh shit! look at that guy! There's like a dead guy on the street."
Four minutes in, and there's already been an accident and a possible homicide. Awesome. "We're just driving in New York state and there's a bunch of traffic. [laughs] This is gonna be an interesting article! They like knocked the mirror off our car and there's a dead guy." Throughout both incidents, Bundick was eerily calm.
"That's disrespectful. Yeah… I was just kind of shocked. I don't even really know if he's dead but there's a guy on the street with a crowd and cops… He did look kind of pale." This was immediately followed by a stunned silence and nervous laughter on all sides. "Um, yeah. So let's change the subject!"
Chaz Bundick came up with the name Toro Y Moi when he was fifteen. "I didn't wanna just be another singer-songwriter and just go by my name," Bundick said.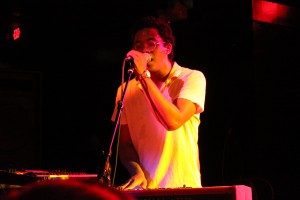 Chaz has played Boston every time he's done a US tour. "Boston's always really receptive. It's really good. It's always a really good crowd," he said.
A big change this time around is that Bundick played with a bassist, drummer, and a guitarist instead of solo. "It's more comforting to know that you're not doing it by yourself and that everything's not all on you." said Bundick. "You can see where all the sound's coming from and how they work together."
The astronomical talent of the backing band shone through at the show that night, with everyone working in perfect harmony. Toro took that synth to the moon and back, but the addition of the band took the sound to another level that the term "chillwave" couldn't touch.
"I like that I can do whatever I want." Bundick explained that his favorite part of making music is that he can make something electronic or acoustic. "I like to do a lot of different things and constantly change-up what I'm doing."
This is precisely why Freaking Out is so amazing. Toro Y Moi completely embodied the term "chillwave" with Causers of This and Underneath the Pine, but the new EP has a level of dance that has taken the indie-electro sound out of the realm of vaguely-danceable to a full-on dance party, riding the wave of funk and swing revival and 80's hooks that have taken over the indie scene. Not to mention the songs are much easier to sing along to.  "[The lyrics] are more up-front, and they're more clear."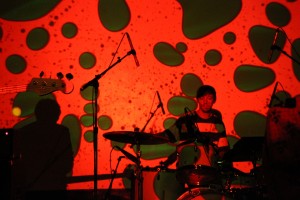 It was under the "unbelievably dance-tastic" umbrella that the show came together. A strange mixture of bros and indie-rockers came together and grooved their hearts out all night, starting with Ava Luna. The Brooklyn natives sported a seven piece funk-rock outfit with a totally 50's sound. Complete with three female backing vocalists and a white dude (Carlos Hernandez) jamming around the stage a la Chuck Barry, Ava Luna's sound is almost indescribable, containing elements of electro-fuzz, haunting trance, classic soul and jazz. The resulting sound was something irresistibly danceable and joyous. Unknown Mortal Orchestra (UMO) was like The Clash meets the Jackson Five —a little jammy, but classically rocking and super fun. They had a tight sound that went well with Ava Luna's 50's-revival vibe. (Check out UMO's pre-Paradise interview on Allston Pudding).
Toro Y Moi took the stage around 11:15, and the hour long set passed in a haze of thumping beats and dancing bodies. The projector played a video of color-changing amorphous blobs that worked surprisingly well with the music. The combination of dance, joy, and trippy visuals made for an incredible albeit exhausting experience.
Chaz Bundick is currently on the third season of Mad Men, and thinks Don Draper is "an asshole." He's picky about comedy, but really likes Tim and Eric Awesome Show and Adult Swim. The last time he was in Boston, he went to the Public Garden and saw the Swan boats. Mostly, he's a guy who's both chill and jazzed—just like his music.