After one of the worst weeks in his four-year spell as Barcelona's manager, Josep  "Pep" Guardiola announced at approximately 1:30PM Spanish time that he would be leaving the club at season's end. Barcelona's domestic and continental dominance both came to sudden, shocking ends over the last 7 days, as a 2-1 loss in El Clasico to bitter rivals Real Madrid all but ended Barca's chances of a 4th consecutive league title, while a dramatic 2-2 draw with English side Chelsea in the second leg of their Champions League semi-final ended the opportunity to become the first team since Milan of 1990 to win back-to-back European cups.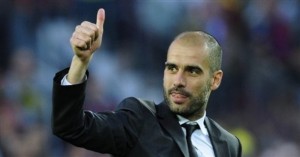 Now that Guardiola is stepping back, there have been many saying that the Barcelona we have come to know is finished, it is the end of an era. Well, that is nothing if not premature. Even without Pep, Barca still have players of world-class quality – Lionel Messi (the three-time defending World Player of the Year), Xavi, Iniesta, David Villa, Carles Puyol. This is a team that features players who are all arguably among the finest playing their position in the world.
Pep, who assumed the managerial position in 2008 after coaching Barca's B team, has enjoyed one of the most successful coaching stints in soccer's history. Four full seasons have seen the club collect three La Liga titles, two Champions Leagues (and two semi-final appearances), two UEFA Super Cups, two FIFA Club World Cups, three Spanish Supercopas, and one Copa del Rey. That's 13 trophies in four years — teams like Arsenal, Liverpool, and Chelsea in England haven't won that many in a decade.
There has been no shortage of individual awards, either. After Barcelona's Champions League victory last May (at the expense of my beloved Manchester United), many were apt to include Pep in the list of the greatest managers of all-time, as well as rank him ahead of modern day icons like Sir Alex Ferguson and Real Madrid counterpart José Mourinho. Organizations across the globe recognized his brilliance with countless awards — the Don Balon Award for Best Coach of the Year in 2009, '10, and '11, the World Soccer Magazine Coach of the Year in 2009 and 2011, and the inaugural FIFA Ballon d'Or Best Coach this year. Last September, Pep was even awarded the Catalan parliament's Gold Medal for Sporting Merit.
Even with the impressive tally of trophies and awards with which he will leave Barcelona, it is perhaps the style of football that he has promoted over the last four years that will best serve Pep's legacy. By emphasizing a model called tiki taka — defined by rapid, one-touch passing-and-moving — Barcelona has played football not seen for generations. It has become completely normal to see Barcelona maintain 70% of possession against even the highest caliber opponents, whether it be Arsenal, Bayern Munich, or Milan.
No team has so epitomized the word, for Pep's Barcelona are a collective; there are no individuals bigger than the team, which speaks to Pep's skills as a manager considering three of his players – Xavi, Iniesta, and Messi – were the three finalists for World Player of the Year two years ago. No, unlike Real Madrid where egos run rampant on a daily basis, Pep has continued the Catalan culture of the team first attitude, a view reflected in the club's motto "Més que un club" (More than a club). They play as a team, succeed or fail as a team.
The 201o-2011 campaign was by far Barcelona's finest, as they time and time again put on breathtaking displays, beating teams by four or five goals with ease. No victory was more encapsulating of their dominance, style, and indeed Pep's footballing philosophy than the 5-0 one over Real Madrid in November of 2010. Real Madrid are no losers: they feature Cristiano Ronaldo, Kaka, Mesut Ozil, etc. But against Barcelona that night in the Camp Nou, it was like men against boys. The home side were superb and it was hailed as one of the finest displays in the sport's long history.
It is a sad day indeed to see Pep bring his Barcelona managing career to a close. But with an impressive trophy cabinet to display and some of the best football ever played accredited to his tactics and philosophies, Guardiola will forever be remembered as one of the all-time greats, and deservedly so.