Boston University Academy (BUA) shares Boston University's name and its campus, but few University students know very much about it. It's a shame, too, because University students could probably stand to learn as much from Academy students as they learn from us. Though a relatively minor piece of the Boston University community, BU Academy, with its ability to churn out bright, college-bound students, is certainly a welcome presence on campus.
Boston University Academy is a co-educational day school for ninth through twelfth grade high school students. Founded in 1993, the school currently educates roughly 160 students with a faculty of 22 teachers in its 20-classroom Academy building.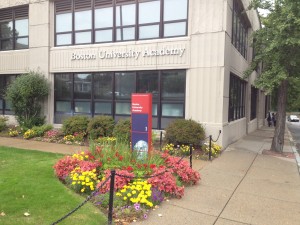 BU Academy operates under the supervision of Boston University. The Academy faculty are University employees and financial decisions ultimately go through the University as well. Students who apply to BUA for 9th, 10th and 11th grade are admitted based on consideration of their academic records, their intelligence and their likelihood of success at the school. To attend the Academy, students paid $32,590 to attend the private school for the 2011-2012 school year.
Under the direction of Jim Berkman, the head of school and leader of its "long-term strategic planning," BUA has just completed its first successful capital campaign. Among the $420 million that BU has raised in its "Choose to be Great" campaign were $1.7 million that came from BUA's campaign. The Academy's 2007-2012 strategic campaign included goals for faculty, BU/BUA connections, size, diversity, classically based curriculum and reputation in addition to the fundraising. Among its goals, the Academy hopes to increase its enrollment to about 180 students in three years and also has plans to expand its facilities to include an atrium and updated classrooms.
Boston University Academy, as an integrated piece of a large research university, offers a high school experience that is undoubtedly unique. BUA is one of 10 founding members of the National Consortium of Early College Entrance Programs, along with programs at schools like University of Iowa, Clarkson University and University of Washington. Among this select group of schools providing college preparation and college education programs to young students, BUA is one of only two universities (BU and Guilford College) who offer full-service, four-year high school environments. Not only does BUA have access to the full resources of a major research institution, it also can provide high school students with the full set of social, extracurricular and educational experiences that a typical college can offer.
Students who have the privilege of participating in BUA's world-class program are held up to rigorous standards that push the boundaries between high school and college level learning. Most students in ninth and tenth grade take all of their classes within the Academy's classically based curriculum. By their junior year, students take two of their courses at Boston University, generally including a modern language to supplement their Greek or Latin studies at the Academy. In their senior year, students can choose to take all of their courses at the University, and Berkman says about 50% of them do. In the 2011 – 2012 academic year, BUA students took classes in a variety of departments, including everything from introductory philosophy and English to advanced math and computer science classes on par with what many college seniors take.
In addition to their course load, senior students also complete a Senior Thesis in conjunction with a Boston University professor. The professor aids them in their research and studies, while a BU Academy advisor helps them with writing and planning. Some particularly impressive titles by last year's seniors included "Effects of WHOI Fairings on the Vortex Induced Vibrations of an Underwater Cable" and "Double Dipping: The Nature of the Passive Construction in Mandarin Chinese." The benefit of this sort of system of rigorous classes and work, says Berkman, is that there is no "intellectual ceiling" and that it makes BU Academy "a safe place for students to be intellectually curious."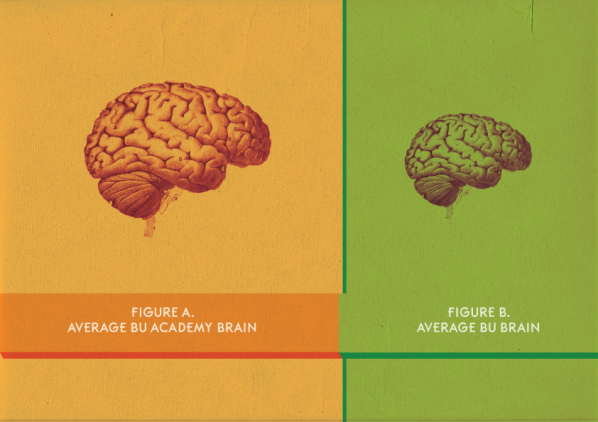 With such a demanding curriculum, BUA must be careful to admit students who will succeed in the demanding school. Applicants are judged by their skill sets as well as their intellectual curiosity. Applicants are compared against previous student profiles to help get a sense for what qualities make for successful students. Berkman says that the faculty has found that reading skills are often most strongly correlated with success at the Academy. Even Berkman admits, however, that not all admissions decisions are 100% accurate. It's undoubtedly difficult to judge the long term intelligence and work ethic of 14-year-olds. "It's not a science, it's an art," he said. "We try to keep the students' interests at heart." With extra attention, however, even many at-risk students grow into the program and learn to succeed.
Admitted Academy students have to be top notch, because they move so quickly into the college environment. Berkman notes a particular challenge for young students is learning to "grow into discussions and study groups" with undergraduates. In their Academy classes, faculty work hard to encourage participation and discussion to help prepare students for BU classes. Academy faculty also work with University professors to monitor students and help those who may be struggling. All professors with Academy students in their classes are notified and Berkman says most of them do a good job with keeping the Academy updated.
When this isn't enough, Academy faculty steps in to help their students. Berkman recounted an anecdote about one student struggling in a difficult Russian class. When the student continued to struggle in class, an Academy teacher spoke with the professor in Russian to help understand what the student needed to do to be successful. In this way, BU Academy students are in the unique and beneficial position of being in University level classes while still having the individualized attention and assistance that younger students need.
BUA's relationship with BU gives the students access to much more than just education. BU Academy students have access to Mugar Memorial Library, the boat house and the theater department stages, just to name a few things. Many BU departments also partner with the Academy. Students at the College of Engineering, for example, work with the Academy's FIRST Robotics team to advise them in building their robots. BUA also works with BU for its STEM program and Model UN. One of the newest partnerships is with Sargent College, where experts at Sargent are working to teach students about time-management and health/wellness.
BU Academy students are probably better prepared for college at a top tier university than many incoming freshman at BU. After graduation, not only do they have experience taking college courses, but they've written a thesis, worked with professors and worked competitively with peers who challenge them. They know how to work hard and participate in environments where they might not immediately be comfortable. It might just be the case that, at BU Academy, students are really getting what they are paying for–the resources and faculty of a major research institution with the care and personalized attention that Boston University so often lacks.
Special thanks go to Jim Berkman for meeting with me to answer my many questions and for providing me with information about BU Academy. It sure seems to me like he is taking the school in a great direction.