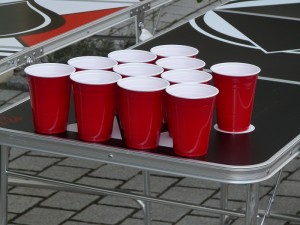 In 2009, rapper Asher Roth told us why he loved college. A year later, Boston's own Sammy Adams decided that even though he hated college, maybe the parties and girls weren't so bad. In 2011, the film Project X gave us a home-movie style look at an out-of-control house party that seemed like perhaps the coolest thing to ever happen to three nerdy high school seniors.
Now here we are in 2012, and for the past ten months, Arya Toufanian, 20, and Jeffrie Ray, 19, of YouTube video sensation "I'm Shmacked," have been providing us with yet another look at the party scene of the 18+ crowd. Urban Dictionary defines being shmacked as being "intoxicated to the point of not even being able to stand up, know what's going on, or correctly pronounce any word."
A recent article by New York Times reporter Jennifer Conlin recognized the dustup caused by these videos, which try to convey the "crazy party life" of students on various college campuses. These videos portray countless scenes of beer pong, scantily clad girls, blunts and joints, Bacardi being poured off decks and into mouths, and other vignettes reminiscent of '90s rap videos, even though there is a disclaimer below each video that reads "No alcohol or illegal substance is used during the filming, just prop."
The videos do not forget to add a few campus shots, thread in some cool music, and of course flash the school's logo. Acting as somewhat of an unauthorized advertisement, "I'm Shmacked" has profiled campuses all around the country, including University of California at Santa Barbara, Ithaca College, Penn State, University of Michigan, Tulane University, and many others.
These videos, which have over five million views on YouTube, have indeed faced criticism, not only from the underage drinking-intolerant universities themselves, but also from students. Some maintain that the videos glorify binge drinking and belittle the consequences of this "go hard" mentality, consequences from balancing a nasty hangover with a chemistry exam to trying to deal with unflattering Facebook photos—potential dealbreakers when trying to snag internships and jobs.
In Febrary 2012, "I'm Shmacked" faced opposition on the high school level. A video surfaced on the duo's YouTube channel that featured students from Lower Merion High School participating in the activities seen in the college videos, such as binge drinking and drug use. Parents were notified by school district officials, and the video was ordered to be taken down. The story made it onto the local NBC news in Philadelphia and, when approached about the situation by the Philadelphia Inquirer, Arya Toufanian maintained that no real alcohol or drugs were used in filming and was unapologetic of the situation.
When I interviewed Toufanian regarding the "I'm Shmacked" college series, he stated that, "The videos are to raise awareness…and display an accurate representation of the party life, while a giving a taste of the campus of the university at hand." Although he refused to give an opinion on the binge-drinking culture that has popped up on college campuses, when asked about the criticism he and his partner have faced for making these videos, Toufanian claimed, "There has been some backlash…I try not to concern myself with it. It would be naive of a university to not have me on their campus…either way it is filling up classrooms."
Toufanian might not be far from the mark in saying that the videos have a strong impact on students narrowing down where they want to go to school, since they're choosing how they want their college experience to be. For some students, the depiction of campus party life may play a large role in these decisions.
When looking at the 48,774 Facebook likes that "I'm Shmacked" has garnered, it is reasonable to wonder what has motivated so many people to click the thumbs-up button. Mack Biester, a freshman this fall at University of California at Santa Barbara, told me that when he saw the video, "It just made me more excited to leave for school." Gavin Smith, a student at University of Iowa, explained, "I'm just waiting for when they come to my school…I like the videos because they give high school kids a view of what they're getting into." In addition to the undercurrent of excitement that the "I'm Shmacked" videos have evoked in some college students, they have also created a sense of competition among some schools. Some students have been inspired to create trailer videos, to "out-party" one another, in order to persuade "I'm Shmacked" to come to their university.
Toufanian defended his videos during our interview, saying, "We didn't invent alcohol, nor do we provide anyone with any alcohol." While this may be true, "I'm Shmacked" does perhaps give a face to the statistics regarding college drinking. According to the National Institute of Alcohol Abuse and Alcoholism, "drinking by college students aged 18 to 24 contributes to an estimated 1,825 student deaths, 599,000 injuries and 97,000 cases of sexual assault or date rape each year."
While it is perhaps easier to brush these numbers off, it is difficult to ignore the social toll that college drinking takes on students in today's culture. The existence of networking sites such as Twitter, Facebook, and Instagram make it harder and harder for young people to separate their professional and personal lives. Drunken pictures from Saturday night circulate throughout the Internet—often without the knowledge of those posing with the red Solo cup—for all to see on Monday.
When Asher Roth cheekily raps, "I can't tell you what I learned from school but/I could tell you a story or two," and assures us that, "time isn't wasted/when you're getting wasted," should we consider if that's all we want as students from our college experience. While it may be fun to sing along, toss back shot after shot, and scream our school pride into a camera, we have to wonder if we are being provided with a false sense of fun and cool, one that leaves out the physical and metaphorical hangover. We must ask ourselves, is it enough to have a few crazy weekend anecdotes, or is it time to start listening to a different song?