The time has come for the last Ingredient of the Week post for the semester. I decided to end with a sweet ingredient because I know we all crave sugar around finals period. You can use these snacks to help get you through the next week.
I've always thought brown sugar had a fuller taste than regular sugar, which might be because the molasses is reintroduced to give it a brown color and sticky consistency. There is no real difference in the nutritional value of brown and white, so it's personal preference. Try substituting brown sugar in a recipe that calls for white. You may be pleasantly surprised.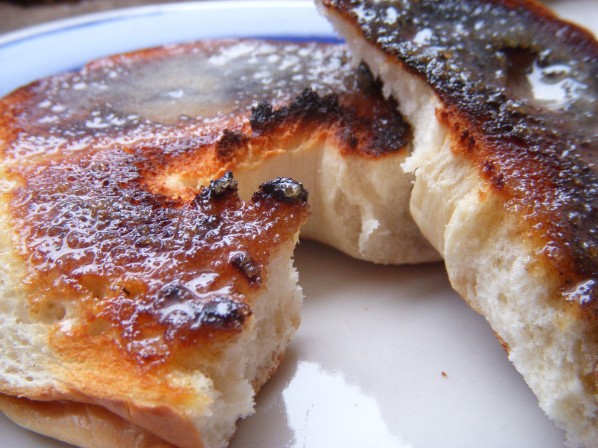 Breakfast
Sweet Bagel
Total time: 5 minutes, serves 1
Ingredients
1/2 bagel
1/2 teaspoon butter
1/2 teaspoon brown sugar
Directions
Place bagel in toaster and heat until slightly browned. While you are waiting for the bagel to toast, heat up the butter and brown sugar in the microwave for about 10-15 seconds. Once the bagel finished, spread the butter and sugar mixture on the top.
This topping can be used for a lot of different things, which I demonstrate in the next meal. It reminds me of creaming butter and sugar in a baked good recipe. I always want to eat that part. It takes me a lot to refrain from eating it all before adding the rest of the ingredients. With this recipe, I get to have my cake and eat it too, sort of.
Lunch
Sweet Butter Popcorn
Total time: 5 minutes, serves 1
Ingredients
2 tablespoons popcorn kernels
1 tablespoon butter
1 teaspoon brown sugar
cinnamon, for sprinkling
Directions
Place popcorn kernels into a brown paper bag and roll the top of the bag so no kernels can escape. Microwave on high for about 1 1/2 minutes, checking the bag every 30 seconds. Once all the kernels have been popped, put the butter and sugar into a small microwavable bowl and heat for about 10 seconds, until butter becomes liquid. Pour onto the popcorn and mix until thoroughly combined. Top with some cinnamon.
This is even better than getting buttered popcorn at the movies. I recommend using this as a study snack. It's both sweet and buttery. Isn't that what finals week is all about?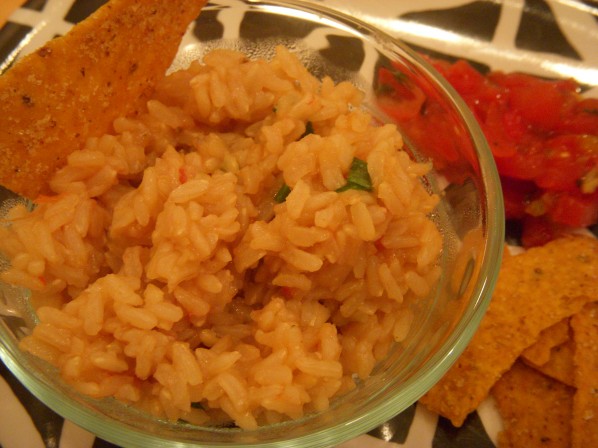 Dinner
Brown Sugar Rice
Total time: 1 hour, serves 4
Ingredients
1 cup rice
2 1/4 cups water
1/4 cup brown sugar
1 green onion, chopped
1/8 cup salsa
1/2 tablespoon white vinegar
1 teaspoon soy sauce
1/2 teaspoon toasted sesame oil
1/2 teaspoon maple syrup
Directions
Place water and rice in small sauce pan and allow water to come to a boil over high heat. Once the water starts boiling, reduce heat to medium and let simmer until water cooks out, about 40 minutes. When the rice is finished cooking, mix in the brown sugar, then the onion and then the salsa, mixing each in separately. In a small bowl, combine the vinegar, soy sauce, sesame oil and maple syrup. Once they are completely combined, pour into the rice and mix until fully incorporated.
I am really proud of this recipe. It reminds me of a meal that would be served at an ethnic restaurant. The ingredients sound like they would not go well together, but I urge you to try it. The soy sauce mixture adds a little stir fry taste and the brown sugar serves as a sweet aftertaste. The onion and salsa play nicely with the other ingredients as well.