On Sunday, Ray Lewis, 17-year veteran and Baltimore Ravens linebacker, will take the field one last time, ending a storied career that included thirteen Pro Bowl appearances, ten All-Pro selections, 2 Super Bowl appearances (and possibly 2 victories), and a Super Bowl MVP award. He leaves the game as one of the greatest linebackers in NFL history and with an assured spot in the Hall of Fame.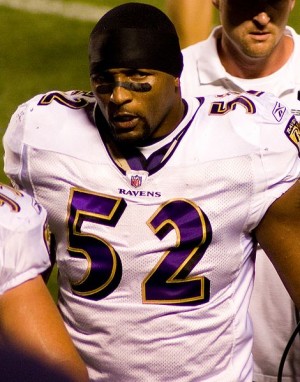 At the height of his powers, Lewis was a downright terrifying force, punishing opponents on hit after hit with a supernatural violence that no other player seemed to possess, prowling the field with instincts and intelligence that matched his strength and athleticism. Even dating back to his days as a freshman at Miami University, Lewis played at an extremely high level – to put it simply, the man has never played bad football in his life. Though a 37-year-old body and a torn triceps muscle this year have reduced him from his prior heights, the purple fifty-two on his jersey still intimidates based on reputation alone.
Off the field, Lewis has constructed himself as a sort of terrifying pastor – a man who preaches the Lord's will and uses it to motivate himself to hit you really, really hard.  Known for his inspiring pre-game speeches and his dances before home games, Lewis might be an easily mockable character if he weren't so damn frightening (as someone who has met him, I can vouch for this – I've never been more afraid of a person in my life). His persona will likely only grow in outlandishness and intensity when he becomes an ESPN talking head after the Super Bowl.
Yet in 2000, Lewis was involved in an incident that remains a dark blight on his image as God's gridiron warrior. Following a Super Bowl XXXIV party in Atlanta, Lewis and several cohorts were involved in a brawl outside a nightclub. At the end of the night, Lewis and two friends came away unscathed while two others, Jacinth Baker and Richard Lollar, were stabbed to death. Ten days later, Lewis and the other two were indicted on murder charges. In return for cash settlements with the victims' families, testimony against his two friends, and pleading guilty to a misdemeanor obstruction of justice, Lewis walked away with just a year's probation. The details of the case are hazy and incriminating – Lewis might not have wielded the knife himself, but he undoubtedly was involved in the murders and their cover-up.
Here in America, we have a long history of forgiving our icons of their biggest sins if their deeds are great enough. The line can be traced from Christopher Columbus and his treatment of Natives to Martin Luther King, Jr. and his serial adultery to celebrities like Robert Downey, Jr. or Steven Tyler being absolved of their past sins because we enjoy their work. If the person is generally likable or makes an apology – all is forgiven; this is why certain baseball players that admit to steroid use like Andy Pettite or Jason Giambi are forgiven while Roger Clemens, Barry Bonds, and the like are reviled.
Ray Lewis is emblematic of this tendency, a man who through his God-fearing persona and spectacular play has all but erased his ugly past in the minds of the general public – the murders as well as his six children by four different women. It's hard to reconcile his apparent religious devotion with this other side of his personality. Recently, Lewis was named in a report about a Miami drug facility for allegedly using deer antler spray pills to recover from an injury, which somehow qualifies as a performance-enhancing drug. In press conferences before the Super Bowl, Lewis dismissed the accusations and refused to acknowledge the murder charges, instead invoking God and the devil and the evil plot to keep him from success.
On Sunday, the Superdome will light up and number fifty-two will prance onto the field one last time, dancing, preaching, screaming. He will make a few tackles and perhaps his team will win – if he does just enough in victory, he will probably be given another MVP trophy to cap off his career as the best linebacker of the modern era. As we watch Lewis for the final time, millions will forget Ray Lewis the man – the two lives he helped end unavenged, the multiple children, the PED allegations. He will simply be Ray Lewis the football player – the guy who has made over 2,000 tackles; Ray Lewis, the guy who hits really hard.