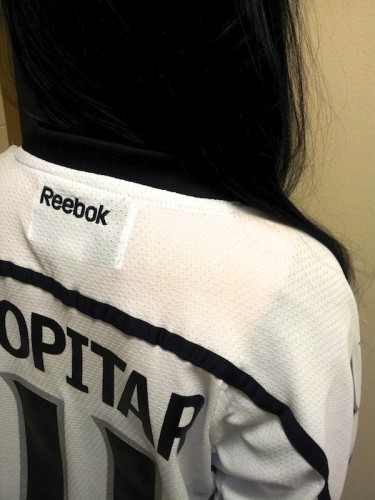 "News of the NHL lockout's end caused as much excitement in the male world as a 70 percent off sale does in a woman's."
The aforementioned quote is from the introduction to "The Girl's Guide to Watching the Rangers," written by Mirna Mandil of Blueshirts United. This January 25 article, posted and later deleted on the New York Rangers' website, intended to help the typical Rangers fanatic's clueless girlfriend familiarize herself with the sport, and of course, remind her to wait until after the whistle blows to ask a question.
Mandil continued, "If you're completely oblivious to what the end of the lockout means, think of it as the premiere of the newest season of Girls being delayed by months, and then suddenly, it's announced that it will be coming back but with a lot fewer episodes to make up for lost time."
It is 2013, and yet women are still struggling to break through the glass–or rather ice–ceiling. Ari Collura (CAS '16), a lifelong Rangers fan described herself as as "pissed off" after reading the article.
"I didn't start liking hockey because of some boy; it was an independent thing," said Collura, a New York native. "I like the Rangers because my dad is into sports and growing up, I've always been into my hometown sports."
According to data collected by Scarborough Sports Marketing, roughly 36 percent of the National Hockey League's fan base is female. While the statistic hardly indicates a majority, the number of female hockey fans, or sports fans, for that matter, is growing. But if that's the case, what is the objection?
"[Female hockey fans are considered] either…'butchy,' or that they're just faking it," said Collura. "Don't get me wrong, there are girls–and it's very sad–who Google hockey terms so they can sound cool, but there are girls who don't do that. I know a lot of girls who are hockey fans, and it's offensive to think that you can be put in that gross stereotype."
Zach Fisher (CGS '15) believes that female sports fans are more stereotyped as bandwagon fans than anything else.
"They're doing it just because it's cool [to support the team]," Fisher said, joking that the typical bandwagoner always wears pink team apparel, keeping her from being taken seriously.
"Whenever I see girl with a jersey on, I always ask her about they guy on the team whose jersey she's wearing and she won't know," said Fisher. "It's not helping herself….They're just there, they don't really care about the game."
Fisher says he does know avid female sports fans who are hardly treated differently, who "get teased a little bit…nothing that can't get brushed off." While he considers sports as "a guy thing," he doesn't have a problem with female sports fans.
Collura doesn't believe women should be discriminated against for watching sports.
"Let's say [only guys played] sports," said Collura. "Does that mean only men can watch it? And only girls are allowed to see musical theatre? That's crazy. It's literally distorted. We've moved on, it's the 21st century."
Longtime Rangers season ticket holder and Forbes contributor Teresa Genaro writes that she regularly feels as if women are demeaned or thought irrelevant as sports fans, recalling how during a renovation of Madison Square Garden's upper level where she sits, every women's bathroom was closed, while the men's were not. Genaro also pointed out the "casual sexism—misogyny?—carelessly spewed" from the male fans sitting in her section, like feminizing jeers towards opposing players.
"I don't think that we ask too much," wrote Genaro. "We'd prefer not to be demeaned or ignored.We'd like to know that our attendance, attention, and dollars are valued."
Collura asks to be taken seriously as a hockey fan.
"There are girls who actually like the game," said Collura. "I literally bought season upgrades for BU Hockey, I've gone to games alone and I've gone up to the glass just to see them because hockey is really cool."
In response to "The Girls Guide to Watching the Rangers," Deanna Vasso of Rant Sports posted "A Gender Neutral Guide to NHL Hockey," pointing out the main of Mandil's article beyond the "over arching condescending tone" and "obviously outdated stereotypes about women."
"The writer spoke as if she knew so much about hockey but what did she explain?" wrote Vasso before listing some basic rules and lingo of the sport. "All she said was to research the players and ask questions (only  during a penalty for the whistle break). If this article is intended for people who know nothing about hockey, wouldn't it be better to explain key things to the game?"