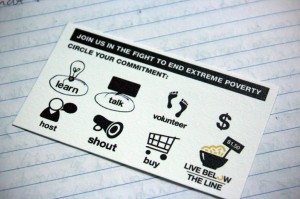 Brittany Aubin, from the Global Poverty Project, came to Boston University on Monday, February 4 to give a moving presentation on the 1.4 billion reasons to join the efforts to end extreme poverty. Brittany, a Long Island native, graduated from American University and immediately joined the Peace Corps to spread knowledge about the HIV disease in Zambia for three and a half years. She has also studied in Chile and only began working as a presenter for GPP three weeks ago. Aubin made it a point to stress that this was not a "fundraising campaign, but an awareness campaign to incite and inspire action."
While living in Zambia, Aubin recounts having to watch almost the entire surrounding population live on under $1.50 a day. She can only describe this way of life by insisting that these people "still didn't really understand what it felt like to live." Children in Zambia do not grow properly, as they are not provided with milk but rather with Coca-Cola. It's cheaper than milk, and that's all that matters. The amount of money that these people are forced to live on is enough to buy some rice, oil, fuel, and enough vegetables for maybe two meals with only ten cents left over for everything else.
Within the Global Poverty Project there is something called the Live Below The Line challenge that lasts for five days. During these five days, those who pledge must adhere to living on $1.50 per day. Aubin stresses that this is "not impossible. I did it, and I felt like a rockstar because I felt what it was like for 1.4 billion people to live like this every single day." This year's challenge will begin on April 29 and conclude on May 3. While this brief event is marketed as a challenge for those living in more developed regions, it is still reality for those living in many other places across the globe.
After playing a video of a Zimbabwean man who used to dig and sell tree roots for $2 a day—an amount he considered himself lucky to see—Aubin provided some startling statistics. 1 billion people go to bed hungry, 800 million people have no access to clean drinking water and so 2.2 million children die each year. The places that contribute to these statistics desperately need aid, but there is such a thing as bad aid. Good aid, according to Aubin, consists of long-term sustainability programs, agricultural support, access to clean drinking water, and health improvements. Bad aid, on the other hand, she illustrated with an example. After the tsunami in 2004, mass amounts of clothing were donated to affected areas. Much of this clothing was literally dumped into large mounds which then sat for extended periods of time, eventually growing mold.
In wrapping up her presentation, Aubin illustrated the necessary amount of aid by comparing how much United States citizens spend each year on hairloss treatment to how much money is needed to end polio in Africa. US citizens spend $13.5 billion on hairloss treatments each year, which is more than three times the amount necessary to end this crippling disease in Africa. Aubin believes that by spreading awareness alone, we can end global poverty together. As a final word, she shared a quote with us that she learned abroad. "When you first meet someone," she explains, "you ask if they are strong. When you answer back, you say 'we are strong.'"