Whether you have a meal plan or not, it's incredibly easy to make a semi-healthy but absolutely delicious pizza snack that tastes a thousand times better than the frozen pizzas from City Convenience.
Since it has been warming up, you should consider taking your dining outside for spring, such as to the BU Beach (which will hopefully soon be construction-free.) These pizzas are ideal for a spring day picnic, since you can package them in little containers and make the afternoon that much better.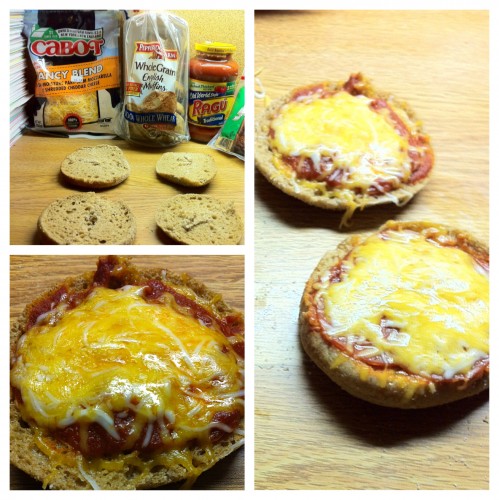 All ingredients for these pizzas are at City Convenience, and for assembly, all you need is some empty desk space and a microwave. I made four of these myself, which proved rather difficult to finish. However, you should maximize your ingredient usage, so what you could do (one idea that I'm definitely going to try!) is make around 10-15 with some friends and share for a potluck of "home" cooked food.
Please don't feel limited by my pepperoni preference! If you want to add some pesto, veggies, pineapple, or anything else pizza-worthy, absolutely go forth and add some extra pizzazz to your pizza. One of the best parts of this recipe is that you can definitely make it your own.
I personally opt for plain cheese pizza since it's the easiest, but for a friend get-together, it would be  fun to make a few with various toppings so that everyone can try something different. If you want to be really unique, you can always get intensely creative and cut your English muffin "crust" in half and insert some cheese. Put the other piece back on top and just continue the assembly normally to have a cheese-stuffed crust.
A word of caution before making these pizzas: the muffins get very hot when you continue to microwave them and can burn fingertips, so use a nearby, clean surface to add the cheese and sauce so that you do not burn yourself!
Good luck and have fun cooking!
Pizza Snacking
Total time 5-10 minutes
Ingredients:
1 bag of your favorite kind of shredded cheese (I used a mix of them)
1 package of English muffins (Whole Wheat… if you want to be healthy)
1 bottle of tomato sauce (Ragu is my pick)
Optional: pepperoni, pineapple, or any other preferred topper available at City Co
Directions:
1. Cut open as many of the English muffins as you want to prepare.
2. Sprinkle on some of the shredded cheese, enough to cover each muffin, and then microwave them for 1 minute.
3. Take the English muffins out of the microwave, and put a spoonful of tomato sauce on top, spreading it over the surface, and re-microwave it for another minute.
4. At this point, you want to add your toppings. Place on as many as desired, and then put another handful of cheese on top, and microwave for another minute.
5. Wait a minute to let them cool briefly, and then enjoy!