Ye had me worried. Between the grand theft charges and the tour date postponement, I wasn't exactly sure I'd even get to see the Yeezus Tour. And, given the reports from the first show of the tour, I knew that this was a show that I really, really wanted to see. And man, was it a show.
But first, the opening act. For his first solo tour in five years, Kanye decided to bring along wunderkind Kendrick Lamar, who is currently riding the success of last year's phenomenal good kid, m.A.A.d city. He came out at around 7:10 p.m. and performed for a good 50 minutes. He performed bits and pieces of nine songs from good kid and one weird, but sorta awesome A$AP Rocky cover.
Kendrick, who hasn't been known for having great stage presence, was much more assertive and comfortable then I was expecting him to be. It was a pretty damn good set, even though it felt truncated at times (he'd often perform one verse of a song and then move onto the next one), and the sound mixing was really heavy on the low end and sounded muddy (though the Garden's PA may be to blame for this). I'd love to see him headline, so hopefully this is just the precursor to a proper North American tour.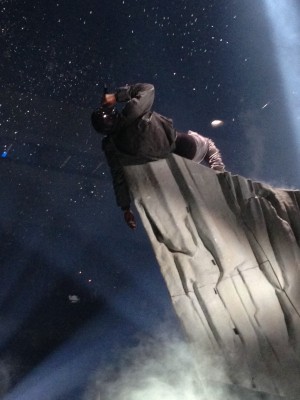 Still, we were here for Kanye and, around 8:40 p.m., we got him. Let me try to set the scene: The stage consisted of one central, triangular platform jutting out into the crowd, with a literal mountain behind it where the band would be for a more typical end stage set up. Above the mountain was a massive, circular LED screen that moved throughout the show. When the show began, around 12 women dressed in robes and skintight mesh bodysuits walked onto the central stage. Eventually, the synth stabs of Yeezus opener "On Sight" began to play, and Kanye made his way onto the stage. He was wearing a red jeweled mask. He would change said mask three different times throughout the show.
This set the tone for the entire concert. Namely, we were treated to a very theatrical affair, one that featured multiple costume changes, a mountain that erupted and eventually cracked open, some sort of yeti looking demon thing, and a dude dressed as Jesus. Taken individually, and knowing Kanye's penchant for egotistical madness, this sounds excessive in the worst way. But, I swear to God, it wasn't. For some reason, one I'm not entirely sure of, all of these elements made a ton of sense when they were thrown together. We were getting a trip into Kanye's mind and all of the creativity, excess, ego and faith that trip entails. The entire narrative, if you could call it that, felt very personal and strangely intimate. It was, if nothing else, completely captivating.
The set was very heavy on Yeezus, a divisive album (which is, in my opinion, brilliant) that also happens to be Kanye's worst selling. When I say "heavy," I'm not kidding—he performed all of Yeezus's 10 tracks and, beyond a short version of "Through the Wire," stuck completely to material from Graduation forward. This was not a bad thing, The tone of the majority of the show was cathartic and pretty serious, and I'm not sure that say "Gold Digger" would have fit in this context. In a way this makes sense—Kanye's last solo tour was in support of Graduation, so the Yeezus Tour represents his first tour length chance to focus on the three albums that have come after it.
The crowd was far more familiar with the Yeezus material than I had expected, given that album's poor commercial performance. All of the tracks worked well live, with the thumping intensity of "Blood on the Leaves" probably the best of it. "New Slaves" was also great and the performance of "I'm In It" (a song that I like in spite of myself) featured Kanye climbing onto a human throne made out of the women who were on stage in the beginning. If nothing else, I got to scream "Hurry up with my damn croissant!" live with Kanye West, so there's that.
The theatrics weren't reserved for just the Yeezus tracks. "Power" featured Kanye on top of the on-stage mountain while "Coldest Winter" saw snow fall from the arena ceiling as Kanye leaned off of the center stage, which had risen during "Can't Tell Me Nothing." He even performed a few tracks from the Cruel Summer compilation. Kanye himself sounded great, though I have no idea how he managed to see—let alone sing—through that mask.

Still, the best moment of the show may have been the performance of "Runaway," a stunning 10 minute event which served as the denouement for all of the personal catharsis that Kanye had been building for the entire show. In the middle of the song, Kanye stopped to try and tell the crowd why he "talks so much shit." Like nearly everything Kanye says, it was more than a little obfuscated, and I can't really explain what he said (and maybe I read too much into it), so go check it out yourself. Regardless, he was completely sincere, and it was legitimately nice to hear Kanye try and explain why he's such a bizarre, grating person. He's a self-aware dude, one that seems to understand just how ridiculous he can be.
A few songs after this, Kanye finally took off his mask, and the show took on a different, more fun tone. He kicked his way into a set of pre-Yeezus hits, "All of the Lights, "Flashing Lights" and "Jesus Walks" among them. As I watched Kanye smile his way through "Good Life," it became clear that he was downright enjoying himself. Kanye, despite all of his problems, obviously cared about his fans and putting on a good show for us. By the time the last notes of "Bound 2" faded out and we all began our march out of the arena, he had succeeded.