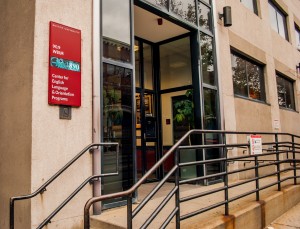 If entering college can be scary, imagine the experience for international students. According to the U.S. News and World Report 2013-2014, Boston University ranks 16th for a national university with the most international students. 23% of BU's 2018 freshman class is international. With a high proportion of international students on campus, what types of services and assistance does BU provide for internationals transitioning into college?
The International Student Scholars Office (ISSO)–a center for international students at Boston University–provides students assistance with visa applications and other official documents. ISSO representatives also direct students where to go for academic resources and for more information on social groups.
At the CAS and COM Writing Centers, there are writers specialized in ESL tutoring. In general, the writing centers are resourceful places for students looking to get help with their writing.
While the programs are intended to specifically help international students, if those students are afraid to speak up, the resources can't help them.
Miko Kishida is a foreign exchange student from Japan currently enrolled in CELOP, which is an intensive English program at BU where students learn how to improve their English speaking and writing skills. When asked about her first impressions she said, "The first time I arrived on campus, I was so confused, as native speakers talk so fast."
However, she quickly realized that she had to go after the opportunities BU offered to understand the American culture.
Recently, Kishida and other Japanese internationals had the chance to speak with the second-semester Japanese class at BU. She also attended BU sponsored dinner events held on-campus for international students to get to know other international students.
However, the best way for Kishida to feel comfortable was to talk to people–in English. "The best part for me is when someone is interested in my culture…then there is a lot to talk about," she said.
That said, she hasn't had many striking conversations with her American roommate. American students not engaging with international students is common, said an RA in a brownstone on Beacon Street who wished to remain anonymous for fear of losing the position.
"To be honest, I'm not sure if [BU] Housing purposely puts every international student with an American student…although it certainly appears like that is the case sometimes," the RA said. "It is difficult when American students do not make an effort to know their international roommates," the RA adds.
While BU may have specific resources for international students, when it comes to social involvement, BU leaves it up to international students to figure things out, but it's not easy.
Ina Sulkaj (CAS '17), originally from Albania, remembers that the speakers at the international orientation last year were telling them how to interact with other students. "They showed a video of BU students interacting with one another, [but] it was mostly internationals speaking with internationals," she said.
Sulkaj believes that this is why many international students want to identify with their cultural group when they first arrive, as Americans can give off an image of being "cold" to students outside the American culture.
Lola Oyelola (CAS '17), an international student from Nigeria who spent three years in a boarding school in Toronto before coming to BU, joined the school's African Students Organization during her freshman year to help her adjust to the community.
However, Oyelola feels that BU could still do more.
"BU should try to have events that bring all the student groups affiliated with a certain race/nationality/ethnicity together, as opposed to only having each group have their separate events," Oyelola said.
Oyelola feels this could be a reason that international students stick close together with their own group. BU tries to specifically help international students by providing programs and cultural groups, but there is no assistance in the social transition into the community.
"I had to learn how to find my own way around…BU didn't really do much about helping me," said Sulkaj. Now in her sophomore year, she feels that she has finally gotten used to the American culture on her own. This is only her second year living in the United States.
Overall, it just takes some time for students to adjust here at BU–international or not.