From the outside, being a model looks like a fairy tale- money, nice clothes, beautiful people. TV shows like Tyra Banks' America's Next Top Model glamorize the modeling industry and make it seem like anyone can make it big if they want it badly enough
But none of the models from that show have actually gone on to be supermodels. And only a handful of all models are truly living the dream of fame and fortune. So why does modeling seem like such a fantasy career?
Dr. Ashley Mears, Assistant Professor in BU's Department of Sociology and Women's, Gender and Sexuality Studies, can help shed some light on this question.
Mears began modeling when she was just 16 years old, and after her senior year of college, she began doing sociology field work in the modeling industry. She divides the industry into two distinct halves.
"Usually when we think of fashion modeling we think of one market, but it's really segmented into two poles; one is editorial and one is commercial," Mears said.
According to Mears, the editorial pole contains the models whose faces are recognizable. Editorial jobs generally do not pay very well; wages range from $0, to trade (i.e. free clothes), to a few hundred dollars per job. Some editorial jobs (mainly fragrance lines and cosmetics), called luxury brand campaigns, are associated with high status and high wages; models in these jobs can earn millions of dollars in a single day.
The other half of the industry is the commercial pole. Models in commercial jobs (like JCPenny or Kohl's catalogs) receive steady wages, approximately $1,000-$2,000 a day, but do not have the elevated status of editorial models.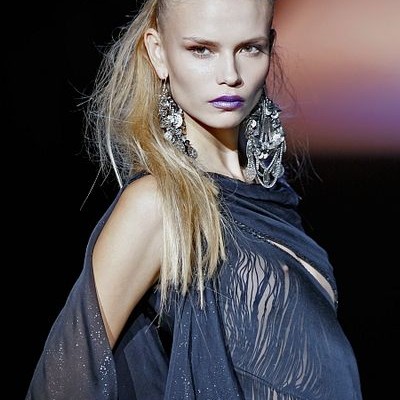 The distribution of models within the industry is an interesting detail in modeling. Mears and her co-author compiled a database of models walking the catwalk on Style.com in order to study which models walk most frequently.
"It's a really clear what we call 'power-law distribution,' or 'winner-take-all,'" said Mears. "There's a very clear split between the winners – very few – and everyone else."
This database ranked supermodel Natasha Poly at the top, walking 670 shows in the time period of the study. On the other end of the spectrum, 47 percent of the models in the sample walked only one show.
Getting a start in modeling is not an easy task, and as it turns out, it seems to be even more difficult for women than men. But once they do get their start, female models fall into what Mears sees as a troublesome trend.
"It's one of the few fields where women earn more than men, the other ones being sex workers, exotic dancers, and porn actors. So, fields that are generally lower status, stigmatized, and they involve the sexualized consumption of the body," said Mears. "I find this deeply problematic."
But the scales tipped back in men's favor when Mears looked at the length of a model's career. She found that a female fashion model's career is generally finished by the time she turns 30, while a male model can work into his 30s or even his 40s.
"And they're not supermodels or brand identities…they're just good-looking older men, but good-looking older women, it's almost an oxymoron," she said.
Mears acknowledged that modeling can unlock opportunities to travel and meet interesting people. But, she said, it is "predicated on change" and not a stable form of employment.
The modeling industry can be quite fruitful, but perhaps is in need of reform. As for anyone considering a career in the modeling industry, Mears offered, "To quote Paulina Porizkova, 'Modeling is a great job and a shitty career.'"