Have you ever run down a street at night wearing nothing but socks and shoes?
Josh Friedman (CAS '12) aka ThatOneEyedKid has.
In the music video for "Hang Around" off his EP "Always," Friedman gradually takes off articles of clothing while jogging down the street.
"'It'd be so funny if I was running down a street, naked, with no explanation.'" Friedman says he told his director. "And my director said, 'We can do that.'"
Friedman says he wanted to do something a little confusing or provocative to go with the "most straight ahead pop" that he has.
Friedman's music can be classified as alternative pop or synth-pop and is upbeat enough to blast in your car or at a party. Friedman says his songs ideally disguise "very personal and evocative stories within a shell of 'Hey, I can listen to this.'"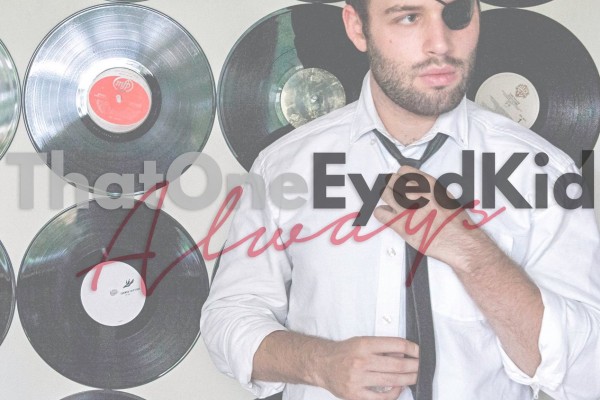 Friedman has been sharing these candy-coated pop hits on an East Coast tour that started in Vermont and will end in Somerville, Friday, Sept. 18 with the release of Friedman's EP "Always."
Of the five songs on the new EP, three have already been released on ThatOneEyedKid's Soundcloud. Friedman says when writing a new song, he grabs from a bag of experiences and sings nonsense words to notes until he finds lyrics he likes. Inspired by Bon Iver's soundscapes, Ben Folds' ability to "rock the f*** out on the piano," and Passion Pit's balancing act of layering sounds, Friedman says "even in electronic music, there's soul and life."
Another inspiration of Friedman's songs comes from the idea of owning experiences and championing them. "Sometimes you're in love. Sometimes you're out of love. Sometimes someone betrays you and you learn something about yourself and about them. Sometimes you don't know what 'on fleek' means and you feel old," Friedman laughs before continuing. "As a person, s***'s going to happen that you may or may not be able to control. I lost my eye to cancer at 14, and it was unwarranted. I wasn't sticking my head in a microwave. But whenever you're faced with anything you're experiencing for the first time and you're scared and you're unable to process it – this is how I understand."
Friedman has been playing the piano and writing songs since he was 14, and furthered his talents while at BU. He went to the music rooms at CFA and Warren to play and write songs "because I needed to, cathartically."
Since then, he's played with many bands, including groups at Berklee and Ruby Rose Fox, which he played keyboard for. As for his work as ThatOneEyedKid, he says he's passionate about the work he does because it's "self expression, which is absent when I do YouTube covers."
Besides creating his own music, Friedman also does covers of well-known songs. His cover of Avicii's "Levels" now has more than 700,000 views.
Regarding how his original music is received, Friedman says so far, the reception has been great. "I want everyone in the world to hear it and love it. I'm really happy with it. It's hard to work hard at a creative thing, hard to justify the time spent at a computer adjusting a tiny bit of vocals. There are so many hours poured into it. You wonder 'is it worth it?'"
But now that his EP is being received so positively by audiences, Friedman says he's glad he finished it and is "grateful that people find it uplifting. I'm grateful I would have any role in someone else's happiness."
As for why he looks so joyous in his music videos (even when running naked outside), Friedman says, "I get to do this. I get to play my own songs in front of people. Even if it's a sad song, I can't help but to feel so good because who gets to do that? Who gets to go on stage and make a fool of themselves? It's hard to feel anything else but effusive happiness."
Being someone who finds such joy in sharing his creations with the world and having the world accept it, Friedman says self-expression should be every individual's driving motivation.
"If we're here to do anything as human beings, that's what we should aim to do: make art. Take a thing that happened to you and express something," says Friedman.
At 25 with a Youtube following of more than 5,000 and a newly released EP, Friedman says moving forward, "all I wanna do is continue making songs that are good and hopefully can connect to people."
If you would like to attend ThatOneEyedKid's EP release show at the Burren Backroom in Somerville, tickets are available here.
To keep up to date with the rest of Josh Friedman's Monocular Music, follow him on Facebook, Twitter, and YouTube.