Any Boston University student knows the struggle that is public transportation in Boston, whether it be the T, the BU Shuttle, or the 57. But imagine the struggle if you couldn't find your bus stop.
This is an issue that many blind and visually impaired people have when it comes to getting around. Perkins School for the Blind in Cambridge has developed and launched BlindWays, an app that closes the gap left by standard GPS in navigating to your bus stop by using crowdsourced clues about the landmarks near bus stops.
Before it was launched to the public, BlindWays was tested by both visually impaired and sighted users. Some of the sighted users were volunteers from BU's First-Year Student Outreach Program (FYSOP).
The FYSOP volunteers in the Abilities focus group went to Perkins to help input clues for each bus stop. One of those volunteers was Tali Cowen (SED '17).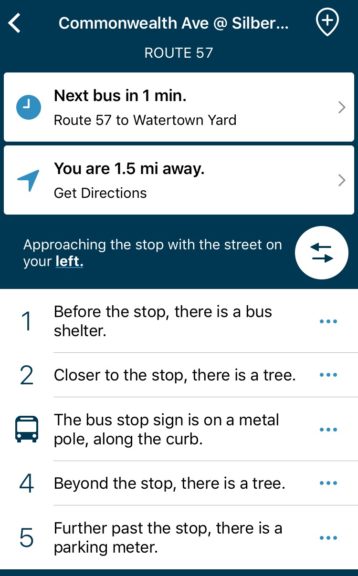 Cowen and fellow volunteers were in charge of going to bus stops around the city and checking to see if clues had been entered for the stop. If clues had been entered, they made sure they were accurate. If clues weren't entered, they added some.
Clues about the bus stop can be what type of stop it is (a sign on a building, a sign on a metal pole, a sign on a thin pole) and what is near the bus stop (fire hydrants, benches, trees, bus shelters).
"I really enjoyed contributing to the app," Cowen said. "I like that I can contribute to the app as I go along with my daily life."
Anyone can enter a clue, including environmental clues. During testing, one non-sighted user said they could tell the difference between a Starbucks and a Dunkin Donuts by the smell.
Because the app is crowdsourced, a wrong clue can be edited by others, which helps protect against mistakes. Users can also confirm clues to be true and accurate.
For users that are visually impaired, the app is compatible with Apple's accessibility settings to use audio cues for visually-impaired users. For users that don't have the accessibility settings set for audio-assistance, the app functions like any other app on their phone. Currently, BlindWays is only available in the Apple App Store.
Cowen says while out inputing clues, she and other volunteers saw first hand how the app would help the visually impaired.
"Our group saw three blind individuals using public transportation, so it was great to see how our work will be put to use," Cowen said. "I don't know what it's like to be blind, but speaking from a person with vision, it seems like a great resource that will provide important information to help blind people navigate the public buses on their own."
The app will help users all over the city, including on BU's campus. Despite BU's extensive Deaf Studies program at BU, there doesn't seem to be a prominent program for those that are visually impaired. The page for students and faculty that are blind or have low vision has only a few links. BU Disability Services could not be reached for comment on BlindWays' potential impact on BU campuses.
Featured photo by Massachusetts Office of Transportation on Flickr Commons.