(From left) Meghna Chakrabarti, Moira Weigel, and Luvvie Ajayi tackle the subject of sexism and being a strong woman in the media world during the "Super Women" panel in the Church of the Covenant on Saturday afternoon. Photos by Alexandra Wimley
Authors, writers, and bibliophiles alike gathered in Copley Square on October 15th to participate in the Boston Book Festival, an event that celebrates the power of words to delight, inspire, and unite.
The main attraction at the Boston Book Festival was the street fair, an all-day event that featured an impressive collection of exhibitions. Exhibitors ranged from independent publishers and literary magazines to performance companies, arts organizations, media outlets, and even food vendors. The street fair attracted the most significant crowds at the Festival, especially because of books such as Fantastic Beasts and Where to Find Them, an exhibit that attracted readers of all ages throughout the day.
Although well-known exhibitors such as The Boston Globe had their fair share of visitors, the smaller exhibitors received just as much attention. Independent publisher Zephyr Press publishes literature from around the world in its mission to foster literary traditions through poetry and literary translation. Its landmark collection, The Complete Poems of Anna Akhmatova, translates the work of famed Russian modernist poet Anna Akhmatova into English for readers to enjoy. Zephyr Press continues to publish poetry and prose in translation from Polish, Korean, Iraqi, and more, and as a result they brought a unique cultural component to the Boston Book Festival.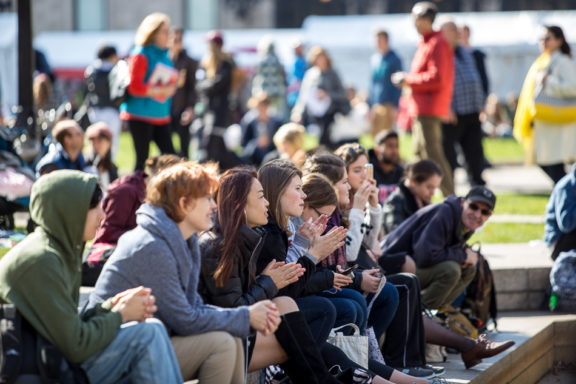 Every year, Boston Book Festival focuses on a particular theme that characterizes many of the special sessions that occur throughout the day. "Our theme this year, the one that emerged after surveying our lineup, is Life on the Margins," said Founder and Executive Director Deborah Z. Porter. "Whether as a result of society's injustices, the devastating aftermath of war, choosing to live a life apart, or simply not fitting into society's norms, many of our sessions examine people and experiences out of the mainstream."
One of the most powerful sessions that promoted this theme was "Injustice, Incarceration, and Invisibility." Four different authors convened in Trinity Church to discuss whether or not black lives really matter to America. Eddie S. Glaude, Jr., chair of the Center for African-American Studies at Princeton University, argues in his novel Democracy in Black that the black community remains in crisis because of the 2008 recession. During the session, he added that a radical movement such as Black Lives Matter is required to spur meaningful change. "I'm not going to 'do the dance' with you," Glaude warned at the start of the session. "I'm not going to censor what I have to say to avoid offending the audience, because otherwise I'd be 'doing the dance.' We're going to have a meaningful conversation today, and we'll begin by acknowledging that radicalism is what brings your attention to the issues."
Elizabeth Hinton, Assistant Professor of History and of African and African American Studies at Harvard University, also participated in the session. Her novel From the War on Poverty to the War on Crime traces the roots of mass incarceration to Lyndon B. Johnson's War on Poverty. The third author, activist Shaka Senghor, has firsthand experience with mass incarceration: he served 19 years in prison for murder and shares his story in his novel Writing My Wrongs.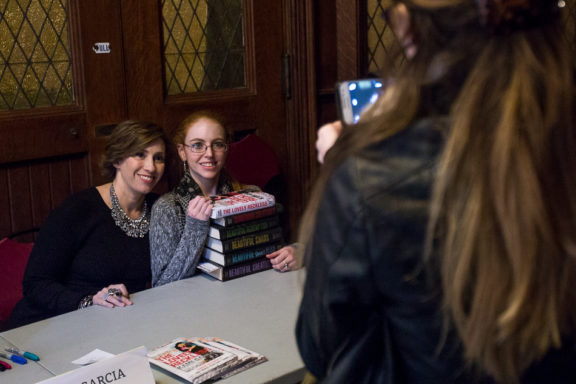 The last author to join the session was Mychal Denzel Smith, who tells what it was like to be a young black man coming of age during the Obama presidency in his novel Invisible Man, Got the Whole World Watching. He had important things to say about the specific role that privileged people play in Black Lives Matter. "As a young black man, I endure major discrimination because of who I am, but for a long time I didn't recognize the privilege that even I myself have. What about black transgender individuals? Who's protecting their rights?" Smith asked. "There are power structures inherent to the black community that I didn't even realize I was perpetuating. And we have to speak up for even more marginalized individuals and fight to break down the power structures."
This session demonstrates that every author and book can act as an instrument of change. The personal experiences that reading brings to the table instill empathy in people like no other activity can. When books transform empathy into support for movements like Black Lives Matter, humanity progresses in its goal to achieve equality for all.