by Jill Mckeon
Three all-women, Boston-based startups in tech and science won a chance to pitch their ideas to Silicon Valley investors during the Boston regional round of a global pitch competition.
The SoGal Foundation, a global platform created for women and underrepresented entrepreneurs and investors, hosted the event on Saturday, October 5 at Roxbury Innovation Center. The Boston round was the first of 25 hosted by SoGal chapters across five continents. 
The competition was first held in 2016, but this is the second time SoGal has hosted the event. Local venture capitalists choose three winners at the end of each round to travel to Silicon Valley, participate in workshops and meet with investors and compete for capital. 
The judges chose Stratty X, an automated trading tool, Spatio Metrics, a spatial analytics platform for healthcare facility planning and SAIL AI Labs, a secure data analytics platform, as the three winners.
"In essence, SoGal was founded by women who believed that the problem with entrepreneurship and business is just the fact that there aren't enough women in these spaces," said Trisha Prabhu, the leader of SoGal's Boston chapter. 
Prabhu is a sophomore at Harvard and the founder of ReThink, an anti-bullying application that detects harsh language and alerts adolescents to think before they send hurtful messages. She first came up with the idea in high school and it has since been implemented in over one thousand schools. 
"We need people who are providing platforms and spaces for women to come in because otherwise, they're not going to get that fair shot that they deserve," said Prabhu, who also pitched her company at the event.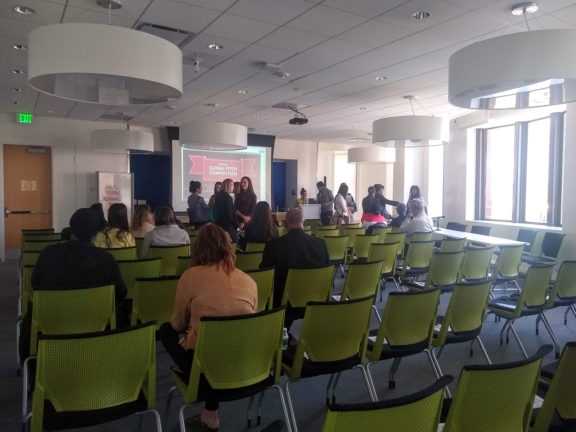 A panel of local venture capitalists (all women) heard pitches from ten local startups. Each presenter had four minutes to pitch, followed by one minute of questions. The companies specialized in many different fields, from healthcare to artificial intelligence. 
Local entrepreneur Dianne Austin pitched her company Coils to Locs, a company that represents women of color who are suffering from hair loss due to cancer treatment. The company partners with hospitals to ensure wigs suited for women of color are available under insurance, a problem that Austin faced when she was diagnosed with cancer. 
Nicky Wojtania, a communication strategist with her local startup, Loro, and a junior at Harvard University said that she and her partners are always looking for Boston events where they can pitch their company to investors. 
Wojtania described Loro as a smart assistive technology device for people with ALS, cerebral palsy or spinal cord injuries. It consists of a downloadable app as well as a mountable device that can be attached to a wheelchair. By using eye tracking, a 360 degree rotating camera and smart home integration, the device makes living with mobility issues significantly easier, said Wojtania.
"When Loro sees a bottle of water, Loro suggests sentences like 'Can I have a bottle of water?' or, 'I'm thirsty,'" Wojtania said. 
"Compared to competitors, Loro is more cost effective, more user friendly and incorporates more features," Wojtania explained to the panelists. Loro plans to sell directly to consumers for $800 per year, compared to other services that would cost thousands and be difficult to access, Wojtania said. 
Audience members at the competition included other local women entrepreneurs who were part of the SoGal network, as well as family and friends of the presenters. 
"I am a female founder myself, and I love to support other female founders and see them pitch," said Amy VanHaren, a local entrepreneur who founded a social network application for breastfeeding women called pumpspotting. "It's also great for connections," VanHaren added. Some of her favorite pitches were ReThink and Loro. 
"I think this competition is really important because when people walk into a room and they see a woman entrepreneur, all these biases come into play," Prabhu said. "We think, 'Is she really right for that?' or, 'She doesn't look like the type of person that I'd want to run an AI company,' and that needs to change." 
Prabhu continued, "The fact is that women do a lot better in their roles as CEOs. Empirical evidence has shown us that. So we're not just helping these women, we're helping society."