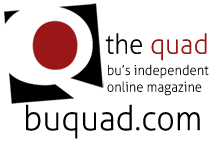 In addition to our daily blog posts, every other week the Quad releases an issue: a collection of longer, in-depth articles on subjects that matter to BU students. Our first issue came out on 10/5, and featured a set of articles on everything from BU architecture to grotesque literature.
We release our second issue this Monday, 10/19, at midnight. This issue features another set of in-depth articles you won't want to miss, including a profile of one of BU's top deejays, a guide to non-slutty halloween costumes, a look at flaws in BU's internet system, and much more.
So remember to visit this Monday. If you haven't already, there are many ways to stay connected so that you'll be reminded when our issues launch. You can become a fan on Facebook to receive summaries of each post, sign up for our newsletter to get an e-mail the night the issue is released, follow us on Twitter to get updates on every article we post, or subscribe to our RSS feed in your favorite news reader.
See you on Monday.