Any MIT student in the MIT Student Center Thursday night around 8 p.m. could hear a powerful voice hitting every note of Leona Lewis's "Bleeding Love". If a student stayed a little longer, he could hear two voices powering through Aladdin's "A Whole New World". If that student followed this voice to its source at the Lobdell Dining Hall, however, he would only find one man – Nick Pitera.
Pitera, 23, is a YouTube superstar, known for his ability to sing male and female parts remarkably well. This is not your average falsetto – he can nail every painstakingly high note of Whitney Houston's "I Will Always Love You" with ease.  His cover of "A Whole New World" received 14,000,000 views and subsequently caused 14,000,000 dropped jaws.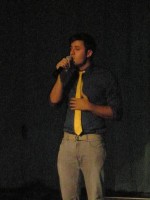 His live performance at MIT Wednesday night was attended by about 150 students and fans and had a similar effect, as the audience clapped along to his rendition of Miley Cyrus's "Party in the U.S.A." and swayed to his cover of "I'm Yours" by Jason Mraz.
Pitera, who works at Pixar as a set modeler, entered the YouTube scene when he submitted a video of him singing The Little Mermaid's "Part of Your World" to the Give Us Your Voice contest. Though he did not win, his video started circulating and with the release of "A Whole New World", his YouTube success exploded.
Now he is making the transition from the recording studio to the stage and is still adjusting to the nuances of performing live. During his MIT show he made a few slips, such as starting off a song in the wrong tempo or key, but the audience was more than willing to brush them off.
Pitera is one of the many young YouTube stars taking advantage of their internet success. Comedian Bo Burnham started out in 2006 when he posted videos of him singing goofy songs on his piano and guitar. Now he has released a CD and at 18 he became the youngest person to record a Comedy Central special.  Fifteen-year-old Justin Bieber went from recording YouTube videos of him singing Usher hits to being signed to Island Records with the help of Usher himself.
As far as his own musical future, Pitera is "working on his own stuff" and is branching out from his favorites – Disney songs and power ballads, he said.
"I am a huge fan Disney fan. I learned how to draw and sing from Disney movies," he said.
And although he loves power ballads, Pitera is no diva. After the show, he stayed for half an hour, taking the time to take pictures with fans and thank them for coming out to the show. He has amassed 14,000,000 views, but is still is able to maintain a casual attitude about his unique talent.
"We do not take ourselves seriouslyplaying this," Pitera said of singing Miley Cyrus, "But it's fun to play."