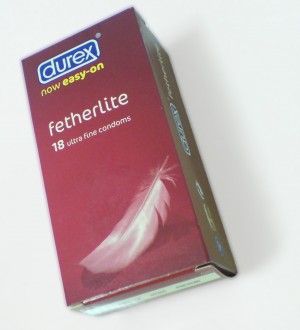 I've always been torn when it comes to paying the check on a date: do I graciously let the man pick up the tab? Do I offer to split the bill? Do I insist on paying? Recently, my internal struggle is more pronounced than it was in high school. As a constantly broke college student, should I let myself be treated? Or should I stay true to my independent feminist instincts and pay for myself?
This dilemma pops up constantly in the dating scene. But when the evening comes to a close, and you get back to your place with the intention of getting busy, an even bigger question presents itself: who should supply and pay for the birth control?
The response from college students varies. While I thought the general notion among students would be that guys should pay for condoms and girls should pay for their Pill, students had arguments and counterarguments on who should pay for what.
"Regarding the Pill, I think the girl should pay for it," Northeastern middler-year Mike Dores said. "The Pill is more in the girl's area. Not only does it prevent pregnancies, but it does help in other areas. I know there are beneficial side effects for girls."
Dores is correct – going on the Pill evens out a woman's menstrual cycle, and can even reduce "moderate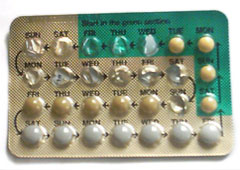 acne," according birth control brand Yaz's website. Women may also experience shorter periods and less menstrual cramps, according to a quiz on Yaz's website.
A friend in my Newswriting II class, however, said she refuses to go on the Pill unless her boyfriend helps pay for it. The Pill can be expensive, and she doesn't want to solely shoulder an expense that benefits both of them.
Boston University senior Katie Pyle said that she would rather pay for her own pill than demand her boyfriend to help.
"It's my prescription and my body, and I have the ultimate say on whether I want to take it and which kind I want to take," she said. "I'm in a relationship for now and my boyfriend usually pays for dinner and drinks, so I kind of figure it's even."
When students are single, the condom-supplier usually depends on who has the condoms available for use and is usually split between the guy and the girl, Pyle said.
"When I'm using condoms and not in a serious relationship I figure it's both parties' responsibility to carry condoms, and from experience it usually goes back and forth on who has condoms," she said.
Meanwhile, BU Journalism professor Nick Mills said that whomever is concerned about birth control should be the one responsible for supplying it.
Paying for an en
dless supply of condoms, birth control pills, and other contraceptive methods can rack up a pretty big bill. A 12-pack Pleasure Pack of condoms from Trojan runs for $16.20 on amazon.com, averaging $1.35 for every romp in the sack. While a dollar here or there doesn't seem like much, it can definitely add up. Brand names in the birth control pill industry can also cost upwards of $50 a month – with insurance. Without insurance, even generic brands can cost over $60 per month. Plan B, an emergency contraceptive that works to prevent pregnancy up to five days after intercourse, can cost anywhere between $10 and $70 for a single dose, according to Planned Parenthood's website.
Pyle expressed concern that female students who cannot afford Plan B by themselves risk a pregnancy by not buying the contraceptive.
"I think both parties have a responsibility to pay for Plan B," Pyle said. "I've had guys not take any responsibility for it and it just makes me like them less."
Luckily, BU knows that college students are simultaneously broke and horny as ever. Student Health Services has multiple baskets filled with free Trojan condoms in the waiting room area. If you foresee needing more than a handful, SHS offers 20 condoms in a discreet paper brown bag for only $5. Frats and BU groups also frequently host events where condoms are distributed for free.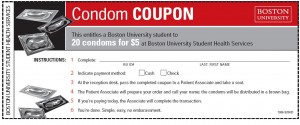 Although these cheap alternatives exist, many students may feel embarrassed or weird about running into SHS and grabbing a fistful of condoms.
"I went to a condom concert last year, and it was in a dimly lit room," Pyle said. "They had so many condoms that I filled up a bag and have been living off of it for a year, because honestly, I'm too embarrassed to grab SHS condoms most of the time."
Grabbing condoms for free in a dimly-lit room might save you the embarrassment, but going on the Pill is a great preventative measure if you think you'll be having sex on a regular basis. Making an appointment with Student Health Services to discuss your options is free, and you can talk with the doctor about generic brand prescriptions, which are generally inexpensive – especially when compared to paying for an abortion or raising a child.
Using services such as Express Scripts can help reduce costs and save embarrassment. Depending on your insurance, you can get a three-month supply of your birth control for the price of one month. Express Scripts delivers the three-month supply directly to your doorstep (or dorm mailbox) in a discreet white bag. Signing up is simple: just print out the order form from their website and bring it to your doctor, who will fill out the prescription and fax it to the company.
Students can obtain the Pill for low cost by printing out coupons from Yaz's website, which offer the Pill for no more than $20 per month.
Private ob/gyn doctors can also give free samples to patients, Pyle said.
"My ob/gyn has been amazing and has given me free samples of birth control pills," she said.
The most important thing to remember is that to be safe during sex, you must be protected. While abstinence is the only true 100% effective birth control method, contraceptives are readily available to those who want and need it. And it doesn't have to break your wallet, either.