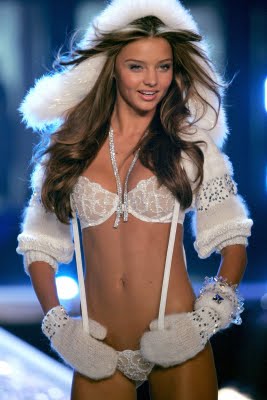 I just came to this realization: There are Angels on earth, and they come in the form of Victoria's Secret models.
Watching the Victoria's Secret Fashion Show tonight, the outrageous fashions fell to the wayside, as watching the models stomp the runway is the real spectacle. Victoria's Secret models are arguably some of the most beautiful, physically flawless women in the entire world. While other designers flaunt their clothes and fashions on the runway, Victoria's Secret product – skimpy skeevies – are better sold with sex. And, boy, do these models have sex appeal.
Although some of the outfits had the bras and panties built into them – such as a scarlet red corset outfit that fit seamlessly with a black lacey bra in the ending runway walk – the clothes had more to do with selling an image of Victoria's Secret panties than a fashion ideal. (I highly doubt that a 15-foot trail of balloons over a panty set will trickle down into H&M anytime soon).
When it comes to underwear, the body says it all. Sexy underwear requires a sexy body – and these models have the modern stereotype of beauty nailed. Long, thin legs, a fit-looking stomach, and boobs that Pamela Anderson would have been jealous of. Top it off with their exotically gorgeous bone structure and made-up eyes, and you have the epitome of the male wet dream come true.
As a girl, I watch the Victoria's Secret models as an onlooker would look at a graceful tiger at the zoo: from a distance, I like to observe and judge, but consider them a completely different breed from myself. But to guys, watching the models strut their stuff on TV is different; when I watched the runway show in slow motion, I can see why males are so intrigued. Not only are the models gorgeous, but these buxom beauties literally look as though they're seducing you in every stop-motion frame.
Model Search winner Kylie approached her winning walk with energy and enthusiasm, blowing kisses and pointing to audience members to get the crowd pumped.

But in slow motion, Kylie is a porn star on a public platform. Every little motion she makes screams, "SEX SEX SEX HAVE SEX WITH ME!" Her breasts seem to defy gravity, bouncing perfectly in her sported push-up bra, legs with 0% body fat shining in the warm stage lights, eyes inviting you in every second that she's on the catwalk. I'm fairly certain that any girl, in this moment, would have little doubt in turning gay for such a stunning and glamorous woman.
But when you're as gorgeous as a Victoria's Secret supermodel, I guess it's an easy act to perfect.