Updated: The video of the LipDub is now online! Watch it here.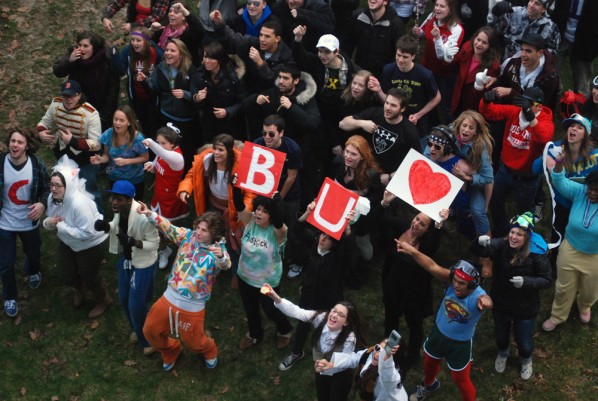 When I wrote about supporting events that build community at Boston University, this is what I had in mind. Although it was a bitter cold afternoon in Boston, it didn't stop around 100 students, many of whom strangers who found the event through Facebook, from participating in the first ever BU LipDub. The event is part of a larger trend that has been sweeping colleges in Europe, where students get together and coordinate a mass singalong, which is filmed in one take and often involves costumes and props to illustrate each song lyric. It's become so popular overseas that there is a website dedicated to college LipDubs. But the BU version, which featured a mix of Jackson Five's "ABC" and "I Want You Back" is one of the first in the United States, and was the brain child of French-born BU student Georgia Poivre (COM '10).
"I wanted it to be a BU student thing," Poivre said. "I wanted to show every organization. Fraternities, sororities and student groups all together in one video. I wanted to show that BU has school spirit and show that everyone is friends and make it a happy little video."
Poivre got the idea in January after seeing one of her friends perform in the HEC 2008 LipDub, and new she had to bring one to BU. "It just looks really fun and cool. It looks like people are having fun. It shows your school in a good light," she said. So she started planning to bring LipDub to BU in September, but the project hit a snag when Poivre decided to take five courses this semester. But a month and a half ago, some of her friends made a LipDub at the ESSCA school.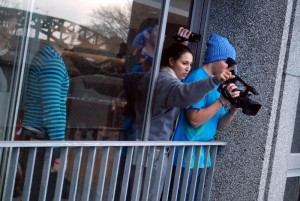 "If I don't try to do it, I'm going to regret it," thought Poivre, who is graduating at the end of the semester. So she started talking to her roommate Warren Huffman (ENG '10) and Geoff Toomey (COM '10), and created a Facebook group called BU LIPDUB, which eventually reached over 300 students (A companion event reached 1200). Huffman brought the idea to Programming Council President Sam Minkoff and Inter-Fraternity Vice President of Programming Kevin Lee, who both loved the idea.
"There are a lot of things BU doesn't do on a school-wide level," Lee said. "There's no homecoming, not too many events where the entire community gets together for something that's just fun, just to be together."
Lee and Minkoff helped reserve space in the GSU and bought props and costumes for the LipDub, and Minkoff spread the word via PC's network of Facebook fans, newsletter subscribers and twitter followers. For Minkoff, the event was a chance to bring students from multiple organizations and demographics together.
"It's hard to find something where you're not pulling from one specific demographic or another. They did an amazing job bringing different groups together. It was a good way to get everyone involved: even Building and Grounds was watching the whole thing and getting into it. The Dean was into it. Even people standing by enjoyed it," Minkoff said.
But what was most extraordinary according to Lee was that the event had the support of not just students from every walk of life, but of the administration as well. Dean of Students Kenneth Elmore and Executive Director John Battaglino were on site, and rumor has it that Elmore will make a cameo appearance in the final version of the film.
"To be permitted to do it is a pretty big sign from the BU administration. We went through a lot of paperwork to make sure everything was legit and clear. But it went off without a hitch," Lee said.
The administration has put more of an emphasis on community building in recent weeks. Last month Elmore convened a meeting of student leaders at the House of Blues, where he urged leaders to work together to get students more involved in campus life. That's also the message Poivre, Lee, and Minkoff hope students take away from the event and the video.
"I hope viewers say, 'oh, these guys actually got together and did this.' They met up with other strangers and dressed wild and crazy and just had a good time without any inhibitions," Lee said. "I would like people to be part of something like this in the future."
Minkoff said that he hopes the LipDub becomes a tradition for future BU students.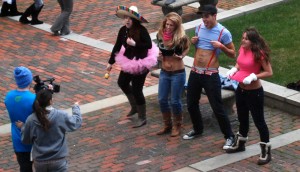 "We intended it to be something that shows how easily we can come together and have a good time. It created that sense of community, that 'one BU' that we're looking for," Minkoff said. "This should become tradition for school, we have nothing like this. At PC, we do entertainment, stuff where people buy a ticket to an event where someone else is doing performing. The cool thing about this is that students were the performers."
As for Poivre, she was disappointed that the turnout wasn't higher, but still happy that everything came together in the end. As an aspiring film director, she said she learned how challenging it can be to coordinate such a large group of people, especially when you only have one take and three hours to pull off such a stunt. But as her swan song as a BU student, she hopes that people will see the video as an indication of what kind of community BU can have.
"I wanted people to see this as an opportunity to build a bigger school spirit and to get people closer together at BU. I feel like it's such a big school that you can get easily lost. And even if at orientation, Freshman see these types of videos, they won't be scared as much, because they can see that people can all work together. Just because it's a big school doesn't mean we can't do stuff together, with all of us."
The video will be released in the next few days and posted on YouTube, buquad.com, and elsewhere.