The 52nd Annual Grammy Awards took place last night, and while the focus was supposed to be the music, my focus was entirely on the fashion.
There were hits and misses on the red carpet, but unfortunately there were mostly misses.  However, all hope is not lost. There were still a few celebrities who dressed to impress.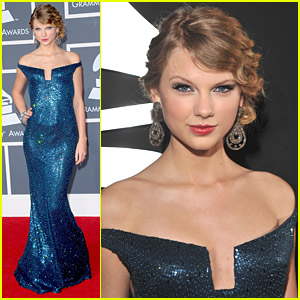 My vote for best-dressed of the night goes to Taylor Swift. In her glittery blue Kaufman Franco gown, she dazzled like the star she is. While the bodice was slightly ill-fitting due to Swift's tiny frame, the cold shoulder silhouette and flared skirt made up for it. She was also very smart with her accessories, wearing only a few bangles on her right hand and a beautiful pair of earrings. Her side-swept up-do didn't hurt either.
First runner-up was Rihanna. In her Elie Saab gown, which was oddly reminiscent of both Lady Gaga and Beyoncé, Rihanna shone. While feathers are not my taste, the strong shoulders and flattering hips redeemed her. Her beautifully done makeup also helped to distract from the dead birds around her neck. Her new blond tresses also added a needed contrast to the all white ensemble.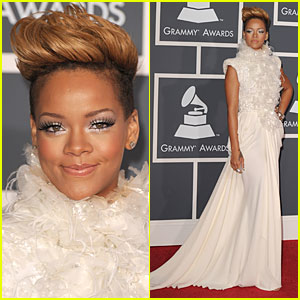 Second runner-up goes to breakout star Lea Michele of the new hit TV show "Glee." Her navy Romona Keveza single-shoulder frock with petal skirt helped her ooze sass, and was a vast improvement from the dark and heavy Oscar de la Renta gown she worn to the Golden Globes.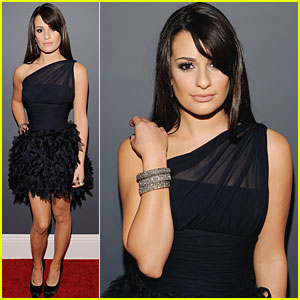 Many celebrities did disappoint, however. Beyoncé's Stéphane Rolland mermaid gown was unflattering, and did not complement her curvy figure. "Tik Tok" singer Ke$ha wore a hideous gold dress that left me wondering if she just put on the first shiny thing she saw. Supermodel Heidi Klum had a rare miss, wearing an Emilio Pucci sequined minidress that made her look like an older woman desperately clinging to her youth. Katy Perry's nude Zac Posen gown was a stain on her usually impeccable red carpet record, and Ciara's dominatrix-esque black getup was so far from red carpet ready that I can only image what devil possessed her to put it on. Super-songstress Fergie looked haggard in her Pucci Cobalt blue minidress. While a nice dress in itself, it might have been more appropriate for a night out with hubby Josh Dumhel than for the red carpet at the Grammy's.
And of course, a Grammy fashion recap would not be complete without mention of Lady Gaga's intergalactic ensemble. The Armani Privé creation stole the show. While I'm still deciding if this was the best or worst outfit of the night, I have to admit that I can't stop looking at it. The milky blue/pink/white of the dress makes it look very ethereal, and the yellow hair Gagaloo is sporting makes the whole outfit WAY more interesting. I was NOT feeling the 5 inch space boots, however. Reminiscent of the iconic 'Bad Romance' heels, the silver skyscrapers were a force to be reckoned with all on their own.