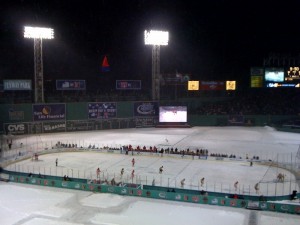 When the Terriers take to the ice this weekend against Huntington Ave. rival Northeastern, they'll have (another) chance to lock up the number four spot in the Hockey East standings.  Boston University will need help — but if recent play has been any indication, these Terriers probably don't deserve a fourth-place finish.
A February 19 loss at the hands of lowly Providence (the Terriers' second loss to the last-place Friars), has precipitated a rare — and somewhat unexpected — late-season slide.  And now, after two losses (7-3 on Friday night and 3-2 on Sunday afternoon) to the No. 18 ranked Catamounts of Vermont, BU — a historically strong second-half team — finds itself in a three-way tie for fifth place (the Terriers are even with Vermont and Northeastern).
The Terriers' current 1-3-0 slide is, in fact, a microcosm of their dissatisfying 2009-10 campaign; and, as frustrating as it may sound, it's nearly impossible to lay the blame for this season's disappointment squarely on any single facet of the Terriers' game — offense, defense or goal tending.  Yes, Kieran Millan and Grant Rollheiser have struggled between the pipes at times.  And, yes, BU has failed to light the lamp with any regularity.
But, the major concern for BU this season? Consistency.
Just look at the Terriers' regular season numbers against Hockey East foes: BU is 2-1-0 against Boston College, the University of Maine and UMass Lowell (the second-, third- and fourth-place teams in the Hockey East, respectively).  The Terriers' record against Vermont (who faced the Terriers with only seven Hockey East victories)? 0-2-1.  BU posted a similar 1-2-0 mark against the dismal Providence College.  In short, the Terriers have, for the most part (excluding a couple of contests with the University of New Hampshire), showed up when playing the "best the Hockey East has to offer."  Trouble comes, however, when BU suits up against so-called "inferior" opponents. Good showings against good teams are nice, but they're often not enough.
You see, in college hockey (especially in the perennially competitive Hockey East), talent alone is not enough to notch 'Ws' — if it were, BU would not find itself in this mess.  Intensity, preparation and smart, physical play are also ingredients in the proverbial recipe for success.  At times this season (especially during this weekend's disappointing sweep), it seems like the Terriers have failed to "bring it" and leave it all out on the ice.  And, as a result,  BU has failed to string anything more than a modest three-game winning streak together in 2009-10.
Sure, the 2008-09 Terriers — winners of seven championships — struggled to maintain intensity at times during last year's campaign.  But strong leadership, a talented core and an insatiable appetite for success combined to propel that team to greatness.  I haven't seen those components consistently enough this season to believe that BU will be anything more than mediocre (and trust me, I want to believe that these Terriers can be great — I'd love to see BU hoist more hardware).
Just two weeks ago, I predicted that the Terriers were poised to make a late-season push.  BU was fresh off a two-game sweep of the surging University of Maine Black Bears — they were above .500 in the regular season and Hockey East standings (13-12-3, 10-9-2, respectively) for the first time this season, and things were looking good.
Now, it would appear as though Jack Parker's boys have made me eat my words.
The Terriers fell flat against Vermont, in a series that they should have — at the very least — split with the Catamounts.
Now, to capture some semblance of momentum, BU finds itself in desperate need of a weekend sweep against the Huskies of Northeastern — easier said than done, considering the Terriers will have to play one game in Matthews Arena.
Considering BU's struggles on the road (the Terriers are just 4-9-0 away from Agganis), home-ice advantage heading into the Hockey East tourney sure would be nice.  But, with the way the Terriers have been playing as of late, a fourth-place regular season finish suddenly seems like a mighty tall order (plus the Hockey East standing could get even more muddled in the wake of this weekend's conference games).
Can it be done? Certainly.  The Terriers have the talent to skate with the Hockey East's best.  Will it be done? That is a far less certain outcome.
One thing is for sure: I'll be at Agganis this Friday cheering and chanting for BU.  I sure hope the Terriers show up, too.
I'm holding out faint hope.  Fingers crossed.  Go BU.