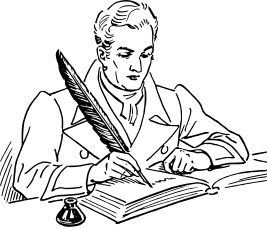 I am so happy that this week is over. Rarely would I refer to myself as ecstatic, but I'm there. And I'm banking on the fact that you're pretty happy too. Even if your week wasn't hellishly filled with exams and essays and academic whatnot, it's still finally spring break. Hallelujah.
Now every year, I consider the option of doing something extravagant over break, like partying in Mexico or volunteering somewhere. Every year, I go home. This year is no different. However, I do have a plan. Instead of (read: in addition to) sitting around in my underwear, playing online poker, and wishing my high school friends had the same spring break, I'll spend the week reading and writing because simply said, I've escaped my creative rut.
Allow me to explain. In middle school, I realized I had a knack for poetry, that is, for the bland, formulaic, teacher-assigned genre of poetry. But nonetheless, I was good at it. And I kept being good at it through high school and eventually started writing mediocre verse for fun. I think I peaked when I wrote two sonnets for speeches in session at a model Congress. As only an angsty teenager can, I fancied myself as a poet.
Unfortunately, I discovered that poetry is one of those things that no matter your skill level, you'll always struggle to improve. I don't think that there's any hump to get over, like in learning to ride a bike. It's a constant uphill battle to get "better" at creative writing. I didn't realize this until I took a couple of British Literature classes and had to read the likes of Herbert, Milton, and Rossetti. Straight-up word masters. Authors who read everything and wrote with almost unfathomable skill.
I was embarrassed. Ashamed of everything I'd ever written under the presumption that I had any talent or skill. So I gave up for close to a year.
And thus, you might be wondering why I'm back on the horse. I just realized that every author struggles with writing. It's probably part of the reason that so many famous and award winning novels concern themselves, to some degree, with the difficulty in writing ("The Brief Wondrous Life of Oscar Wao" and "The Trouble With Poetry," for two). And it's not only books and poetry. I'm convinced that any artist that acknowledges and accepts the fact that slaving work is necessary for the improvement and production of his/her art creates better pieces than artists with a more casual perspective. It's why Kanye West hasn't released an album as good as "College Dropout"—he no longer exerts himself to improve his lyricism. The sweat and tears involved in self-betterment, be they literal or metaphorical, seek to discourage you. Persevere.