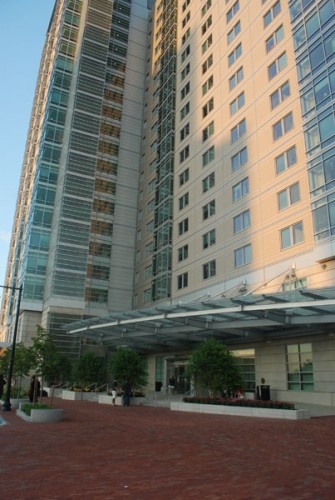 With the Student Village residences popping up and towering over Boston University, more and more students have opted to live on campus recently, with more choices available. Close proximity to class, optimal security and socializing with new floormates influences students to shell out the big bucks for StuVi, South campus, and Bay State brownstones. But with the economic recession hitting the housing market right in the wallet, prices for off-campus housing have dropped significantly. Besides, why settle for apartment-style dorms when you have apartments in your reach for WAY cheaper?
Let's crunch some numbers. With the new residential price hike, this is what BU will charge for dorms in the 2010-2011 academic year:
Type of Residence
Residence
Dining Plan
Total
Dormitory-style
Double, triple, and quad room (standard minimum rate)
$7,980
$4,280*
$12,260
Multiple-occupancy room in suite
$8,760
$4,280*
$13,040
Suite in 1019 Commonwealth Avenue or Shelton Hall
$9,100
$4,280*
$13,380
Double room in suite in 33 Harry Agganis Way
$9,530
$4,280*
$13,810
Single without private bath
$10,530
$4,280*
$14,810
Single room in suite in 33 Harry Agganis Way
$10,910
$4,280*
$15,190
Single with private bath
$11,120
$4,280*
$15,400
Apartment-style
Apartment with two or more students
$10,570
**
$10,570
Single room in an apartment
$12,710
**
$12,710
Single room in a four-person apartment in Student Village
(10 Buick Street and 33 Harry Agganis Way)
$13,230
**
$13,230
Single room in a two-person apartment in Student Village

(10 Buick Street and 33 Harry Agganis Way)

$13,630
**
$13,630
Apartment with one student
$14,130
**
$14,130
---
Breaking the school year down into nine residential months (and that's being generous, what with BU shutting the dorms down for Thanksgiving, Spring and Winter breaks), the typical "rent" per month for living in a 4-person StuVi apartment comes to $1,470, while singles in StuVi2 pay $1,212. Comparing this to my rent of $767 per month for a private room (in a 3-bed, 2-full-bath apartment on Pratt Street), the rent for StuVi surpasses mine by $703 (StuVi2 by $445). To be fair, though, Stuvi's rent includes utilities: heat, hot water, A/C, electricity, Internet, and cable. With all utilities at my Pratt Street apartment tacked onto the rent, though, I still only pay approximately $850 per month (and this includes premium channels on Comcast like HBO and ShowTime). StuVi residents still pay $620 more a month than living off-campus. Even sharing a 10' by 10' dorm room in Warren or West evens out to $886 per month – pay the same or less for your own private room in an apartment, with private bathrooms, eat-in-kitchen and common area. (To compare apples to apples: sharing a room in an off-campus apartment will cut your rent in half. For example, my room is definitely big enough to fit two twin beds; if you split $767 into two, your rent would come to a mere $383.50 per month, which is $502.50 cheaper than living in a shared dorm. And unlike a dorm room, you can always escape to the living room when you need to get away from your roommate.) Having your own room in an off-campus apartment at $767 per month will save you $6,327 from living in StuVi; sharing a room off-campus will save you $4,522.50 over-sharing a room in a dorm; and having your own private room off-campus will cost about the same as sharing a box-sized room in Warren or West.
Even residing in a luxury 2-bedroom apartment in the Atrium (located a mere 4 blocks away from the StuVi residences) proves less expensive than luxury on-campus apartment-style housing. Still located within walking distance to BU campus, a 2-bedroom on the cheap end of the Atrium spectrum costs $1900.  Divided by two, this costs $950 per person, per month. Already $500 cheaper than StuVi per month, the Atrium also boasts a full bathroom per every bedroom, a modern kitchen, a patio, a roof-top pool, a security guard in the lobby, a free membership to the Commonwealth Sports Club, and laundry on every floor. Even better: the Atrium real estate agents don't charge a finder's fee if you decide to rent. Living in a 2-bedroom Atrium apartment will save you $4,500 over nine months.
Another price tag associated with living on campus is the dreaded meal plan. We all complain about dining hall food, and for the $4,280 (or $475/month) BU charges for a meal plan, you could eat like a king living off campus. Currently, I upped my food budget from $200/month to $300/month – still $175 less than the meal plan – and can afford to eat at campus hotspots like T Anthony's, UBurger, Subway and Starbucks, as well as buy nice meals out in Boston and pay for household groceries without breaking a sweat. Using this type of budget will save you $1,575 over the nine months you live in Boston as a student.
Many students have objections to living off campus, including:
What about the added expense for buying furniture?
What about paying a finder's fee for an off-campus apartment?
Won't my safety be compromised?
Isn't it too far away from campus?
What about the other 3 months of summer? Won't that make the apartment just as/more expensive than living in a dorm?
Sure, rent is cheap off-campus, but won't utilities drive up the cost of living?
Now, I will answer your queries one by one, debunking any negatives associated with off-campus living.
If you're buying furniture new, then yes, it will get a bit pricier than using the dorm's pre-provided twin bed, dresser and desk. Buying new should be seen as an investment, though: once you buy new furniture, you can count on having it for a few years (or, if you move, you can sell it used and collect a good amount of cash in the future). Buying new bedroom furniture from Ikea should not cost more than $300-$400, and buying living room and kitchen essentials (couch, coffee table, kitchen table and chairs, utensils, glasses and plates) will usually come to about $500-$800 – an expense you can split with however many roommates with which you cohabitate. However, many college students do what my roommates and I did this September: acquire all your furniture for free! We managed to get our hands on a like-new couch donated from my friend's summer home in Salem, a kitchen table stored from my childhood days from my mom's garage, end tables living unused in my stepmother's basement, and a futon inherited by my roommate during sophomore year. Craigslist also provides fantastic gently used furniture for free or at a steep discount – and even if you don't have a car to transport it, UHaul trucks and vans only cost $19.95 to rent plus a small fee per mile, and anyone over 18 years of age with a driver's license can procure one. If you sublet the summer before renting your own yearly apartment, work out a deal with your sublettor – if he or she just graduated and won't need their furniture anymore, you might be able to squander it for your next apartment (like I did with my bedroom furniture). As sketchy as it may seem, picking up furniture off the street at the end of the month (when people are most likely to be moving) is a perfect way to nab some free furniture – my roommates and I grabbed a utility knife, multiple coffee tables, and an HD TV from the curbs in Allston.
With the housing market renting slower than ever, looking for an apartment in the Spring months (i.e. March and April) will help lower the fee. As Allston/Brighton/Brookline landlords get more and more nervous when students don't want to rent their apartments, they slash the rent price and will finance some or the entire finder's fee (usually equal to about one month's rent and payable to the realtor as payment for his or her services) to procure a renter. If you go through a real estate company, communicate with your realtor on requesting no or little fee – sometimes, all a landlord might need is a kick-in-the-butt to contribute towards the fee.
As with anywhere you live in this area, you're living in a city. No matter if you reside in a dorm, a duplex or an apartment, crime is ubiquitous in the city. Remember in 2007-2008, when two men from Chestnut Hill snuck into Claflin Hall and harassed various female freshman residents? Having a security guard in the lobby helps, but using common sense will help you the most. If you live off-campus, remain adamant about locking your doors and installing safety locks on your windows to keep burglars out. If you have a basement, make sure the door has a one-way lock from the inside to discourage intruders.
Being "far" from campus remains objective, varying on the person. Some people might deem StuVi as lying far from SMG or COM, while CGS students resent East Campus dorms for the distance from West Campus. If you attend SMG, COM or CAS and have lived in West Campus before, then you know the deal with riding the green line or hopping on the 57 bus to get to class. Living off-campus is no different! Just give yourself at least 25-30 minutes to either walk or wait for the bus. If you have a bike, you may only need 5-10 minutes to storm onto campus.
Even with an additional 3 months of summer, living in an apartment costs less than StuVi: While StuVi costs $13,230 per "year" (defined by 9 months), living in my off-campus apartment at $767/month is $9,204, a gap of $4,026. (Even with utilities included in my rent – $850/month – my annual rent comes to $10,200, still saving me $3,030). Another option stands: you can sublet your room if you leave for the summer. Finding sublettors for the summer proves fairly easy, as many students take summer classes and try to find jobs and internships over the summer. Even if you knock some money off the rent for your sublettor, you still lose much less money than keeping the room unoccupied.
Utilities sometimes come included in the rent, which is a great benefit living off-campus! However, if you land a deal where nothing comes included (like in my apartment), bills will rarely surpass the cost of living in StuVi. For example, in a given month, my apartment pays the gas bill ($84 divided by 3 roommates is $28 each), the electric bill (average is around $75, divided by 3 is $25), and Comcast, which includes high-speed wireless Internet and HD cable, an HD DVR, and premium channel privileges ($99, divided by 3 roommates is $33). Overall, utilities cost about $86 per month. At less than $100 per month, utilities will NOT drive your rent up so much as to make StuVi worth the exaggerated price. If you're looking for low utility rates, our great customer service helps make utilities in Edmonton an enjoyable experience.
If that doesn't convince you, another thing to consider: you get so many more amenities off campus than in the dorms. We searched high and low for the perfect apartment, and for $767 per person/month, our apartment has:
Dishwasher
Disposal
Remodeled eat-in-kitchen
Two full remodeled bathrooms
Refinished hardwood floors
Carpets in the bedrooms
Free parking lot behind the house
Lenient pet policy
Air conditioning
Updated heat vents
Huge basement with coin-op laundry
Two floors
Tons of storage space
Looking is free – even if you have paid your $600 housing fee to BU, many realtors will take $600 off of their fee to accommodate you. Also, since BU jacked up the housing prices this year, you can get a full refund of your housing deposit until March 19th.  So what's stopping you from looking?
If you have any questions about the off-campus living experience or financial situation, feel free to leave a comment below or email me at jreiss@buquad.com.