The fight for clean electricity in Massachusetts is being generated by a seemingly unlimited power source – young people.
The Group

At the head of the fight is the Leadership Campaign, a student-led initiative that kicked off last September; students felt that the current leadership on clean electricity was insufficient, said state coordinator Craig Altemose, a 25-year-old joint degree student at the Kennedy School of Government and Harvard Law School.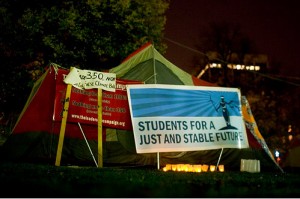 "Our state government has done more than most other state governments and certainly more than the federal government, but it is still not enough," said Altemose.
The original focus was on the international climate negotiations in Copenhagen this past December, he said, because Massachusetts Senator John Kerry attended the summit as the co-author of climate legislation in the US Senate.
"We wanted to show Sen. Kerry that the legislators of Massachusetts were ready to lead and that he should go out on a limb and push for a stronger deal," said Altemose.
That plan did not work out quite as they envisioned, however.
"It was a complete and utter failure," said Altemose. "There was an attempt at the last minute to have a politically binding but not legally binding commitment, but we were not able to step up to the plate and actually lead."
The Plan

They are now focusing on the goal of achieving 100 percent clean electricity in Massachusetts by 2019. Their three-pronged strategy consists of green rebate checks, green job bonds and a new electricity grid.
Green checks would act as an incentive for citizens and businesses to conserve electricity and become less dependent on fossil fuels, said Altemose. First, fees would be placed on the production of fossil fuel in Massachusetts and the import of fossil fuels into the state. This would cause the price of electricity to increase, but citizens and businesses would be sent a monthly rebate, the "green checks," to cover the amount of the increase, he said.
This would motivate individuals to conserve electricity by using green practices and then use the "green checks" towards another expense, like loans or saving up for a car, Altemose said.

"It would not be an equivalent of a food stamp; it would be totally up to them to decide how they want to use that check," said Altemose.
Green job bonds are loans that would be created by the government and given to citizens to retrofit homes, making them more energy efficient. Homeowners would be required to make an initial investment in their house, but they would be able to pay the loan back with the money they save from their more energy-efficient electricity bill, Altemose said. The bonds would result in permanently lowered electricity bills and would create jobs necessary to retrofit the homes, he said .
The final component, a smart grid, would allow for instant communication from utility to home. Consumers could check how expensive electricity is at any point of the day, and then decide when to run the dishwasher or charge their cell phones, Altemose said.
"This would make the market run a lot more efficiently," he said. "It's an investment that we pay now and get it back in the long term. We absolutely know how much money we would save and that is a pretty rare thing to say."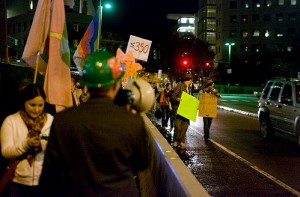 The government also needs to start taking advantage of the millions of unemployed to push forward the green movement, Altemose said.
"Our planet is burning and we are not paying them to put out the fire."
The first step of the plan is passing a Massachusetts bill to create an emergency task force to evaluate the need for clean electricity and look at what legislation is necessary to make it happen, Altemose said.
"It has been really exciting to follow along with [the bill] especially since you can see the bill moving through the different committees. It shows the work that you're doing is making a difference because you can see it moving through those very small steps," said Veronica Gassert, Northeastern University campaign coordinator.
A step back occurred when the bill did not make it to a hearing in the Joint Committee of Telecommunication, Energy and Utility scheduled for February 24, said state communications coordinator Jonathan Rosenthal, a freshman at Harvard University. This was because it has not yet made it through the House Committee on Rules, he said.
"The bill should not be too difficult to get passed because it doesn't cost the state a cent, but nonetheless we have been facing the bureaucratic state policies," said Rosenthal.
The Action
The campaign has two major partners, Students for a Just and Stable Future, and the Massachusetts Council of Churches, as well as many other sponsors, said Altemose.
The religious community became more involved over the summer, Altemose said, when Massachusetts Climate Summer students traveled the state on bicycles raising awareness about the climate crisis and churches provided spaces for them to sleep.
Students involved in the Leadership Campaign are used to looking for spaces to sleep – they routinely hold "sleep-outs" where members pitch tents, bring sleeping bags, and sleep outside on public places like the Boston Common and Amherst Common.
"Sleeping out acts as a dual system of refusing to sleep in dorms and apartments powered by electricity and serves as an act of solidarity with the millions of people in the world who have been and will be affected by global climatic disruption," said Rosenthal.
They took the name of the sleep-outs from the sit-ins held during the Civil Rights Movement, said Rosenthal.
"Direct action is a core feature of any social movement," said Rosenthal. It's using our bodies as the most basic tool we have to fight the status quo."
The "status quo" has fought back against the sleep-outs, however. When the group slept out weekly in Boston Common last fall, they were cited for trespassing.
"We were woken up every night in the middle of the night by police cars coming into Boston Common, " said Rosenthal.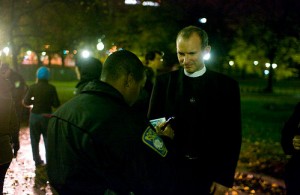 Veronica Gassert attended a sleep-out at Boston Common this past fall where she received a citation from the Boston Police for being on the common past 11 p.m., when it closes.
She said that the National Lawyers Guild worked with the Leadership Campaign to negotiate a deal in court. Sleep-out attendees went to a hearing, where they were ordered to pay a $50 fine per citation, Gassert said.

If the bill for the emergency task force is not passed before Earth Day, April 22, then they plan to sleep-out on Boston Common again and face more serious, possibly criminal charges, Rosenthal said.
But, like for many youth, compromise is not an option.
"I'm sure we will hear a lot about compromise in the coming years, that we need to make our goals more reasonable," said Rosenthal. "But there cannot be any negotiation, we have to do what is necessary at this point. Physics and chemistry do not compromise."
A sleep-out, rally and march to the state house was held on Sunday night at Cambridge Common. For more information on the Leadership Campaign and upcoming sleep-outs go here .