The recently released "One BU: Unlocking the Undergraduate Experience" task force report announced the University's efforts to improve the undergraduate experience throughout BU by attempting to "[enhance] current strengths and opportunities" and "[integrate] curricular and co-curricular activities across schools and programs."
Some of the most prominent changes around the University include: eliminating administrative barriers and GPA inconsistencies for intra-University transfers, establishing undergraduate research-oriented group projects for class credit, and developing courses linked to study abroad programs. Implementation of these renovations are said to have already been initiated or will start as soon as financial situations allow, said Associate Provost for Undergraduate Education Victor Coelho.
Spearheaded by University Provost David Campbell in 2008, the One BU Task Force Committee worked for 12 months to create the University and college objectives outlined in the task force report, consulting BU staff and students along the way. Chaired by Coelho, the Task Force Committee consisted of 18 University administrators, deans, professors, and recent graduates, including Dean of Students Kenn Elmore, Senior Associate Dean of Undergraduate Education Susan Jackson, Vice President for Enrollment and Student Affairs Laurie Pohl, CFA professor of painting Hugh O'Donnell and recent BU graduates Robyn Flalkow and Drew Phillips.
Commenting on the ideas behind the report, Coelho said, "[Students] should be marked by a BU stamp, that is they should have something that clearly marks them as a BU student."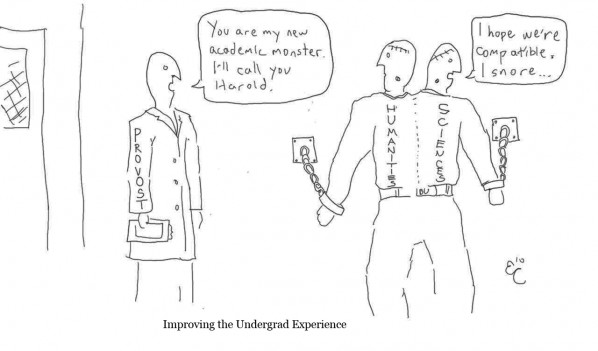 So rather than requiring you to read the entire 46-page report to find out exactly what BU has up its sleeves, allow me to break it down for you:
Current Strengths to be Amplified:
Numeracy and Society
Merge science and humanities, with an emphasis on math:
Create a University-wide course that merges the relationship between numeracy, technology, public policy and ethics through implementing a math/numeracy program equivalent to the current Writing Program and expanding MA/CS 109 "The Art and Science of Quantitative Reasoning"
Technology
Have technology, will travel:
Provide greater technology in the classroom, especially tools pertaining to "lecture capture" technology and the practice of a given field of study
Train faculty to use said technology
Post summaries of lectures online for students to gain a better sense of courses outside his/her college and/or major
Undergraduate Research
Learn by doing from the start:
Promote research from freshman year onwards and make use of UROP (Undergraduate Research Opportunities Program) and GUTS (Grants for Undergraduate Teaching and Scholarship) for funding and the Howard Gotlieb Archival Research Center for sources
Compose research group projects for undergraduate students from different colleges and provide class credit through existing courses for said projects in hopes of uniting the liberal arts and professional schools
Innovation & Entrepreneurship
Put ideas to the test:
Expand beyond SMG and ENG by devising a minor or certificate in Entrepreneurial Studies for all BU students
Arts
Let out your inner artist, even if you're a non-art major:
Create a Fine Arts Minor, introduction to Fine Arts course, and projects related to the Creative Economy focused workshop course, all available to students without art majors
Global Awareness
Become acquainted with life outside the U.S. through study abroad, internationally-focused classes, and international students:
Develop department-based courses and programs linked to study abroad programs, possibly through optional extensions to existing classes for 1- to 2-credits
Eliminate or lower the current 3.0 GPA requirement for study abroad and consider increasing financial aid options to expand access to study abroad
Continue to include a language-learning component of most BU International Programs
Require students to include a global component in their academic excursion and demonstrate "global competency" through some arrangement of classwork, study abroad or global service
Exhibit the diversity of BU students through public events
Increase Language Specialty Housing
Offer greater opportunities for international service
Promote involvement in Boston cultural and linguistic programs
Co-Curricular Opportunities
Expand Learning Outside of the Classroom
Consider awarding "certificates" for leadership role or course devoted to social/civic contributions
Establish a center for co-curricular activities
Grant 1-2 credits for participating in orientation and mentoring programs
Provide 2-credit courses that focus on social awareness and civic activity
Permit students to design a course of service work related to their major
Residential Clusters
Mesh the academic with the social:
Pilot a "cluster" housing project centered on a community service project
Build a Smartsearch site for the University's volunteer and community based opportunities
Integration of Curricular and Co-Curricular Activities:
General Service Courses and Accessibility
Increase the number of general service courses, aka introductory classes available to non-majors, including 2-credit and P/F courses:
Encourage each school and college to create one new service course without prerequisites
Transfers
All are welcome:
Propose that a "Integration & Accessibility Committee" is formed to find solutions and develop policies to increase access to all BU courses for qualified students, eliminating "unnecessary or excessively specific prerequisites"
Encourage all schools and colleges to adopt the same GPA requirement to transfer as it is to graduate, 2.0
Access to Coursework Options
Help students find the classes that interest them:
Consistently update course descriptions and titles
Interdisciplinary Cluster Courses
Develop Course "Clusters": Groups of classes that link different fields, disciplines, and schools, emphasizing common pedagogical values, skills, knowledge, and a broader relevance
Consolidate knowledge from three or more courses from different colleges or departments rooted in a single topic
Post-Graduate Opportunities & Combine Undergraduate and Graduate Education
Offer greater opportunities for graduates and team up graduate and undergraduate education:
Develop a "3+1" and "3+2" opportunities across disciplines, schools, and colleges, complimenting the existing "3+1" bachelor's and master's degrees within a single discipline
Create accelerated degrees, bringing together graduate and undergraduate education through shared courses, integrated curricula, and mentoring
Acquire "reasonable" guaranteed admission for graduates wishing to continue their studies at BU
Assessment:
Follow up on the One BU plan:
Develop the use of electronic portfolios, or ePortfolios, as a collection of work that spans across student's learning experience at BU
The Task Force as a whole originated from the BU Strategic Plan and stemmed from the belief that undergraduate education combines principles of general education, co-curricular experience, and innovation.
"[The concept behind One BU] means to a student that you can take courses in or transfer to a major or minor in many other schools outside of your discipline.  It means you are not locked in your school," said Campbell.
To access the One BU Task Force Report, go to www.bu.edu/unlock.