American League
AL East
Boston Red Sox (2009 Regular Season record = 95-67;2nd place in AL East) Call it home team bias. Call it blind optimism. Call it just good old fashion hate of the Yankees, but the longer you look at the new look Red Sox it becomes more and more apparent that they will be more than formidable. The addition of defensive wizards Mike Cameron, and Adrian Beltre exemplify the platform of Boston's 2010 campaign: a run saved is a run earned. It doesn't end on the field either; the Sox will dominate on the mound. Former Angel's ace (and noted Yankee killer) John Lackey joins a stacked Boston rotation that features three top-line starters in Josh Beckett, Jon Lester, and the aforementioned Lackey. It's a venerable murders' row of pitchers that will strike fear in every Major League lineup. Compliment that with a solid bullpen, a line-up that will score more runs than you think, and enough trade bait if the Sox need trade deadline reinforcements and you have a AL East race that will be nothing short of a full on dog fight with the Sox squeaking by the Yanks by the end.
AL Central
Minnesota Twins (2009 Regular Season record = 87-76; 1st place in AL Central) The Twins chances start and end with Joe Mauer. After his 184 million dollar pay day the hometown hero will help lead a solid line-up in a tightly contested AL Central race. The only thing that may hold the Twins back is pitching, or more appropriately their lack of it. Though not terrible by any standards, Minnesota's rotation lacks a true ace (unless Fransisco Liriano decides to return to his rookie phenom form) and the loss of elite closer Joe Nathan for the season will keep Twins fans on the edge of their seats come the ninth inning. In a division stacked with elite pitching from the likes of Mark Buehrle, Jake Peavy, Justin Verlander, and Rick Porcello it will be hard to keep up. But if the past few years in Minnesota has taught us anything, it's that the Twins always find a way to stay in the playoff picture. With reigning AL MVP Mauer at the helm the Twins will pull together and get past the White Sox and Tigers.
AL West
Seattle Mariners (2009 Regular Season record = 85-77; 3rd place in AL West) The sexy pick is the right pick. While the Angles subtracted from their line-up the Mariners did nothing but add, with the most prized addition being former Phillies postseason hero Cliff Lee. Any team that can throw out Felix Hernandez and Cliff Lee back to back already has a huge advantage and Seattle's young corps of talent will do nothing but contribute to a team that already exceeded expectations last season. Offense will be the Mariners main cause for concern (Former Cubs trouble-maker, and Kanye West wanna-be, Milton Bradley will be batting clean-up) with the line-up missing a proven run producer outside of Ichrio Suzuki. But if Cliff Lee's five game suspension for throwing at the head of Diamondbacks catcher Chris Snyder in a spring start says anything about the level of intensity he can bring to the team the Mariners will be ready for the challenge.
AL Wild Card
New York Yankees (2009 Regular Season record = 103-59; 1st place in AL East) I must admit that the AL Wild Card winner could just as easily be the Red Sox. The defending champions may have lost World Series heroes Johnny Damon and Hideki Matsui but their outfield has gotten younger and faster with the addition of Curtis Granderson and the promotion of Bret Gardener. Their line-up is still arguably the best in baseball with Mark Teixeira and Alex Rodriguez serving as the cornerstones. What the deciding factor in the race with the Red Sox will be pitching depth. Top to bottom the Red Sox's rotation features way more talent and proven track records compared to the Yanks, who will still rely on CC Sabathia and A.J. Burnett to do a majority of the work. It is also worth it to mention that as many runs as the Yankees project to score it will be difficult to do so against the superb pitching and defense the Red Sox will field. All things considered the Yankees will fall one game short of the AL East title and will have to settle for the Wild Card. From there they will try to make another run to the Fall Classic, most likely having to face the Sox once again to get there.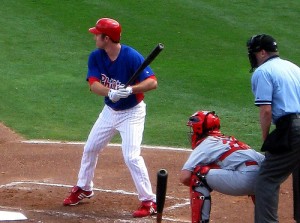 National League
Philadelphia Phillies (2009 Regular Season record = 93-69; 1st place in NL East) Let's make one thing clear: in the National League it's the Phillies and Cardinals, then everybody else. The two time reigning NL Champion Phillies went out and did what they had been trying to do for the past two years in finally evacuating Roy Halladay from Toronto thus solidifying the Fightin's strangle hold on the National League. Halladay will post numbers in a league that does not feature the Red Sox, Yankees, or DH that will spin heads (can you say 30 wins?) Philly's line-up is also the only one in the senior circuit that can be considered passable when compared to the American League. The only questions that linger in Philadelphia is the bullpen. Brad Lidge is still an adventure to watch in the ninth and the depth beyond him is not as good as it should be, but when you're going to be scoring as many runs as the Phillies, with Doc Halladay on the mound, it would be madness pick against them.
NL Central
St. Louis Cardinals (2009 Regular Season record = 91-71; 1st place in NL Central) Albert Pujols, Matt Holiday, Chris Carpenter, and Adam Wainwright. That's all you need to know when it comes to the NL Central. The Cardinals will do nothing short of dominate their division with proven offensive power and Cy Young caliber pitching, don't be surprised if the NL MVP and Cy Young winners are both wearing Cardinal red by the end of the year. There is no real challenge to the Cardinals within the Central (unless "next year" becomes this year in Chicago)  and will only have to worry in their eventual show down with the Phillies. The Cardinals will be out to atone for their collapse last postseason against the Dodgers and they will be out for blood.
NL West
Colorado Rockies (2009 Regular Season record = 92-70; 2nd place in NL West) As much as Los Angeles Dodgers divorce court will be fun to watch the West will be won by the young guns out of Denver. Colorado's corps of young talent, their teeth freshly cut from last season, will be running in guns blazing. Veteran leadership from first baseman Todd Helton will help propel one of the best group of young pitchers and position players past the mediocre division. The Rockies will be young, quick, and balanced as long as they don't fall victim to too many sophomore slumps. Questions over closer Huston Street's durability still linger and it's always hard to succeed based on youth alone but the Rockies are talented and could be bringing Rocktober back to Denver once again.
NL Wild Card

Atlanta Braves (2009 Regular Season record = 86-76; 3rd place NL East) Baseball writers have been gushing over what they have deemed the beginning of the "Jason Heyward Era" all spring in Braves camp, and with good reason. The rookie outfielder has the makings of a true phenom with power, and speed. It was a foregone conclusion that the Braves named him their starting outfielder. Along with Heyward the Braves will feature a solid rotation that will feature an even better Tommy Hanson and a healthy Tim Hudson. Though the Braves will be asking a lot of veterans Chipper Jones and Troy Glaus, both of whom are on their way out, but if they both produce and their pitching holds up the Braves can take the Wild Card.