On March 20th, spring was not only ushered in by great weather, but also by nearly three hundred urban gardeners from in and around Boston who came together at Northeastern University for the Boston Natural Areas Network (BNAN) 35th Annual Gardener's Gathering. The free event featured an information gallery, workshops, door prizes and community gardening awards.
In an attempt to help my thumb turn from its current light yellow to a vibrant green, I attended the gathering and let it all soak in.
I'm not an experienced gardener. As a kid, I helped my mom pull weeds in her garden, but that's about it. I became interested in gardening after I started getting into the slow food movement. First, I made the switch from commercial grocery stores to local farmers markets, but now I want to go a step further and get down with the growin' myself. Since I'm living in Boston this summer, I have a few options: community gardening, container gardening and rooftop gardening. I was aware of the first, but the latter two were completely new to me. The gathering demonstrated the skillful innovation of Boston's urban gardening community: If you'd like to garden, you just have to think outside the plot, or above the ground.
The gathering kicked off at 11:00 a.m. At registration, I was given a reusable bag stuffed with information pamphlets. In the main room, about 10 different tables were set up.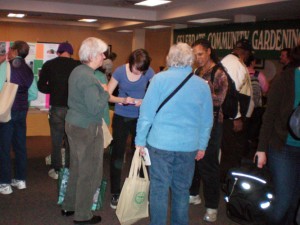 In addition to the BNAN, there were several organizations at the gathering, including the Boston Gardeners' Council, Boston Parks Advocates, CitySprouts, the Food Project and about a dozen others.
One of the BNAN's programs, Students Learning through Urban Gardening (SLUG), helps elementary school teachers in Boston integrate gardening into the classroom and provides instructions and materials for gardening and composting.
The Urban Homesteader's League (UHL), a community group in Cambridge, puts together events oriented around the slow food movement. In fact, that's how I heard about the gathering. The UHL also collaborates with Slow Food BU and other organizations throughout the Boston area.
After a welcome by the BNAN President Valerie Burns, over 15 workshops were given in three one-hour sessions.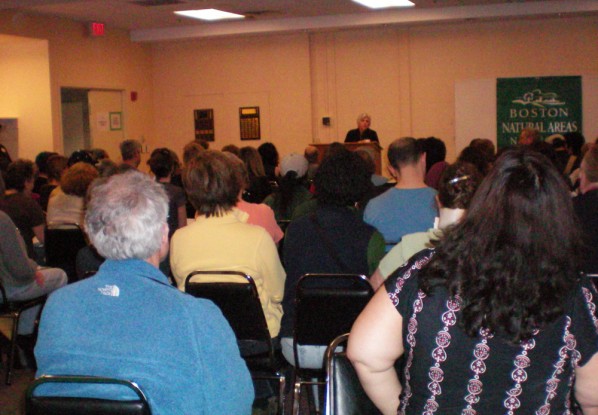 I attended three workshops. Here's a run-down of what I learned.
Vegetable Seed Starting
A seed starter's #1 rule: visit your plants. They may not be new-born pups, but they require just as much care and attention.
What you'll need: seeds, plant markers (or popsicle sticks), grease pencil, potting soil, trays (egg cartons work too), large plastic bags, watering can (or never-been-used spray bottle).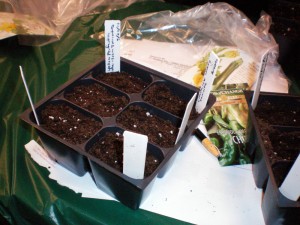 The process: I started off with two 13 cm by 13 cm square trays, which were already filled with potting soil. They contained six cells with two holes in the bottom of each cell to allow roots to grow through (the holes are optional). The workshop provided a wide variety of seeds. I chose to plant Brandywine tomatoes, cherry tomatoes, yellow perfection heirloom tomatoes, squash, zucchini, sweet red peppers and chili peppers.
To sow the seeds, I used the plant marker to dig a row about 1 cm deep. Next, I placed a few seeds in the row and covered them with the soil. For large seed pods, like those of squash and zucchini, I planted one to two seeds per cell, and for small seed pods, like those of the tomatoes and peppers, I planted three to four seeds per cell. As I was planting the seeds, I used the grease pencil to label the markers with the name of the plant and the date. To give some structure to what would be my mini-greenhouse, I placed the markers in the corners of the tray.
Then, I used a spray bottle filled with water to wet the soil. Be careful not to over-water your seeds! It can cause molding. At this point, I placed my tray in a plastic bag, filled it with air as if I were blowing up a balloon and tied it with a twisty. It's also important not to under-water. If you don't see any condensation appearing on the plastic bag, wet the soil more. Now you have your own little greenhouse!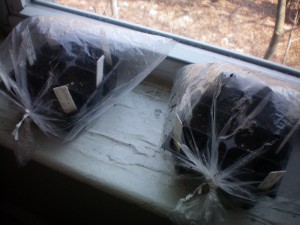 I put my trays on the window sill in my room, which receives a lot of sunlight during the day. Most important, however, is that your seeds get some heat. My radiator is right near the window sill, so my seeds didn't have any problems sprouting. However, if you're concerned, you might invest in a heat mat. If there's not an area in your room that receives a decent amount of light, place a lamp about two to four inches above the sprout tips. This measurement varies depending on how hot your light bulb is. You don't want to singe your seedlings.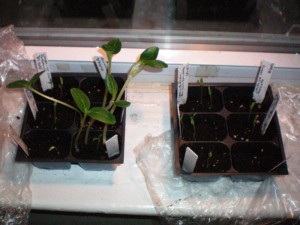 After about three to five days, I noticed my first sprouts. And after a couple weeks, I transplanted the sprouts to a larger pot. You know it's time when the plants start to hit the plastic bag. I purchased my supplies (pots and potting soil) at Mahoney's Garden Center in Brighton.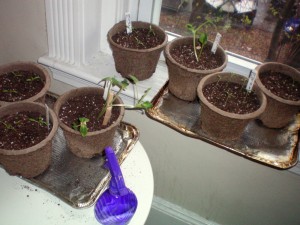 Once the plants grow taller and start to droop, I'll have to transplant them to an even bigger pot.
New Gardener Starter Tips
This workshop, which was more of a Q & A session, wasn't as helpful as I thought it would be, but I did learn some interesting things:
1. If you're gardening in your backyard, it's a good idea to test your soil, and depending on what you're growing, you may want to adjust its acidity.
2. Take climate zone into consideration when you're planting. Make sure you're not setting yourself up for failure by trying to grow something that just doesn't work with your climate.
3. For those interested in container gardening, pick up the book "Square Foot Gardening: A New Way to Garden in Less Space with Less Work" by Mel Bartholomew.
Gardening Structures: Raised Beds and Container Gardening
This workshop was probably the most informative. Raised beds are typically built out of four planks of wood (poplar and cedar are the most rot-resistant, but fur, spruce or pine can also be used) 1 in thick, 8 ft long and 1 ft tall. Make sure your wood is untreated so your plants don't absorb any chemicals. Tung oil or flax seed oil can be used to help preserve the wood. They are usually lined on the bottoms with landscape fabric. The soil is a mixture top soil and compost. However, a third compost, a third vermiculite and a third peat moss is recommended. Sand can also be added to cut the moisture. For more information about constructing your own raised beds, visit the Food Project's website.
Some benefits of raised beds include:
1. They fit in small spaces.
2. They can go on pavement, rooftops, decks, etc.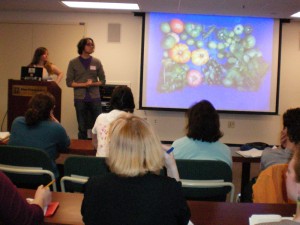 Jessie Banhazl, co-founder of Green City Growers (GCG), presented the workshop with Cooper Renfro. She showed a slide show of raised bed projects she's done with the organization, including one on the roof of B. Good in Allston. GCG used kiddie pools drilled with holes in the bottoms for their plants. Because it's windier on rooftops, Banhazl suggested setting up stakes surrounding the bed to block the wind. She also noted to remember to talk to the building's owner to ensure that there are no weight issues before embarking on a rooftop project.
Another option, for tomatoes at least, is growing in a food-safe, five-gallon bucket drilled with a hole on the bottom and hanging it.
The presenters also added some advice about pest control. Bird netting and stakes will help prevent rabbits, cats, raccoons and other scavengers from peeping your goods.
In addition to helping people build raised beds, the organization installs cold frames to extend the growing season through February. The frames are made of either lexan or plexiglass and are placed directly over the bed.
Needless to say, I learned a lot. Seeing Mayor Thomas Menino present an adorable elderly lady with a community gardening award was cool too. What surprised me the most was the diversity, creativity and openness of the urban gardening community. There was a whole mix of gardeners–new and experienced, young and old and those from all reaches of Massachusetts–and everyone was respectful and willing to offer advice. I'm definitely inspired to get rooted into the community.