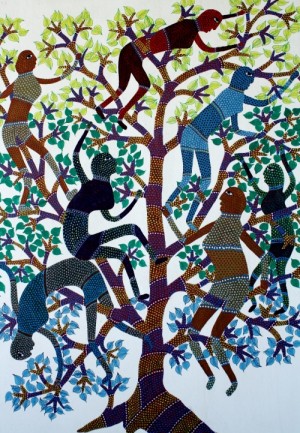 A larger-than-life tree with twisting pink and red striped branches that houses multicolored bats, birds, monkeys and Indian Palm squirrels stretches over the stairwell in the Brookline Arts Center.
This is the first foreign solo exhibition for Indian tribal artist Venkat Raman Singh Shyam, entitled "The Tribal World of Venkat Raman Singh Shyam," as well as for the non-profit Brookline Arts Center according to Executive Director Susan L. Navarre.
Visiting curator John H. Bowles says this type of indigenous art is usually seen as  "souvenir art" and is not taken seriously by the traditional art community. "I've been challenging these notions for many years," Bowles said at the opening reception on Sunday, "this [exhibition] focuses the art in a typically Western way rather than ethnographic."
Bowles first encountered the Pardhan Gond tribal art of Central India at an Indian "Mela," which Bowles says is a "sort of arts and crafts fair," and was "amazed" because he had "never seen art like this before." He adds this tribe had been previously depicted in 1894 in Rudyard Kipling's The Jungle Book but with "Victorian sensibility" and now "their stories are being more accurately represented" in artwork like Shyam's.
According to Bowles, the art is "hybridized," which means it is partly traditional in its values and stories but modern due to the use of contemporary Western materials like acrylic paint and store-bought ink. The traditional art of the Gond tribe is storytelling of Gond mythology and folklore, but in the 1980s talent scouts brought tribal artists to the capital city of Madhya Pradesh to paint for tourists.
Shyam, who also attended the opening, says he began painting when he was seven when he was inspired by another Gond artist, his uncle Jangarh Singh Shyam. "He recognized me and took to me" Shyam said, and 25 years later Shyam is still painting. Shyam has also expanded his standard sketching and painting to animation. Scottish producer and director, Leslie MacKensie of West Highland Animation, used Shyam's paintings to create an animated short film entitled "The Best of the Best," which is also on view at the exhibit.
A total of 16 works out of the 35-piece exhibit show similar scenes of plum iguanas, tiny fish, winged elephants, women perched in trees, purple-clawed beasts, peacocks, snakes, dragonflies—all intricately patterned with pointillist techniques and overlapping colors. Heather La Force, a graduate student at the School of the Museum of Fine Arts, called his work "magical" and said she was "surprised by his use of color."
Shyam's distinctly colorful style was temporarily interrupted in 2008 because the "tribal world now encompasses global terrorism," Bowles said.
The 2008 terrorists attacks on the Taj Hotel and the railway station Chhatrapati Shivaji Terminus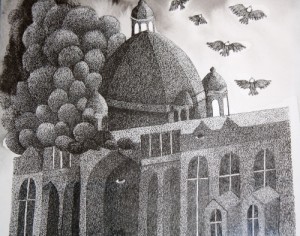 provoked the artist to create a series of 9×9 drawings graphically depicting the incident.
This black and white series also on exhibition, was created with ink and paper with small tints of watercolor details. Shyam says he decided to create the series after he fled to Goa only a week after the attacks. Shyam says "To this day, these events continue to come vividly to my mind … it looked like a film in my mind."
The 19-part series features images entitled "Burning Taj," "Raining Bullets," and "The Final Journey," in which dead bodies are being carried away to be cremated. Despite the grave subject matter, Shyam says it was "not challenging" to create these drawings.
Unlike the colorful and nature-based first half of the exhibition, nearly all of these sketches feature people and urban settings. But Shyam stays close to his roots in a standout fusion piece of a tree growing out of soil in which a face and rifle are hidden entitled "Tree of Terrorism," portraying the rising threat of terrorism and globalization in tribal India.
See more photos of Shyam's work here.
Check out Shyam's free exhibit in person at the Brookline Arts Center through May 7th 2010.
Also check out "Painted Songs and Stories: Contemporary Pardhan Art form India," featuring Shyam's work at the Davis Museum and Cultural Center at Wellesley College through June 6, 2010.