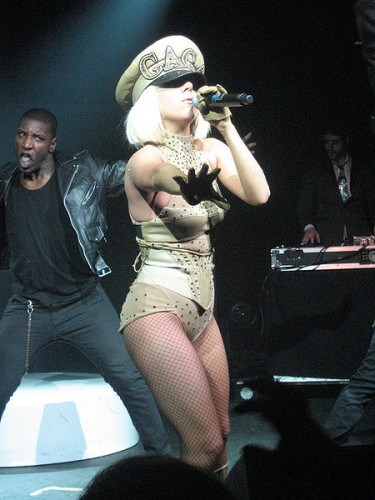 As we wrap up the spring 2010 semester, we have the opportunity to reflect and measure our lives–no, not in love–but in Lady Gaga's best and worst ensembles.
The "Poker Face" princess has certainly become a cultural phenomenon: who else could both be voted Best and Worst Dressed at the Shockwaves NME Awards and inspire fans to create cookies showcasing her shocking ensembles? Whether you absolutely adore Gaga and pump up "Bad Romance" on the treadmill or detest her growling "rah rah roma mah mah, gaga ooh la la," you have to admit when it comes to fashion, Gaga is fearless. This article is dedicated to the Fame Monster in all her freakish, pants-less glory.
BEST:
I have a major soft spot for the early Lady Gaga looks—midnight black, hooded leotards, David Bowie lightening bolt makeup, and those unmistakable banged, platinum blond tresses topped with a mini-mouse hair bow. Here are some of my favorite looks:
Pretty in (Hot) Pink: Gaga put her own twist on the feminine pretty in pink look in this bubblegum pink, structured cocktail dress for the 2007 Brit Awards. In true Gaga style, the dress boasts a super deep, daring V-neck and its accentuated hips make this girly ensemble a little bit more naughty than nice. Her neon pink lips and white-topped sunglasses also edge out this look.
Futuristic Disco Queen: In the future, disco balls will be shapeshifters and double as dresses–as  she originates from a far off galaxy, Laga knew that. This flashy concert look is like reflective tangrams that were pixelated together to create the asymmetrical top and winged out hips. Her bizarre accessory of choice is a Venetian columbine mask in a coordinating mosaic style. Gaga wore this glitzy disco dress at the 2009 Glastonbury Music Festival.
Banana Jacket: This banana-yellow jacket Gaga wore this past September in London is part military inspired and part Audrey Hepburn skiing in the Swiss Alps. The button collar, the sunny hue color-blocked with black stripes fabric, fingerless leather gloves, and oversized, open sleeves make this outfit unique and interesting–without the freak factor. I much prefer this retro yellow jacket to that blinding yellow mane of hair she sported at the 2010 Grammy's.
Lilac Rabbit: Gaga sported a lilac blond bob under a black veil with two black lace bunny ears by Maison Michel on the cover of Spanish magazine Neo 2. She even rocked these playful rabbit ears in real life. She prevents herself from looking like the Easter bunny and keeps it classy with a  Amaya Arzuaga black satin, strong-shouldered blazer adorned with spiral brooches, layered pearls, and deep purple lips.
Dripping in Pearls: Pearls are an accessory staple for any lady, but this is Gaga we're talking about. Gaga took a seriously editorial spin on your grandmother's classic pearl necklace at the amfAR Benefit in February. She was covered with pearls in her all-white outfit, not just on her bra-top, motorcycle jacket and cap, but also all over her entire body and face. Only Lady Gaga has the swagger to make acne pearls glamorous.
WORST:
(Old) Lady Gaga: Lady Gaga does not usually do conservative well. In her interview with Barbara Walters, Gaga wore a heavy black Chanel suit with awkward Austin Powers center ruffles. The suit, along with Gaga's ghostly makeup and pale eyeshadow, garishly contrasted against her vamp red lips and make her look like an old lady that needs help carrying her groceries instead of the spry 24-year-old she is. I actually think Walters' ensemble looks more stylish than Gaga's.
Bubble Wrap: This concert costume is one of Gaga's most memorable, and even inspired
her look for the 2009 Rolling Stone cover. Although the concept is truly innovative, they are really just strategically-placed plasic balls covering her lady bits. And it just really makes me want to pop them viciously like bubble wrap.
Gaga's a Little Tea Pot: At the 2009 Brit Awards, Gaga wore this white and light blue unflattering crop top with high-waisted leggings. The delicate floral pattern and odd pointed cap resembles a spouted, china teapot. The hat also could be some sort of unusual burger shack hat. However, I appreciate Gaga trying a new look, opting for floral over her usual graphic prints, and she does prove she can rock 3D florals in Elle magazine.
Layer Cake: At the 2010 Brit Awards, Gaga looked good enough to eat–if you're craving a three-tiered, creepy wedding cake. This cream, Francesco Scognamiglio gown has three layers softly fluted pleats and a high, rounded collar, literally topped off with a towering Marie Antoinette pompadour wig and a mask made of white lace. Even her black, feathered gown from MTV's Video Music Awards was more flattering than this gown–at least that one was fitted.
Muppet Slayer: It would be utterly negligent to write a Gaga fashion article and not mention the Kermit The Frog ensemble. Gaga wore this Cruella Deville coat by Jean Charles de Castelbajac for an interview on a German television channel last June. Gaga has managed to wear cool clothes created with our favorite childhood cartoons like this Hello Kitty gown, but seeing Kermit cloned and severed and plastered all over Gaga is just plain scary. And word on the street is this isn't the first time Gaga has skinned a Muppet for fashion.
Whether you love her style or love to hate her style, Lady Gaga has infuenced the fashion world tremendously. Her legendary hairbows were seen at Chanel's Spring 2010 Couture show and textured leotards and winged shoulders were shown in Jean Paul Gaultier's Fall 2009 Couture collection.
Gaga is also getting in the fashion designing game herself, with a frosty pink lipstick for MAC's Viva Glam campaign with Cyndi Lauper in which all proceeds go directly to donated to the MAC AIDS Fund to support men, women, and children living with HIV and AIDS.
Known for her bold shades, Gaga is rumored to be designing sunglasses along with another product–designer condoms?!
Only Lady Gaga.