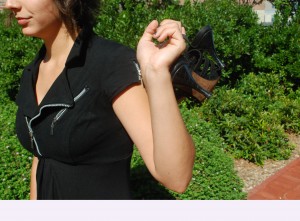 You wake up with a crushing headache and slight nausea from the 12 beers you sucked down the night before. You find yourself presented with a room that looks foreign to you – the Shaq poster hung with mishap on the wall, the plaid bedspread, a Dell laptop on the desk (you shudder to think anyone still uses a PC). Upon further investigation, you discover last night's outfit piled on the floor, and then crane your head to view the crowning glory: a stranger's tousled hair peeks out behind the sheets you both lay on.
If this has ever happened to you, you're not alone.
If this has never happened to you… well, you obviously have not experienced college yet.
After getting over the initial shock that, yes, you might have very well gotten a little toooo drunk last night and found time in between dancing on the beer pong table and dropping your Blackberry into the toilet to let some other drunk and horny stranger woo you into casual oral foreplay, the real fun starts: parading down the infamous walk of shame.
Remember, there's not reason to actually be ashamed by a walk of shame (dirty-look givers are probably just hiding their jealousy, and what's wrong with a little safe, consensual fun?). But if you're looking to fool friends, family and innocent random passers-by into believing you enjoyed a quiet night in at your own place minus some sporadic raunchy heavy petting, follow my guide to WOS-proof your wild nights for a sensible and responsible morning.
GIRLS
1)    Plan ahead. If you know that you will end your night with some "omg sooooo cute hottie" you met at that sick ZBT party last weekend, go ahead and pack a small bag to ease your morning shame (disguise your intentions with a small to medium sized purse). Throw in your toothbrush to rid your mouth of the stank that defines morning breath – but don't worry about toothpaste (unless your partner is one of the cavemen from the Geico commercials, you'll find a tube o' paste laying around in the bathroom somewhere). If you have room, throw in a pair of shorts and tank top for the next day so you won't have to flaunt a purple glitter tunic with leggings Sunday morning. Feel free to also pack a sample of deodorant, a small bottle of body spray and a pair of flip-flops or flats to change into post-heels for a less awkward (and painful) walk home.
2)    Prepare your wardrobe. For those looking for a one-night shindig but loathe carrying an overnight bag to a cramped frat party or a sweaty downtown club, don't get your panties in a bunch. Invest in a portable wristlet, preferably with an extra outside compartment. Opt for an outfit like skinny jeans with a blouse – the jeans provide extra pocket room to store your phone and belongings. Scalp your wallet and salvage the bare essentials: $20 in cash, your debit and credit card, MBTA pass, and ID. If you wear contacts, pre-fill an empty case with contact solution and close tightly, thus insuring your eyes will not suffer from redness tomorrow.  Throw in a sample packet of Advil, a small tube of perfume, and a few pieces of gum. If you feel like gussying up in heels, stick with a pair that aren't outrageously high (no more than 2 inches) and choose a casual top that can be dressed up with accessories.
3)    Keep an eye on your stuff. Don't learn this lesson the hard way after sporting a tablecloth to a toga party, stowing your overnight bag away under a bathroom sink, and getting too bombed to sequentially remember where you put said belongings. The most likely result: walking to the train stop on a rainy October morning in booty shorts and a tank top after wheedling $2 for the ride off your one-night-beau. Ask your hook-up to find a safe place to store your coat, bag, and other things; not only will you have peace of mind, but another person knows your stash-place in case of drunken memory lapses.
4)    Beware of costumes. For the love of God, know what you're getting into when you spend the night away during Halloween celebrations. It might seem spontaneously sexy to nail the guy dressed as The Situation or a Teenage Mutant Ninja Turtle at the time, but consider running across campus in a Superman cape and costume to make a 10am exam the morning after.
GUYS
1)    Get dressed post-coitus and look in the mirror. If you spot a hickey, pop up your collar. Thank you, double standards.
Stick with these tips, and you'll be sure that your steamy night before isn't written all over your face the next morning in front of people you don't know.