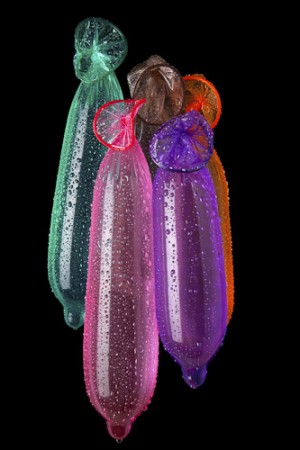 We all know the health benefits of wearing condoms instead of barebacking during sex. They protect us from the transferring some STIs, shield us from the horrors of childbirth (literally), and make the post-coital cleanup process waaaay less messy. But not all condoms are created equal. If you're choosing to use this latex barrier to cut down on sexual safety hazards, you might as well don the best of the best to make your experience the best ever. If you're spending $15 on a box anyway, why not splurge a few extra bucks and get the top of the line? Check out the thinnest, bumpiest, and most erotic condoms the market offers to make your bedroom the new playroom.
1. Crown Skinless Skin Condom – Despite what the name infers, these condoms are made out of latex — NOT actual epidermis. If you like the au natural feeling, this weightless condom boasts an epically small 0.00181 inch thickness of material. With odorless and colorless latex, you'll get the organic experience while guarded from copulation-related peril. $5.95/12-pack.
2. Beyond Seven Studded Condom – Alright, this one sounds scary. But forget the images of Hot Topic- inspired belts and accessories–the "studs" are simply raised bubbles that circulate the condom's surface. These bubbles subtly rub against those  involved to provide a ripple sensation, through and through. For the BDSM amateurs, this rubbers provides a perfect opportunity to introduce some play in the bedroom without breaking out the whip. $6.99/12-pack.
3. Durex Her Sensation Condom – Ladies: get excited. Tons of condoms are dedicated to pleasuring you and only you. Thankfully, Durex is a widespread brand easily accessible in most drugstores. These condoms sport specially-placed ribs near the bottom of the shaft on the condom to reach not only the inside of the vagina, but also brush up against outer sensual bits like the clitoris. $6.00/12-pack.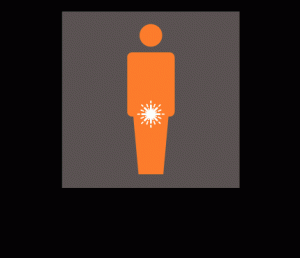 4. Flavored Condoms – Everyone knows that using condoms for oral sex is as rare as Tiger Woods going a month without banging some new boobtastic blonde. But for the gals and guys that simply abhor the taste of mouth-on-skin and the salty flavor of the inevitable happy ending, flavored condoms can introduce a fun way to get a silly sucking on. Prices vary.
5. Night Light Condoms – Scared of the dark but still like sex? Someone out there must feel the same way you do because they invented glow in the dark condoms. Wait, let me just repeat that – Glow. In. The dark. CONDOMS. These luminescent playthings promise to "add some light" to your carnal life with high-quality latex to reduce any risks.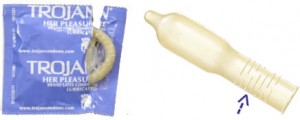 $12.81/6-pack.
6. Trojan-Enz Spermicidal Lubricant Condoms – After the list stated above, a simple lubricating condom sounds a bit outdated and, well, boring. But never underestimate the power of a simple wet condom. The water-based solution that coats the surface area provides both partners with an easy entrance, as well as less irritation caused by friction of the condom's exterior against both partners' skin. Plus, extra spermicides reduce any risks as you get down and dirty with that special someone (or one-night stand… hey, we don't judge). $24.81/two 36-packs.
7. Lifestyles X2 Condom – As if lubricated condoms could get any better, they did: instead of simply leaving the outer layer coated with lubricant, guys can now enjoy the warm and wet sensation with a condom that is lathered both inside AND out. Both partners experience multiple levels of comfort and joy as friction becomes no longer an issue. $3.99/3-pack.
8. Female Condom – That's right; it's exactly what it sounds like. This condom is a different contraceptive all together, and fits inside the vagina instead of over the penis. Though they're not widely used these days,  female condoms work well for vaginal intercourse, females looking for protection during oral sex and can be worn by the recipient of anal sex too. Wild!
$12.01/10-pack
9. Trojan Twisted Pleasure Condom – Breaking out of the mold by introducing a bulb-shaped head laden with seemingly randomly dispersed lines (similar to ribbed condoms) in diagonal angles, this condom is as sure to surprise as it is to please both partners. $13.16/three 12-count boxes.
With the market (and sexual fetishes) expanding every day, it's pretty tough to claim that no condoms exist for your purpose in the bed (or wherever else you like to get nasty…). Sensuality, excitability and taste cannot stand in the modern book of excuses for not wearing a condom. So if you've got a hunkering to play it safe between the sheets, you certainly don't have to play it tame.