It's finally October, and fall is here despite what the weather says.  With the last of the warm weather slipping into memories and the foreboding knowledge of an impending winter, fall is the last chance to enjoy the outdoors before everything shuts down for the inevitable freeze that is winter in Boston.  But before you start dreading the snow, there are plenty of ways to have fun outdoors before it's too late.  October presents a natural beauty that other months can't lay claim to.  Soon, the leaves will change and leave behind their healthy summer green in exchange for vibrant hues of reds, oranges, and yellows.  Despite Boston University's city surroundings, you can still enjoy the natural beauty of autumn.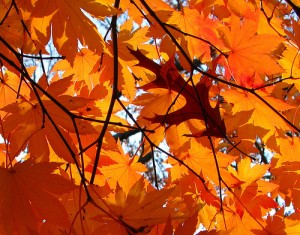 Check out Harvard University's Arnold Arboretum in Jamaica Plain.  Located a scenic four miles south of campus, the arboretum boasts an impressive 265 acres of preserved land and calm, natural scenery, all within city limits.  Admission to the grounds is free and the arboretum comes alive with plants and trees to admire during the fall.
A trip to Salem would be a great way to kick off October and get into the spirit for Halloween.  A ride on the commuter rail takes visitors straight to this historic city.  Salem boasts many spooky favorites, including Dracula's Castle, the Witch House and ghost tours, along with a wide variety of occult shops.  It's a popular destination, especially during October, so plan ahead and avoid the crowds by going before Halloween.
Apple picking, hayrides, and finding the perfect pumpkin are quintessential fall activities and far more fun than just picking a pumpkin up at the nearest market.   There are several orchards relatively near campus, all of which have access via public transportation.  Allandale Farm is the closest to BU, located nearby in Brookline.  The farm boasts a fresh farm stand and lays claim to the title of last working farm in Boston.  They also have pumpkins available for purchase, and through October 21st, the farm will be hosting an agriculture sculpture event on their grounds.  Also nearby is the Belkin Family Look-out Farm, located in South Natick.  The Belkin Farm boasts plenty of fall favorites and is a perfect retreat for the afternoon if you're feeling nostalgic.  With a burlap maze, hayrides, and a petting zoo, it offers up many childhood memories.  Apples and pumpkins are also available for picking during the fall.
Whether you're looking for something to fill an afternoon or an escape from midterms and papers, Boston boasts many spots which can provide a perfect fall experience– as long as you know where to look.