My friend and I arrived at Hynes Convention T Stop at about 11am last Saturday morning, planning to attend the Moving Massachusetts Forward Rally. We rounded the corner onto Boylston Street and headed towards Hynes Convention Center, only to find a long, zig-zagging line of people waiting in line to see President Obama speak on behalf of Incumbent Governor Deval Patrick's campaign. After debating for a few minutes whether we would even actually make it in, we hopped on the end of the line and crossed our fingers. Three hours and a few new friends later, we were finally let into the building.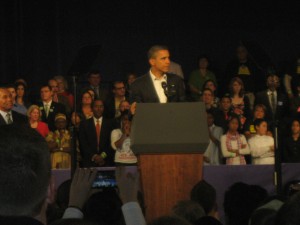 Following the joyous hours of standing in line, we were subjected to airport level security before heading into the main hall, which looked essentially like an abandoned warehouse. From a distance I saw a figure on the stage, and a large crowd blossoming out from around the platform. We moved closer and tried to weave our way through the thick crowd, finally settling when we reached a point that allowed us minimal view of the speaker, Vicki Kennedy.
Best known as the widow of Senator Ted Kennedy, Vicki Kennedy gave a rousing speech, and said how proud Senator Kennedy would have been to see healthcare become a law. The most important thing, she said, is to make sure the Democrats are voted back in to finish the job.
Many more speakers graced the stage during this very long rally, which my friend and I were  only able to catch half of (due to our long line-waiting stint). These speakers included Congressman Ed Murphy, a preacher, Mayor Thomas Menino, Lieutenant Governor Tim Murray, Senator John Kerry and an Iraqi War Veteran, among others. All gave speeches that energized the crowd and focused on hotly contested policies relevant today.
James Taylor performed a few songs including "America the Beautiful" and "You've Got a Friend" (originally by Carole King). Finally, Governor Patrick got up to the podium to speak. "We had had sixteen years of Republican governors more interested in having the job than doing the job," Patrick said of Massachusetts before his election to the office.
He also championed the progress his administration has made for Massachusetts despite the weak economy. "Today, we lead the nation in student achievement and healthcare coverage for our residents. That is why today we are creating jobs faster than every other state in America."
A recurring theme in his speech was putting faces to the numbers in the polls. "I believe government is about people, not abstract policies," Patrick explained, "I believe we should be in this to fight for your jobs, not mine."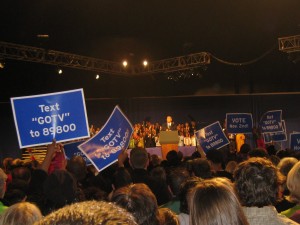 After Governor Patrick made his final statements, President Obama was introduced and came to the stage. At this point, the crowd had gotten so tightly packed I had to crane my neck to even see him. And then he was there, our President, who I had seen many times on television was in front of us, and he looked exactly the same. A few more bags under the eyes, but the same.
He urged the crowd not to make the error of voting based on a place of hurt. "The biggest mistake we can make right now," he said, "is to go back to the very same policies that caused this mess in the first place."
President Obama also had many praising words for Governor Patrick. "At a time when too many folks bow to the politics of the moment," President Obama said,  Governor Patrick, "represents the politics of conscience and conviction."
He emphasized that this election is more than a referendum on the current state of the economy. "What this election's about is not where we are right now," President Obama said, "its where we want to be two years from now, where we want to be five years from now, where we want to be ten years from now…Its not just about the work we've done, its about the work we've got left to do."
The rally motivated the crowd, a crucial effect needed so close to the mid-term election. Only time will tell if it's the push Patrick needs to grab hold of this close election.