So, it's Halloween again. Time to start working on that fantastic costume, right? But what do you do when you want to stand out from the sea of Lady Gaga's and Snooki's?
Every year it happens. Everyone dresses up as the SAME celebrity. But how many ways are there to interpret a beehive wig and bad teeth?
Here's a list of costumes you could try this year that'll help you distance yourself from the Gaga wanabes, and still stay culturally relevant. The best part is, you can come up with most of these with a quick scavenge through your closet.
1. Ke$ha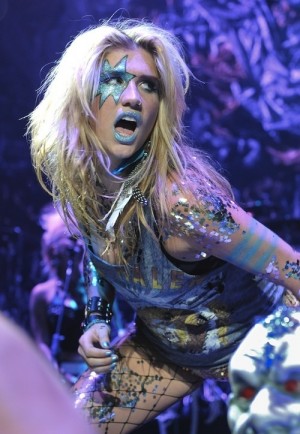 Think garbage chic. (As if that even exists…) Ke$ha has been ridiucled pretty much since she made it onto the scene for her lack of…. well, class. But how do you expect a girl who 'sings' about getting wasted 24/7?
Start with a ripped t-shirt or tank top, denim shorts, patterned tights, and fur boots. Add lots of chains and other unnecessary accessories, some coloured hair extensions, and a faux fur stole and you're almost ready to go.
A single feather earring is a signature Ke$ha move, so don't leave it out, if you really want to commit to your costume.
No Ke$ha outfit would be complete however without sh*t tons of glitter. Wear lots of heavy makeup so that it looks like you rolled out of bed that way, and have a friend draw a crazy shape on your face in glitter. Blow some in your hair and stick some to your boobs and you're done. It's totally fine to look like you bathed in it.
Voila! Ke$ha!
2. Willow Smith
So, why would you want to dress like a nine year old? Because she's amazing.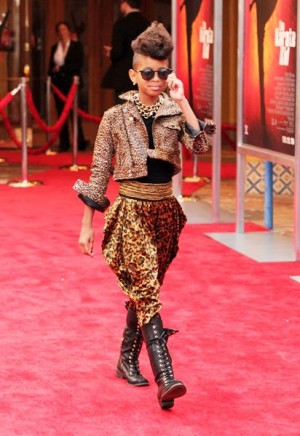 Take your cues from her debut music video and think bright colours. Obviously the most important factor here is the hair. (Excuse the alliteration) Extensions are a must, so don't forget to buy them in a few different colours and consider having someone cane row them into a cool design for you. Just make sure that they're long so you can whip your hair all night. If you have shorter hair, try her cotton candy 'do from the video. Clip-ons will work wonders.
Try and get your hands on some hammer pants (combat trousers are a good alternative) and a military jacket. Don't forget the knee high converse and fake lashes with rhinestones. If you want to go all out, you can try some serious nail art, or you can take the easy route and use this easy DIY nail art pen. And don't forget the shades!
Voila! Willow Smith!
3. Dan Stark from FOX's 'The Good Guys'
So, this character may not be that well known since The Good Guys is still in its first season, but anyone who watches (and if you aren't watching you should be) already knows how entertaining he is to watch. Dan Stark is basically a 1980 cop who didn't get the memo that it's 2010.
The most important part of this costume is good healthy fake mustache. Once you've got that down, get hold of a shirt and tie in a really loud combination. Think maroon shirt and gold tie. After that, add a regular pair of dress pants and shoes, and add a pair of suspenders. If you can, get a shoulder holster and stick a toy gun in it. (But make sure it doesn't look too realistic so you don't get in trouble) Lastly, add a regular suit jacket that you can slip off occasionally while you complain about 'the CSI black magic', 'smarty phones' and 'computer machines'.
Kudos to any guy who successfully pulls this off.
Voila! Dan Stark!
4. Sue Sylvester from FOX's 'Glee'
Everybody loves Sue. Even the Emmys love Sue. Thankfully this costume is very simple and fun. Track suit, sneakers,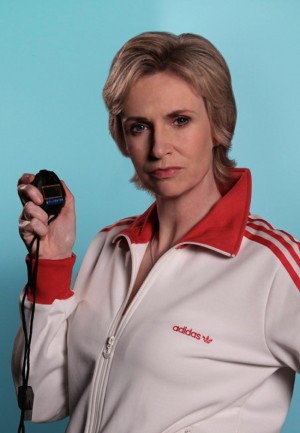 whistle, bull horn. That's it. If you want to go all out, you can carry around an old trophy to represent the local Emmy Sue didn't win for her expose on the Rocky Horror Glee Show.
If you want to be classy Sue, add a string of pearls.
Don't forget to spend the night hurling insults at people with weird hair, or passing kidney stones to teach those pesky Cherrios a lesson.
Voila! Sue Sylvester!
5. Katherine Pierce from CW's 'The Vampire'
Sorry, just HAD to sneak a vampire in.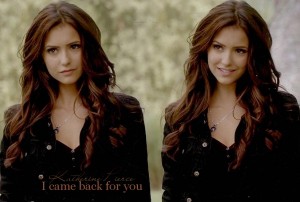 Katherine Pierce is a pretty hot vampire. Think whips and chains, without the whips and chains, but keep the sadism.
This is actually a very simple costume. Start with a black bustier, black jeans and black knee high boots. Add a leather jacket, a simple necklace and Katherine's signature curls.
Keep your makeup light, and just try to look like a sexy murderous vampire.
If you're super committed, hire two sexy brothers to follow you around and fight over you all night.
Voila! Katherine Pierce!
So, there you have it. Five non-Gaga/Bieber/Snooki costumes. Hope you have fun putting them together.