Last Monday was the first day of November, and for sugar-shocked children and groggy college students, it spelled the end of a fantastic and eventful Halloween season. But for hundreds of thousands of ambitious would-be storytellers across the world, November 1st marked the first day of the most hectic month of the calendar year: National Novel Writing Month.
Held every year throughout November, National Novel Writing Month (or NaNoWriMo) is a celebration of hardcore writing and looming deadlines. Participants strive to write a novel of no fewer than 50,000 words, all within the confines of month of November. The writer then submits his or her novel—which usually averages at about 175 pages— to the NaNoWriMo website's official word-counter, which checks the length and pronounces all who complete the task winners.
The challenge is not just for seasoned writers. Anyone can participate, and people from all walks of life do. Stay-at-home-moms, teenagers, working adults and even stressed and overtired college students set aside time every November to finish a novel.
A Daunting Task
The contest operates on an honor system. The word-counter is a computer program, and has no idea whether or not the participant started writing before November 1. It also has no way of checking whether the content it is counting is an actual story, or if it is one block of text copied and pasted again and again. But that would violate the honor code, and be pointless, anyway; the only prizes for a NaNoWriMo victory are a winners' certificate, eternal bragging rights, and a 50,000-word story to call your own.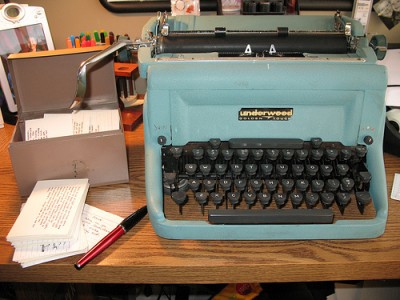 The NaNoWriMo novel is, above, all, a draft. As it is a large story written in a very small sliver of time, it certainly does not have to be literary. Chris Baty, who hatched the idea of NaNoWriMo among his friends in the Bay Area in 1999, knew from the start that the novels produced wouldn't be great, or even good.
"The 30-day deadline helps you be less precious about every sentence," wrote Beaty in an interview posted on the project's website. "Yes, it's hard to leave errors and awkward prose on the page, but the most important thing is to stay focused on the goal of getting a beginning, middle, and end of your story written in 50,000 words."
Stressed Storyteller Support Groups
In 2004, Baty published No Plot? No Problem! A Low-Stress, High-Velocity Guide to Writing a Novel in 30 Days. The book offered tips to making it from the finish line, including pep talks, strategies and ways to check progress. Writers should produce about 1,667 words per day, and there's a chart detailing exactly what number they should reach on any given day for those unwilling to do necessary calculations. It's a roadmap and a Bible, the chicken soup for the creative writer's soul.
The website includes a host of useful information and materials, too. There is an extensive list of Frequently Asked Questions, and a box at the top of the screen allows users to update their wordcounts every time they log in. Additionally, those on the mailing lists receive frequent motivational emails from site staff.
But for many NaNoWriMo participants, the majority of the support comes from the community. The website features a broad forums section. It facilitates conversation between novelists allowing people to vent, gloat, and trade advice. There are discussion lounges for specific age groups or specific lounges. Perhaps most significantly, the forums feature a section of nearly 450 different Regional Lounges, representing areas all over the world. Writers from the same area can plan Write-Ins, regional events in which participants come together to chat and write.
NaNoWriMo Boston
Boston has its own vibrant NaNoWriMo community. NaNoBoston already has multiple Write-ins planned, including two taking place in the Boston University Barnes & Noble. Travis Kelley, a Roslindale photographer and one of NaNoBoston's municipal liasons, says the draw of the Write-Ins is strong.
"There's a camaraderie that you get when you're around people who understand what you're doing and why you're doing it," said Kelley in an e-mail interview. "When you go to write-ins, nobody there asks you questions about why you're writing a book for a contest with no prizes. They get it."
The NaNoBoston community also accepts the sometimes-offbeat rituals that some writers might have.
"One of our participants last year commented in a forum that she had been nervous before attending her first event," Kelley explained. "She likes to write in bunny ears and a tiara.  She arrived and no one present batted an eyelash at her noveling attire."
Anna Draves, the co-liason and Fenway-area librarian, added, "It's the friendships that also keep people coming back year after year." The Boston region is small, and there are a high concentration of writers here. Friendships are formed and bonds are forged over the common mission of writing.
The events will continue throughout the month. But whether writers flock together or choose to write in solitude, they all press on towards the same goal: to reach 50,000 words by midnight on November 30.