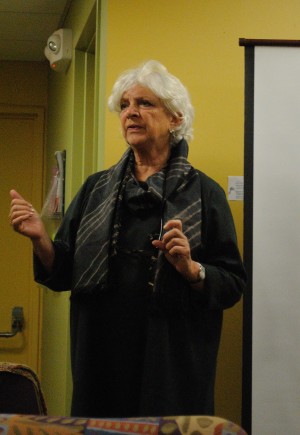 All over the world, people suffer from poverty and abuse on a regular basis; founder of WomensTrust Dana Dakin seeks to rectify these problems in Ghana through microfinance lending. Ghana's education system cannot keep kids in school, and when kids drop out, they continue a vicious cycle of poverty. Dana Dakin has taken measures to put a rock in the cogs of poverty and improve life for women in Ghana. At the age of 60, Dakin founded the WomensTrust organization, which seeks to help women in stabilized communities by helping grow their companies through microfinance lending. Rather than simply giving a developing country like Ghana money, the organization gives the people tools to use the money they have. WomensTrust is currently working with the Pokuase Village in Ghana, where they educate women of all ages in microfinance, but also aim to increase education and healthcare.
On Tuesday, Dana Dakin spoke to a group of BU students at the Women's Resource Center about her involvement in WomensTrust. Dakin said she had learned growing up that life was split into three distinct, chronological phases: first  learning, then earning, and lastly. returning. As indicated by her work in WomensTrust, Dakin sees herself in the third phase.
The goal of WomensTrust is to "use microfinance along with education and health care to improve life for women in Africa," said Dakin. By making the organization community based, it is easy to integrate, and use resources which many large companies frequently ignore: the very business people already in place in a particular community. WomensTrust works with women who have established businesses in Pokuase so that they can expand them.
Business in a village like Pokuase is far different than what the Western world would traditionally consider. Gertrude Ankrah, the program director of WomensTrust, explained that a woman's business in Ghana is about selling anything possible. From water to food to fabrics, the women begin at the bottom, carrying their goods on their heads, going to the buyers, and working their way up. With the loans they can take out from WomensTrust, women are able to expand their businesses from being carried around to a stationary table, and eventually a kiosk, meaning that customers come to them, rather than the other way around.
Ankrah, who was born and raised in Pokuase and still lives there today,  explained that the people of Ghana live day to day, just attempting to survive and earn enough money to feed their families. When a woman is trying to go out and find food for her family, long-term business goals simply can't be a priority for her.  WomensTrust is trying to change that, so women no longer have to live day to day, in fear of not having food or health care for their families, or afraid that their husbands will beat them for not helping to provide for the family.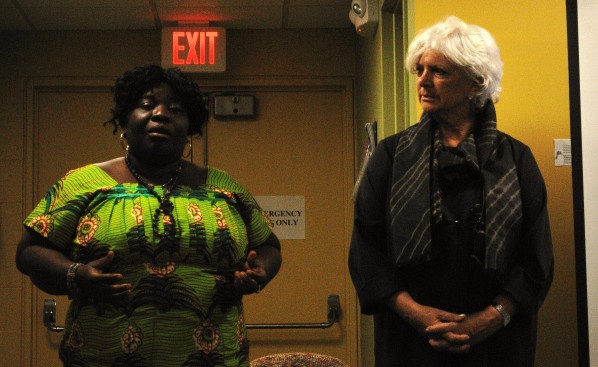 In order to help women, WomensTrust is not only providing low interest rate loans to the women of Pokuase, but also educating them and forming a support system. The women who are eligible for the loans meet frequently with one another to share business ideas and tips. They also must form a group with three other women in order to apply for a loan.  The idea is that the women will receive their individual loans, but cannot receive another larger loan until each individual in the group has paid her share back. This way, WomensTrust encourages not only the growth and success of business, but the building of relationships as well. Dakin's idea is to make a model that community based and replicable, so it can be taken to similar communities and worked with, rather than having to start from scratch each time. Dakin aims to "make progress happen bottom-up."
WomensTrust has additional incentives for success—those who become involved and take out loans through the organization are given a one-year health insurance card. Ankrah explained that in Ghana, health care is extremely limited and expensive, so many go without healthcare, but WomensTrust increases their access to it. Without an insurance card, hospitals can and do turn away the sick and injured. Now, women have the opportunity to care for their families, giving them one less burden to worry about.
The organization is also trying to keep girls in Pokuase in school. Many girls drop out at a young age, following in the footsteps of their mothers, so the cycle of abuse and poverty continues. Ankrah explained that many girls in Pokuase and other villages in Ghana become pregnant by the time they are in sixth grade, forcing them to drop out. However, WomensTrust provides scholarships to girls in need, so that they can continue their education.
The organization have already seen positive changes since beginning their initiative in Ghana. Dakin remarked at the progress of seeing men and women working together. Previously, it was seen as degrading and lowly for a man to work with, or do what is traditionally considered "women's work". However, since providing the loans, the stress of providing for families has been alleviated, or at least decreased, making it more acceptable for men to work with and help women in domestic work. Because of this, they have also seen a decrease in domestic violence, showing a promising future for the women of Ghana.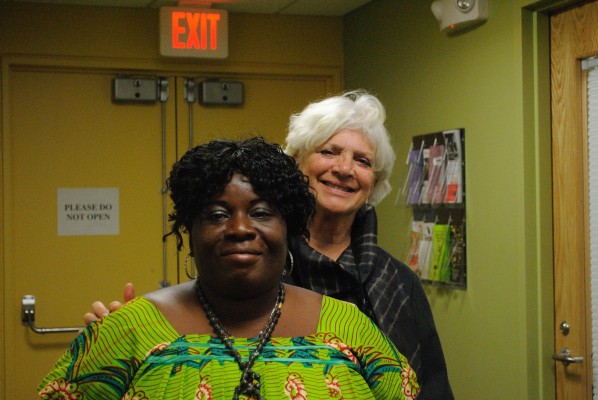 Ghana isn't the only country that has issues with the status of women and feminism. Organizations like the National Organization for Women are working to promote feminism around the globe. While it might seem apparent that women's rights are equal to those of men in the United States, the issues remain within our borders, but especially outside of them. Discrimination based on gender exists in many countries, and reproductive rights are a constant struggle which seems to have no positive end in sight. Organizations such as NOW and WomensTrust are helping spread global feminism through microfinance, but more importantly through activism in general. By making women's rights an issue which they actively seek to promote, more people hear about it and can understand the issues. And understanding the issues is the first step to solving them.