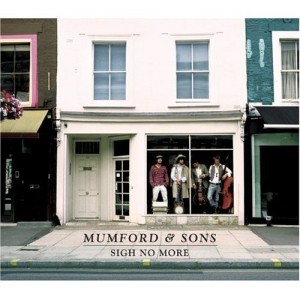 Boston's House of Blues was temporarily transformed into a bumping bluegrass bar last Thursday night as British folk band Mumford & Sons took stage in one of the final shows of their Gentlemen of the Road tour. Their last show in the Boston area was at the significantly smaller Middle East back in May, but this time they easily sold out House of Blues, all three stories of the venue teeming with eager folk fans.
The crowd's eagerness was a testament to how far the band's come in such a short amount of time. Two years ago, you couldn't pick Mumford out of a line-up, but today, their critically acclaimed and gorgeously rendered debut album Sigh No More is sitting pretty on iTunes' top ten albums list, and they've sold out the rest of their American tour. Seems a good cause for celebration, no?
And celebrate they did, with a characteristically rousing and energetic show for their Boston fans. But first up was opening act King Charles, a British singer-songwriter from the Devendra Banhart school of quirk folk. Charles cuts an interesting figure, outfitted in Prince-esque shiny black heels, a velvet tailcoat, long brown hair waving with every strum of his guitar, and high-waisted white pants so tight you could count the change in his pocket (amongst other things).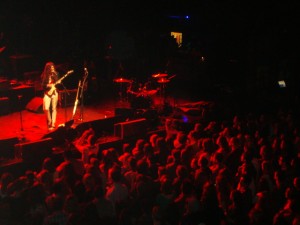 His performance was decidedly simpler than his dress, just a man and his guitar, but it was far from boring. The lack of a backing band did mean his songs lost the more psychedelic qualities of his EPs, but he played an engaging set of melodic, hyper-lyrical folk pop. His ridiculously catchy single "Love Lust" was the standout of the set, that is until he ended with a cleverly rewritten rendition of Billy Joel's "We Didn't Start the Fire," replacing the Piano Man's original lyrics with topical, humorous ones about Obama, Facebook, and Tom Cruise's sexual orientation.
After King Charles was Cadillac Sky, breaking up the night's Brit folk theme with some Deep South American bluegrass. The Texas quintet played a rowdy set, with the pack of burly bearded men literally bouncing around the stage. Guitarist David "Mayhem" Mayfield proved worthy of his nickname, marching up and down the stage to stir up crowd interaction, even attempting a right split. The band intertwined blues, folk and even jazz influences into their bluegrass sound, like a grittier Avett Brothers. Each band member got a chance to shine on their respective instruments, with solos of everything from fiddle to bass to mandolin.
After a brief intermission following Cadillac Sky's set, the men of the hour took to the stage to open with their album's title song, the perfect introduction to their signature sound. Mumford & Sons does crescendo and they do it damn well. Their songs start out soft and slow, and build to a peak with rolling banjos, frantic finger-picking, and rising harmonies, rooted by lead singer Marcus Mumford's soulful rasp, at one moment a quiet whisper, the next a passionate roar. They rarely deviate from this structure (frankly, they don't need to; the effect is gorgeous), although they did feature a more electric feel on some new songs, such as "Below My Feet" and "Broken Crown." Granted, it was electric banjo, but it's still nice that the band is attempting to expand their sound.
Despite the sheer size of the audience, the London-based quartet garnered intimacy by frequently sparking sing-a-longs and conversations with fans, even at one point eliciting a random group chant of "Allston". The crowd ate it up, and you would never guess that the band was drummer-less  (Marcus moonlights as drummer for some songs) from the beat made by the fervent foot-stomping and hand-clapping of the lively audience.
The band played Sigh No More almost in its entirety much to fans' excitement, all but "After the Storm," which was on the set list but never made it to the stage. It wasn't needed though because despite only having one studio album, their set was full and fulfilling, an interesting mix of album standouts ("White Blank Page," "Little Lion Man"), new songs (some not even week-old yet) and covers.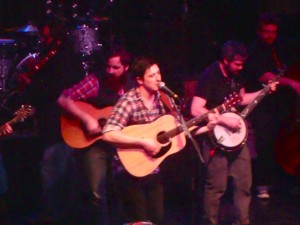 For the finale, the folk four brought back out Cadillac Sky to join them in the goose bump-inducing "Awake My Soul." King Charles joined the two bands for a few covers, including a cover of Charles' own "Lady of the River," and a rowdy rendition of The Avett Brothers' "Go To Sleep." In the age of autotune, having so many pitch-perfect, multitalented musicians (many played multiple instruments throughout the concert) on one stage together was a joy to see, and seeing them revel in playing, even more so. It felt like you stumbled upon an awesome campfire-side jam session.
Mumford & Sons had the stage all to themselves for their final song of the night, "The Cave," their own vocals almost overpowered by the crowd's wholehearted singing. When the final guitar string was plucked and the audience went up in applause, it was clear: sigh no more Mumford & Sons, you've made it.